Carson City's Experts for Braces & Orthodontics
If you've always wanted a perfectly straight smile, our experienced Carson City orthodontists at Absolute Dental are here to help! We offer affordable braces options for all ages that fit every budget and lifestyle.
Interested in getting braces? We've got you covered. Absolute Dental accepts most dental insurances and has flexible payment options for patients with no insurance coverage.
Call (844) 8-SMILE-NOW or fill out the form to make an appointment today!
Home » Dental Services » Nevada Dental Services » Carson City »
Braces We Offer at Absolute Dental
There are several different types of braces for you to consider at Absolute Dental in Carson City. Our experienced orthodontists can help you determine which system is right for every member of your family! For more information regarding each braces option, click on the types of braces below:
BRACES STARTING FROM $89/MO
Regular Price: $6750
Hurry! Offer Expires Soon!
A beautiful smile and the confidence that comes with it is priceless.
Absolute Dental is by far the best!
Absolute Dental is by far the best! Despite having to drive so far, it is definitely worth it! They keep…
Love the Absolute Dental team!
They took care of my kids. I was able to get braces the same day for my daughter I got…
Incredibly helpful and nice
Took us the day of the call. The receptionist was incredibly helpful and nice. The assistants were pleasant. Great service.
Kayleen did a great job polishing my teeth!
I am very happy with the care for my teeth and gums that I have been getting coming here. I…
The staff was amazing!
The staff was amazing! They were very kind, helpful, and patient. I would highly recommend coming here.
Awesome Experience
The experience that I had at Absolute Dental was awesome. I hate going to the dentist but it's comfortable here…
Thank you Absolute Dental!
Respectful explanations and careful pain-free work. Thank you Absolute Dental!
We Accept Most Dental Insurance
Absolute Dental is a preferred provider for most insurances, unions, and hotels that include: Aetna, Ameritas, Boon-Chapman, Caesars Palace, Cigna, Delta Dental, Diversified, Geha, Guardian, Harrah's, HealthSCOPE Benefits, Health Plan of Nevada (HPN), Humana, Liberty, Met-Life, MGM-MIRAGE, Premier Access, The Standard, Station Casinos, Teachers Health Trust, United Concordia, United Healthcare, Venetian, and The Zenith. We also accept Medicaid.
If you do not see your dental insurance listed here, just give us a call to confirm!
Every person's situation is different. If you don't see your health insurance here, or if you do not have dental insurance, we can help you!
Call us now to discuss your situation and discover what options are right for you.
Before and After
No matter which type of braces you choose, you'll find that our affordable braces options will successfully align your smile with dramatic results. Our Carson City orthodontists are experts at helping you achieve a beautifully straight smile regardless of your age or the severity of your misalignment. Just take a look at some of the result you might expect from braces: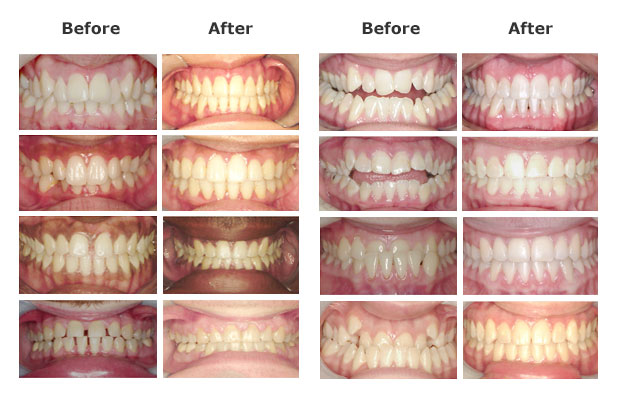 How Do Braces Work?
All types of braces have the same ultimate goal: to align the teeth for a straighter smile, stronger bite, and better overall function. Basically, braces are handles that are placed on the permanent teeth in a specific order. These handles are then used to move the teeth into ideal positions in relation to each other, your face and jaw. Braces can be used on patients of all ages, but are most commonly seen in teenagers and young adults.
Fix Crooked or Misaligned Teeth
There are several reasons why your teeth can become misaligned. Maybe the growth of your wisdom teeth crowded your mouth, or simple genetic factors caused your teeth to grow in at less-than-perfect alignments. Braces from Absolute Dental work to correct these misalignments by pulling or pushing them slowly into a more ideal position. This creates a more uniform and comfortable smile you can feel confident about every day.
Correct Overbites & Underbites
When the top and bottom rows of your teeth do not align properly or comfortably, you may have an overbite or underbite. These types of misalignments can affect how patients bite, chew, and talk, causing long-term discomfort if not corrected. Our Carson City orthodontists can apply reformative techniques using braces that help to align the teeth and jaw, effectively eliminating this issue.
Improve Overall Oral Health
When teeth are not properly aligned, other health issues can be the result. There could be hard-to-reach places where plaque and tartar start to build up, increasing the risk of cavities. Patients may also have bad breath, problems with teeth grinding, and lowered self-confidence. Braces will correct these issues simply by aligning the teeth. Consult your orthodontist if you suspect your teeth misalignment may be causing these oral health problems.
Am I a Good Candidate for Braces?
Braces are the perfect solution for many of our patients who are unhappy with the look and function of their teeth. If you're considering braces to improve your smile, you're the ideal candidate if you:
Are in good general health
Have no significant dental issues
Would like to improve overcrowding
Want to close gaps between your teeth
Want to fix crooked teeth or misalignments
Need to correct an overbite or underbite
Are willing to play an active role in your treatment
When patients do not follow instructions from their orthodontists, which may include avoiding certain foods, attending follow-up appointments, and replacing Invisalign® trays immediately after eating, the length of treatment may be longer than usual.
This is why our caring orthodontists will give you all the tools and resources you need to make your treatment a success.
What are the Estimated Financial Costs?
As a rule of thumb, the cost of braces will vary based on the severity of the problem you're addressing and how long it takes to correct. They may even be much more affordable depending on the type of braces you are using (i.e. metal braces, clear braces, Invisalign, etc.)
Rest assured that braces may cost much less than you think! Our orthodontic specialists can help you determine the right path to ensure that you get the results you need. If you're ready to find out more, make an appointment at the location nearest you to get on the path to straighter teeth!
FAQs About Braces at Absolute Dental
Are You Considering Getting Braces in Carson City?
When it comes to getting braces, your confidence in your smile will be restored in no time at all. Schedule your consultation with our dentists at any of our Carson City locations! Our dentists can evaluate which types of braces are right for you and plan your course of treatment immediately.
Absolute Dental provides the most professional orthodontic services and successful treatment of dental misalignment in Nevada.
Address
3405 Market Street 102
Carson City, Nevada 89706
Phone Number: (775) 461-1180
Hours
Mon: 8:00am - 5:00pm
Tue: 8:00am - 5:00pm
Wed: 8:00am - 5:00pm
Thur: 8:00am - 5:00pm
Fri: 8:00am - 5:00pm
Sat: 8:00am - 4:00pm
Sun: Closed
Address
956 Topsy Lane 103
Carson City, Nevada 89705
Phone Number: (775) 391-8797
Hours
Mon: 7:00am - 4:00pm
Tue: 7:00am - 4:00pm
Wed: 7:00am - 4:00pm
Thur: 7:00am - 4:00pm
Fri: 7:00am - 4:00pm
Sat: Call for Availability
Sun: Closed