Tooth decay is one of the most common dental conditions and can have an impact on the overall health and structure of your teeth. Tooth decay is caused by a variety of reasons, so looking for the signs and symptoms of decay can help in receiving treatment as soon as possible. Treatment of cavities early on can prevent the decay from getting worse, causing the need for either a root canal or complete extraction.
What Are Dental Cavities?
Cavities, or tooth decay, is caused when erosion has occurred to the enamel and bacteria has been allowed to infect the inner dentin. Plaque and certain foods can eventually eat away at the sensitive enamel, making the tooth more prone to decay. When the enamel becomes worn, bacteria can infiltrate the actual tooth's dentin and cause a cavity.
Common Signs and Symptoms of Cavities
Cavities can often be detected with a routine dental exam. In some cases, a dental x-ray may be needed to confirm tooth decay or to check for signs of hard-to-spot cavities. Cavities can form on all sides and areas of a tooth and are most common on posterior (back) teeth, as it may be more challenging to keep those teeth clean.
Some of the most common signs of a cavity include:
1. Visible Discoloration or Dark Spots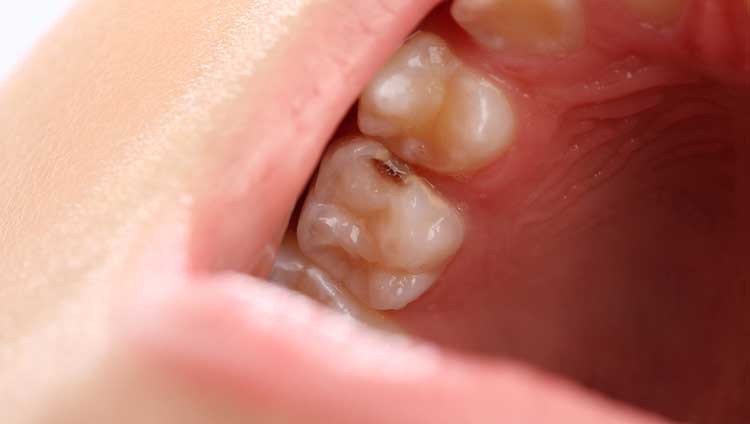 When a cavity begins to develop, it can cause dark spots on the tooth's surface. At first, these spots may look like simple staining and you may even assume that you just have mild tooth discoloration. However, over time, the dark spot gets larger, signaling tooth decay. In some cases, cavities can even look like white spots or light marks on the tooth.
2. Sensitivity to Hot or Cold
As the decay continues to infiltrate the tooth, the dentin becomes exposed. The dentin is more porous and can cause problems with sensitivity. You may notice that your teeth feel more sensitive or that one or two teeth, in particular, have issues with sensitivity. Whenever you drink something hot or cold, you may notice a surge of pain specific to one tooth. This may be a sign that there is a cavity present.
3. Holes or Craters on Teeth
The bacteria that is present with a cavity eventually eat into the tooth, causing small holes and pits in the enamel. These holes are a sign that a cavity has formed and you most likely need a filling. The decay can easily be removed and the new filling will fill in the hole that is currently visible.

4. Bad Breath and Unpleasant Taste
Cavities are caused by a bacterial infection that has been allowed to compromise a tooth. As with all other organisms, the bacteria in your mouth produce waste that can contribute to bad breath and an unpleasant taste in your mouth. If you notice that you have persistent bad breath that is difficult to mask, it may be time for a dental checkup.
5. Pain and Discomfort
The tooth that has a cavity may be causing you pain. You may find it difficult to bite down without sharp, shocking pain. Other patients find it difficult to brush or floss certain areas because of pain or sensitivity. This is caused by the dentin being exposed and affecting the inner nerve of the tooth.
6. Swelling or Bleeding Gums
When the cavity is near the gum line, the infection of the tooth can have an impact on the surrounding soft tissue. This can result in bleeding or swollen gums, especially when brushing or flossing. Bleeding gums can also be a sign of gingivitis, so a trip to the dental office is warranted.
7. No Symptoms At All
When a cavity is smaller in size, there may be no symptoms at all. In fact, most patients won't know they have a cavity until they go for their regular dental checkup. While it's fortunate to not have to deal with the symptoms and signs of tooth decay, it can also be problematic in receiving timely treatment. You may not notice that there's a problem with your teeth, which allows the cavity to grow.
Can Dental Cavities Be Prevented?
Avoiding cavities in the first place is important, as it prevents the need for fillings and more invasive procedures. Some of the most common causes of tooth decay include:
• Poor oral hygiene
• Regular snacking and eating before bed
• Drinking sugary beverages
• Bedtime infant feeding
• Inadequate fluoridation
• Dry mouth
• Worn or loose dental restorations
• Persistent heartburn and acid indigestion
To avoid dental cavities, do your best to practice good oral hygiene and let your dentist know if you are experiencing any symptoms. The sooner you catch a cavity, the better your chances are of only needing a dental filling rather than a more invasive procedure.
Importance of Dental Hygiene and Checkups
Dental hygiene is crucial in keeping your teeth and mouth healthy. Brushing twice a day and getting into the habit of flossing can have a positive impact on your teeth and improve the health of your mouth. Regularly rinsing with mouthwash can also help reduce bacteria and plaque.

It is also just as important to make trips to the dental office every six months for both a professional cleaning and a dental exam. The cleaning is designed to help get rid of hardened plaque and tartar from the mouth while the exam helps to check for signs of cavities. By being proactive with your dental health and keeping up with bi-annual appointments, you can be sure to catch cavities as early as possible.