Oral Surgery in Reno

Oral surgery is considered a specialty in the field of dentistry and includes surgical treatments for issues relating to mouth, head, neck and jaw injuries, diseases and defects. Oral surgery can be either functional or aesthetic and involves corrections to both the hard and soft tissues of the oral and maxillofacial regions.
Call (844) 8-SMILE-NOW or fill out the form to make an appointment today!
Home » Dental Services » Nevada Dental Services » Reno »
How is an Oral Surgeon Different From a Dentist?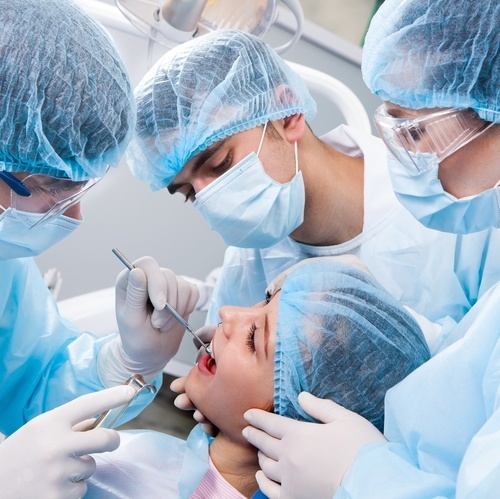 Many dental issues require treatments that are categorized as oral surgery. These procedures include tooth extractions, dental implants, impacted wisdom teeth, and the detection and treatment of some oral diseases. Our oral surgeons in Reno are experts in tooth extractions, in particular, and can perform this procedure in our Reno offices.
Some more advanced issues or procedures that go beyond just the teeth, such as corrective jaw surgery, cleft palate correction and complex treatments to the gums, can only be performed by specialists in those fields of oral and maxillofacial surgery.
How Do I Schedule My Oral Surgery?
If you are in need of a tooth extraction, our Absolute Dental offices in Reno can help. We will walk you through the procedure, from the evaluation stage to the actual surgery. Our dental professionals will explore the best options for every patient and use their knowledge and expertise to approach each unique case successfully. Our priority is always to make sure our patients feel comfortable and confident while in our care. Call us to schedule an appointment today!
I like going to this office!!
I like going to this office!! Everyone is very nice. Priscilla is very helpful and nice! She always answers every…
The best experience I've had at any dental office!
The best experience I've had at any dental office! The front desk girls were so helpful and Tonya went above…
Recently had a great experience at Absolute Dental.
Recently, had a great experience at Absolute Dental. From the front desk to the hygienist to Dental assistant to the…
Dr. Culpepper was amazing!
I haven't been to the dentist in a long long time and decided it's time to start taking care of…
Amazing staff at this practice
Amazing staff at this practice, Katrina was really helpful explaining my treatment and she also offered me a payment plan,…
Very satisfied with the treatment I received here!
Very satisfied with the treatment I received here! The doctors and techs were kind, polite and caring! Will definitely go…
We Accept Most Dental Insurance
Absolute Dental is a preferred provider for most insurances, unions, and hotels that include: Aetna, Ameritas, Boon-Chapman, Caesars Palace, Cigna, Delta Dental, Diversified, Geha, Guardian, Harrah's, HealthSCOPE Benefits, Health Plan of Nevada (HPN), Humana, Liberty, Met-Life, MGM-MIRAGE, Premier Access, The Standard, Station Casinos, Teachers Health Trust, United Concordia, United Healthcare, Venetian, and The Zenith. We also accept Medicaid.
If you do not see your dental insurance listed here, just give us a call to confirm!
Every person's situation is different. If you don't see your health insurance here, or if you do not have dental insurance, we can help you!
Call us now to discuss your situation and discover what options are right for you.
Tooth Extractions
One of the most common procedures that fall in the category of oral surgery is tooth extractions or complete removal of a tooth from the dental socket. Patients may need a tooth extracted for several reasons including impacted or partially erupted wisdom teeth, a decayed or infected tooth, root fracture, reduction of crowding in the mouth or preparation for orthodontic treatment. Our expert oral surgeon is a trained specialist performing tooth extractions for our patients.
More often than not, a patient will experience mild to severe toothaches when a tooth has become infected or damaged to a point where it's no longer salvageable. This pain is sometimes felt in the jaw, ears, and face as well. Although there are several reasons an individual may experience a toothache, it's always best to have your dentist evaluate the tooth. If there is extreme tooth decay or dental trauma present, the tooth will need to be extracted to prevent further damage to the mouth or spreading of infection, if present.
In order for a patient to receive the best dental care possible, sedation is necessary in some cases to ensure the patient remains calm and comfortable. Knowing the patient is not experiencing pain or anxiety during a dental procedure also allows the oral surgeon to work more efficiently and effectively. Absolute Dental offers sedation to patients undergoing a tooth extraction to provide increased comfort to the patient and easier functionality to the oral surgeon. Your oral surgeon will share all the sedation options available to you for a tooth extraction prior to the procedure.
Looking For An Oral Surgeon in Reno?
When it comes to tooth extractions, dental implants, impacted wisdom teeth, and the detection and treatment of some diseases, there is no time to wait.
Absolute Dental provides the most professional oral surgery services and successful treatment of oral diseases in Nevada.