General Dentistry in Reno
Many who study dentistry specialize in a particular field, such as orthodontics, endodontics, or pediatrics. Others learn it all. A general dentist is able to treat a wide variety of ailments. Sometimes called "family dentists" because of their ability to treat everyone in the family, these practitioners are likely going to the first and possibly the only dentist that customers need to see.
Call (844) 8-SMILE-NOW or fill out the form to make an appointment today!
Home » Dental Services » Nevada Dental Services » Reno »
A General Dentist's Qualifications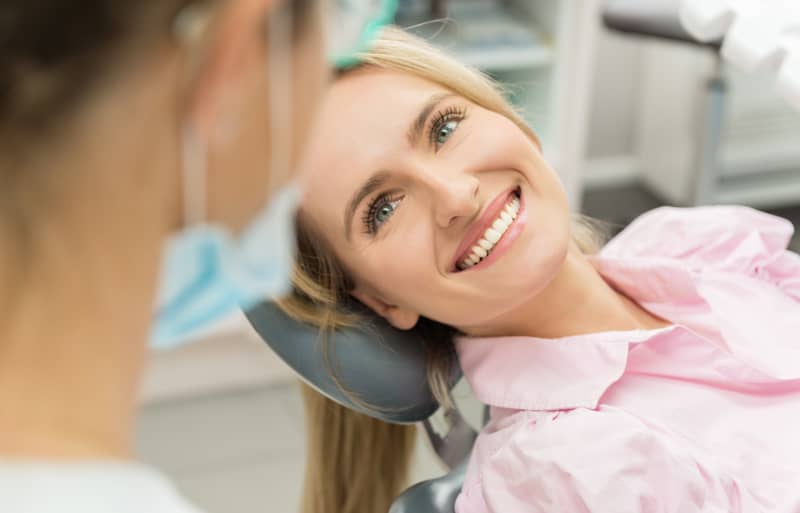 A general dentist has studied and trained at least as long as any other dentist to achieve their license. An Absolute Dental dentist has probably trained even longer. Of course, a specialist has completed extra years of training in their own area of dental expertise, but that doesn't necessarily mean that a general dentist will not be just as good or better in that field. A general dentist with years of experience, who has learned about teeth and grown in knowledge can be a complete solution all on his own. A qualified, experienced general dentist will know exactly where their knowledge ends and the dental specialists' knowledge begins. Find a dentist whose company you enjoy and who you trust, then, whether he chooses to do procedures himself or recommend someone else, you'll know you're in good hands.
The experienced staff at Absolute Dental is trained in all aspects of general and family dentistry including: Exams, X-Rays, Deep and Light Cleanings, Fillings, Extractions, Crowns, Bridges, Root Canals and Dentures. To provide the best care possible, we always use the latest state of the art equipment, materials, and sterilization techniques, and strictly adhere to the standards of care in the industry. At Absolute Dental, whether you just need to take care of a few fillings, or it's your child's first cavity, you can relax knowing your family is getting the very best care.
I like going to this office!!
I like going to this office!! Everyone is very nice. Priscilla is very helpful and nice! She always answers every…
The best experience I've had at any dental office!
The best experience I've had at any dental office! The front desk girls were so helpful and Tonya went above…
Recently had a great experience at Absolute Dental.
Recently, had a great experience at Absolute Dental. From the front desk to the hygienist to Dental assistant to the…
Dr. Culpepper was amazing!
I haven't been to the dentist in a long long time and decided it's time to start taking care of…
Amazing staff at this practice
Amazing staff at this practice, Katrina was really helpful explaining my treatment and she also offered me a payment plan,…
Very satisfied with the treatment I received here!
Very satisfied with the treatment I received here! The doctors and techs were kind, polite and caring! Will definitely go…
We Accept Most Dental Insurance
Absolute Dental is a preferred provider for most insurances, unions, and hotels that include: Aetna, Ameritas, Boon-Chapman, Caesars Palace, Cigna, Delta Dental, Diversified, Geha, Guardian, Harrah's, HealthSCOPE Benefits, Health Plan of Nevada (HPN), Humana, Liberty, Met-Life, MGM-MIRAGE, Premier Access, The Standard, Station Casinos, Teachers Health Trust, United Concordia, United Healthcare, Venetian, and The Zenith. We also accept Medicaid.
If you do not see your dental insurance listed here, just give us a call to confirm!
Every person's situation is different. If you don't see your health insurance here, or if you do not have dental insurance, we can help you!
Call us now to discuss your situation and discover what options are right for you.
A General Dentists Duties:
The treatments usually performed by a general dentist will be:
Fillings: Cavities and similar problems are common, and fall squarely into the domain of the general dentist. Fillings keep cavities from developing into worse issues, and can also keep teeth looking their best. Common types of fillings are gold, amalgam, mercury, porcelain, or composite resin.
Root Canal: When the pulp of a tooth becomes infected, a root canal is needed. A dentist will drill down into the infected area and remove the bacteria and infected tissue. Most general dentists are comfortable performing this procedure, but if not, a specialist will be recommended.
Dental Bridge: Bridges are constructed for those with missing teeth. They consist of false teeth, held in place by crowns which fit over the real teeth surrounding the gap. Again, most general dentists will perform this procedure, but bridging specialists can also be found.
Crowns: Teeth that are broken but uninfected can be capped to prevent further damage. The caps are called crowns.
Dentures: For those missing several teeth, enough that a bridge will not work, dentures might be needed. Dentures can comprise an entire set of teeth or just the teeth that are needed.
Teeth Cleaning: A common service that falls clearly in the purview of the general dentist is dental cleaning. Even the best brushing and flossing habits can't keep back all the plaque and debris that builds up in and around teeth.
Bonding: The process of attaching a veneer or similar substance to a tooth is called bonding. This procedure often falls to the specialist in cosmetic dentistry, however, most general dentists are more than able to complete it.
Oral Treatments: The addition of dental implants or handling of syndromes like TMJ are considered oral treatments. Most general dentists are well versed in these areas of practice.
X-rays: The more information a general dentist has about the workings of a patient's teeth and gums, the better. Fast and safe x-rays are the first step for most dentists.
There are three parts to a dental bridge: a pontic (false) tooth to cover the empty space and two abutments (support) teeth.
Looking For A Family Dentist in Reno?
Absolute Dental provides the most professional dental and orthodontic services in Nevada. Schedule your consultation with our dentists at any of our Reno, NV locations!