Experienced Pediatric Dentists in Las Vegas
It's so important to start off strong when it comes to your little one's dental health. Not only do regular visits to the dentist set your kids up for a lifetime of good dental habits, but they also ensure strong and healthy smiles throughout childhood.
Absolute Dental has multiple Las Vegas locations with professionals specializing in dental care for infants, children, and teens.
Call (844) 8-SMILE-NOW or fill out the form to make an appointment for your child today!

Home » Dental Services » Nevada Dental Services » Las Vegas » Pediatric Dentistry
Children's Dentist Las Vegas Services
Our Las Vegas pediatric dentistry offices offer comprehensive dental services and preventive care for every stage of childhood and adolescence. Here are some of the dental health options we provide:
Routine Dental Cleanings
Bi-annual teeth cleanings with an exam and x-rays are the best way to stay on top of your child's dental health. All our Las Vegas locations offer thorough cleanings that are quick, easy, and painless for you and your kids in a child-friendly environment.
Tooth Fillings
It's not uncommon for kids to develop cavities. However, that doesn't mean parents should ignore them! Tooth fillings stop the decay from reaching the sensitive dental pump and roots, preventing infections and more extensive dental treatments.
Orthodontic Treatment
When kids show signs of dental misalignments, correcting these imperfections at a young age will ensure your child has a beautifully straight (and healthy!) smile as an adult. We offer several orthodontic treatments, including braces and clear aligners.
Emergency Dental Treatment
If you're a parent, you know kids have accidents. Maybe they were roughhousing with a sibling or playing sports when a tooth cracks, breaks, or is knocked out completely. Our Las Vegas pediatric dentists are ready to help with these dental emergencies.
Other Pediatric Services
At Absolute Dental, we also offer additional services to help support your child's dental health, such as:
Fluoride Treatments
Wisdom Teeth Extractions
Custom Mouthguards
Sedation Dentistry
It's never too late to get your child's dental health back on track! Contact our pediatric dentists today to schedule an appointment.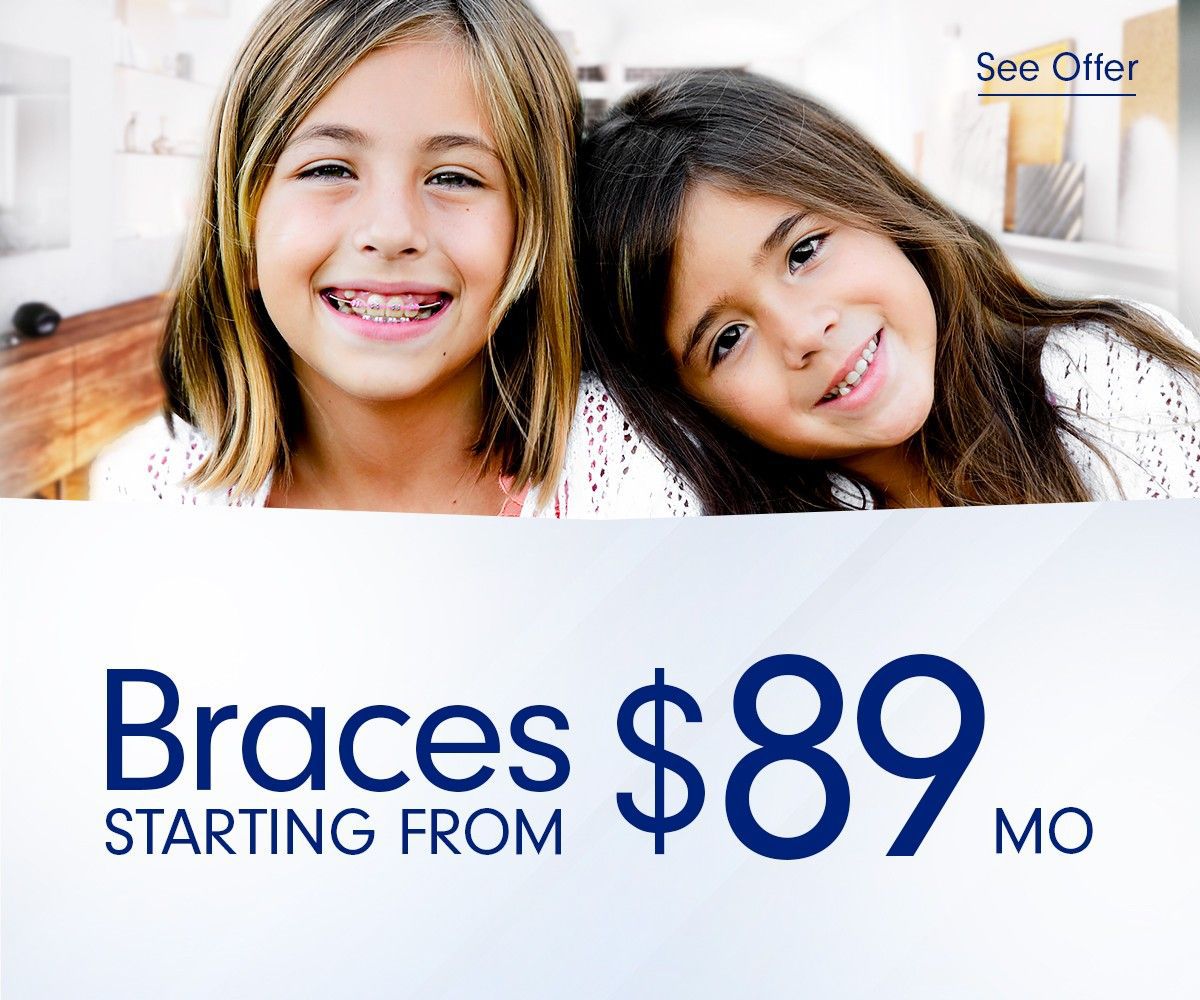 Hurry! Offer Expires: 06/30/2022
A beautiful smile and the confidence that comes with it is priceless. It's also very affordable with our limited time promo, braces as low as $89/mo!
FAQs About Our Pediatric Services in Las Vegas
Schedule an Appointment Today!
If you're ready to give your child a healthy start with quality dental care, Absolute Dental in Las Vegas has several locations in Southern Nevada that specialize in pediatric dentistry. We're ready to partner with you and your family to ensure your child has a strong and healthy smile. Same-day appointments are available!
CTA: Contact our Las Vegas pediatric dentistry team today to learn more about our services or to schedule an appointment.
Sources:
1American Dental Association (ADA). Your Baby's First Dental Visit. MouthHealthy.org. Retrieved 26 February 2022.
Both my kids are patients here
Both my kids are patients here and my son also has orthodontia treatment here and I'm very happy. The staff…
Everyone was so friendly and welcoming
Brought my 2 year old son to see Dr. Shaw for an exam and he absolutely loved the staff. Everyone…
I can truly say this is one of the best dental offices in town!
I can truly say this is one of the best dental offices in town! Dr.raj and the staff there are…
I had an awesome experience taking my daughter to Absolute
I had an awesome experience taking my daughter to Absolute everyone was so kind and super professional & shout out…
Karlata Esiel was very professional and courteous to my Family
Karlata Esiel was very professional and courteous to my Family especially the kids. We are very appreciative and Happy with…
Highly recommend Ann and Simmons location!
I had the best experience at Absolute Dental!!!! I would definitely recommend this location on Ann and Simmons!!! Best staff…
We Accept Most Dental Insurance
Absolute Dental is a preferred provider for most insurances, unions, and hotels that include: Aetna, Ameritas, Boon-Chapman, Caesars Palace, Cigna, Delta Dental, Diversified, Geha, Guardian, Harrah's, HealthSCOPE Benefits, Health Plan of Nevada (HPN), Humana, Liberty, Met-Life, MGM-MIRAGE, Premier Access, The Standard, Station Casinos, Teachers Health Trust, United Concordia, United Healthcare, Venetian, and The Zenith. We also accept Medicaid.
If you do not see your dental insurance listed here, just give us a call to confirm!
Every person's situation is different. If you don't see your health insurance here, or if you do not have dental insurance, we can help you!
Call us now to discuss your situation and discover what options are right for you.