Reno Dental Services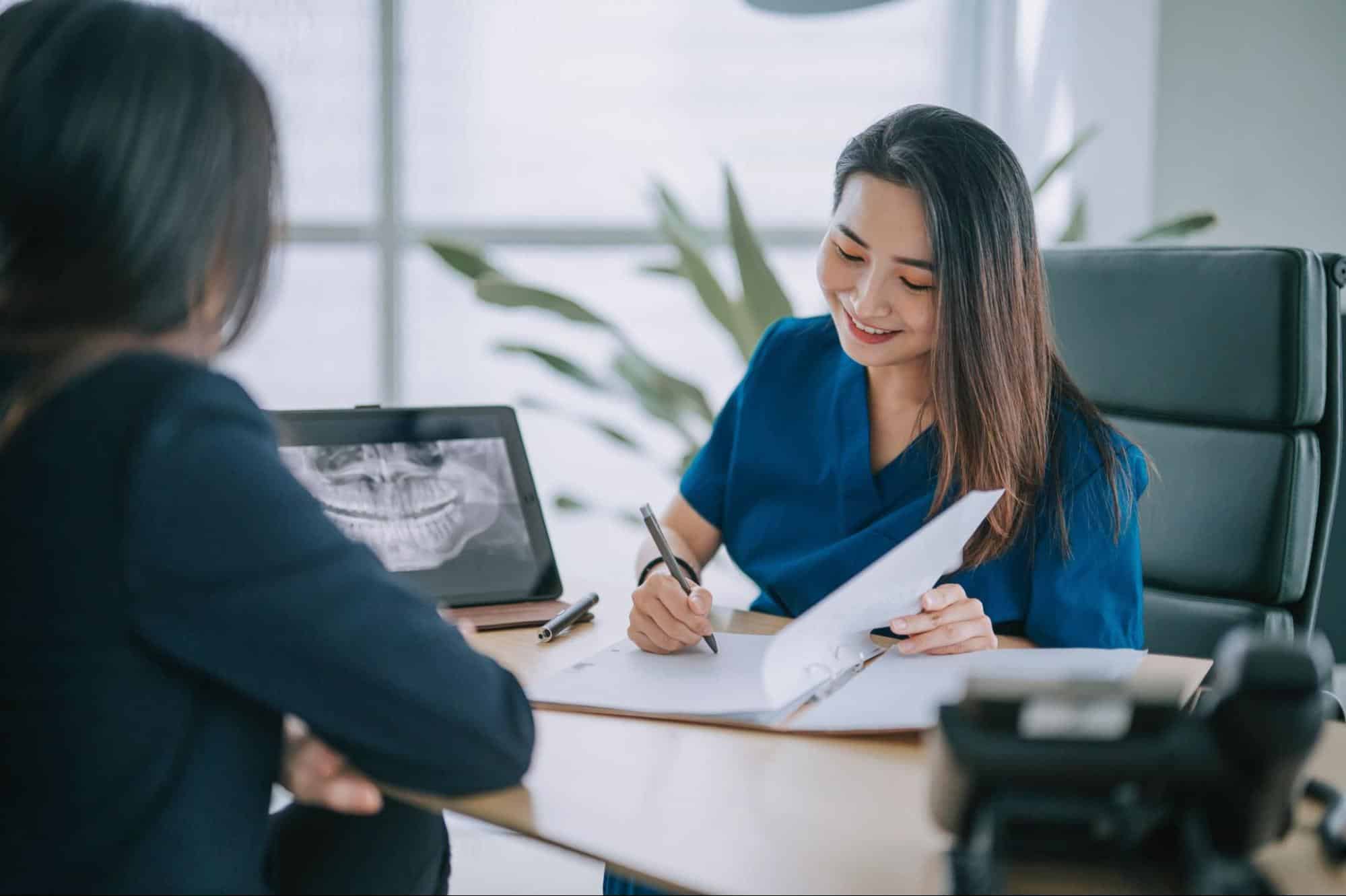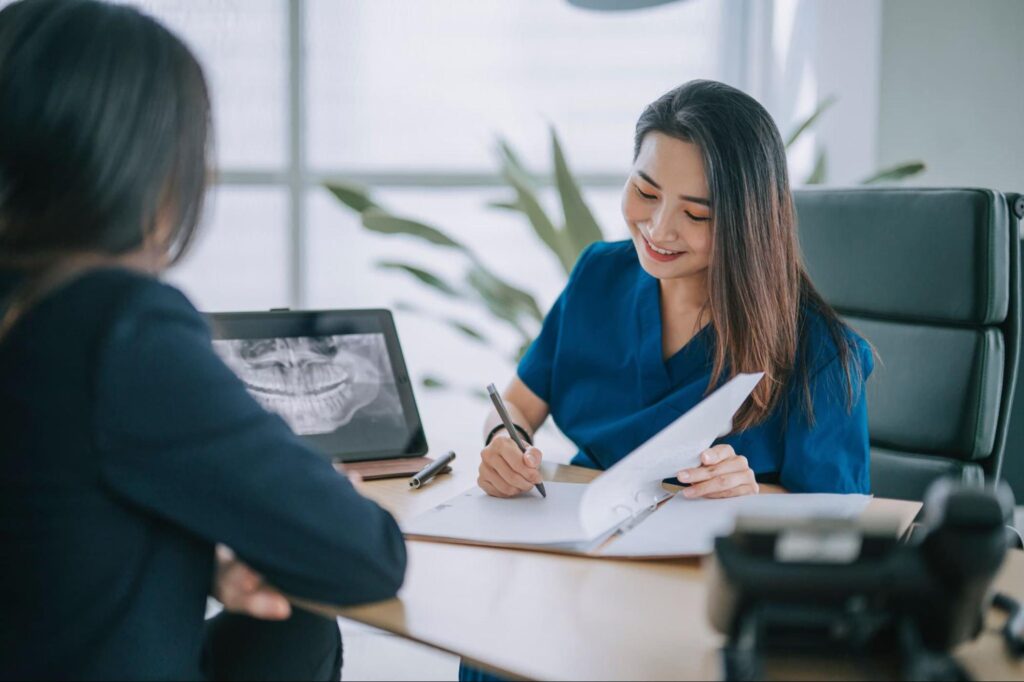 Dentists in Reno, NV
Get the quality dental care you need at Absolute Dental in Reno. Our practice offers complete dental services, including routine cleanings and general dentistry, to improve your overall oral health and promote the best oral hygiene practices available. Our goal is to provide whatever you and your family need to keep your smiles bright and healthy. Contact us today to learn more about booking your next dental appointment. 
Whether you are coming in for a checkup, need extensive dental work, or are wondering where the best orthodontists for braces near me are, our team is ready to help. At Absolute Dental, we are committed to helping you receive the dental services you need so that you can feel the most confidence in your smile. Read on to learn more about our available services. 
Routine Oral Hygiene Services
It's important to keep up with regular dental appointments to keep your oral hygiene in tip-top shape. At Absolute Dental in Reno, NV, we are proud to offer a range of dental services that ensure your oral health and hygiene is where it needs to be. Our oral health and hygiene services include the following: 
General Dentistry
Absolute Dental specializes in all general dentistry procedures, including dental fillings, crowns, bridges, root canals, and other dental treatments our patients may need. Our Reno general dentists work closely with our dental hygienists and staff to provide comprehensive dental care that will keep your mouth healthy and prevent further damage from occurring.
For younger children who may have anxiety when coming to the dentist, our team will work to alleviate your child's concerns. 
Pediatric Dentistry
The pediatric dentists at Absolute Dental in Reno understand the importance of a child's first experience at the dentist and approach every young patient with compassion, open communication, and patience, all while ensuring your child gets the best dental care. We promote a positive environment in our office and work to educate our pediatric patients on the best oral hygiene practices they will take with them into adulthood.
No matter your child's dental hygiene needs, our team is committed to offering an experience that is comfortable, free of anxiety, and confidence-boosting for your child. 
Oral Cancer Screenings
Absolute Dental professionals provide services to detect the early stages of oral cancer and are trained to notice signs that cancerous cells may be present within the mouth. Using special examination techniques, oral cancer screenings help diagnose cancerous cells so the patient can be treated earlier and more effectively.
Our team will walk through a comprehensive dental plan with you, no matter your oral health history. This allows you to stay up to date with your oral health so that if health issues arise in the future, you'll have a trusted dental team ready to tackle them. 
Root Canals
When tooth decay penetrates a tooth's enamel and reaches the interior soft tissue, patients will experience pain as the infection spreads. When this happens, a root canal is necessary to remove the infected tissue and clean the canals of the tooth to prevent further damage and decay. Absolute Dental provides the most comprehensive treatment and care when it comes to root canals, with our patient's oral health and comfort always in mind.
Contact our offices today to learn more about root canal procedures and the different methods we use to treat and manage pain. 
Teeth Cleanings
Regular teeth cleanings play a significant role in preventing plaque buildup, cavities, and gum disease. The dental hygienists at Absolute Dental in Reno are highly skilled in removing tartar and plaque from the teeth and use special instruments to gently clean the teeth and gums for a healthy smile. From dental cleanings to dental hygiene advice, our hygienists are committed to helping you get the best smile possible. 
Tooth Fillings
Dental fillings are a way to remove bacteria and decay from a tooth and fill in the space with a hard, durable material to restore functionality for our patients. Our dentists provide mercury-free tooth fillings that can be matched to the color of your teeth for a more natural appearance. 
For patients who may have a high sensitivity to pain, pain management techniques, including anesthesia, can be used to keep patients as comfortable as possible.
Wisdom Teeth Extractions
If you've been wondering where the best wisdom tooth removal is near me, turn to the trusted experts at Absolute Dental. Our experienced oral surgeons specialize in wisdom teeth extractions to prevent infections, overcrowding, and other dental issues that can be caused by wisdom teeth surfacing. We offer sedation for the ease and comfort of our patients. 
Dental Implants and Restorations

If you suffer from missing or broken teeth, or if you need restoration services for your smile, our experienced team of dental professionals can help. We are proud to offer the latest services to help you obtain the smile of your dreams. 
Braces
The orthodontists at Absolute Dental in Reno are dedicated to providing the best service and successful results for patients looking to correct misalignments with braces. Offering several orthodontic services, including metal braces, clear braces, and invisible braces, we have the expertise to treat dental misalignments ranging from mild to severe in both children and adults. Contact us today to learn more about our braces options and start your journey toward a brighter, healthier-looking smile.
Invisalign
Invisalign offers patients a more discreet and effective way to correct dental misalignments with clear plastic trays. Many people avoid traditional braces because they feel self-conscious or insecure about wearing metal wires and brackets. 
While there are many alternatives to traditional braces, Invisalign has become the gold standard for discreet dental treatment for misalignment. Absolute Dental in Reno has several Invisalign experts who can help walk you through the process and ensure your results are successful.
Dental Crowns
Dental crowns are used to protect an exposed tooth that has been damaged, chipped, or broken. Crowns are also used to cap a tooth after a root canal or other dental treatments. If you are considering getting a dental crown, the professionals at Reno's Absolute Dental will assess which type of crown will work best for you.
For our younger patients, trust in the expertise of our knowledgeable team. We will work to alleviate any anxiousness or discomfort your child may feel so they can feel confident with every dentist visit. 
Dental Bridges
Absolute Dental provides dental bridges as a replacement option for patients with missing teeth. Dental bridges will help with functionality, chewing, and speaking, as well as prevent surrounding teeth from shifting, which could lead to jaw issues and misalignments. Our experienced professionals can help assess if a dental bridge is the best option for you.
Dental Implants
Dental implants can be an excellent solution for individuals looking to improve their smile. Dental implants provide extremely durable and long-lasting replacements for missing teeth. The implanted artificial root eventually fuses with the jaw bone allowing it to look and function like an actual tooth. Dental implants can hold a complete replacement tooth or provide support for other dental fixtures, including dental crowns or bridges.
If you're wondering whether dental implants are a good fit for you, contact our offices today to schedule a consultation appointment. 
Dentures
Absolute Dental provides denture options for those with multiple missing teeth, offering an effective, natural-looking solution to restore jaw functionality and appearance.
When you work with our experienced team, you can look forward to custom-made dentures that were designed to improve your smile, jaw functionality, and of course, self-confidence. 
Oral Surgery
Some dental issues require oral surgery procedures to correct damage or decay in the mouth. The oral surgeons at Absolute Dental in Reno are experts in tooth extractions, or the complete removal of a tooth from the mouth, due to infection, root fracture, impacted wisdom teeth, and in preparation for orthodontic treatments.
Don't trust just any oral surgeon with your oral health concerns or dental emergencies. Turn to the experts at Absolute Dental in Reno and get a comprehensive dental plan for any oral surgeries you may need. 
Cosmetic Dentistry
If you're looking for that edge to improve your overall smile, our cosmetic dentistry services and treatments might be right for you. See how easy and affordable it can be to make your smile the brightest possible. 
Porcelain Veneers
Porcelain veneers are used to strengthen and improve the aesthetic appearance of broken, damaged, or flawed teeth using thin pieces of durable porcelain designed to permanently fit over a tooth's surface. Veneers are a popular cosmetic option for patients hoping to correct dental imperfections or discoloration without orthodontics or whitening treatments.
Get in touch today to learn more about porcelain veneers and how they have helped transform the smiles and lives of our many satisfied patients. 
Teeth Whitening
As teeth become stained from food, drink, and the natural aging process, it's possible to dramatically improve the brightness of your smile. At Absolute Dental, we're proud to offer affordable teeth whitening treatments that fit your busy schedule and budget. Our teeth whitening treatment professionals will apply a topical gel to your teeth that can improve discoloration by up to six shades whiter in a single treatment.
Book Your Next Dental Appointment at Absolute Dental

If you need dental services, contact our Reno office today! We will walk you through any procedure and explore the different options and treatments that will work best for you. Your oral health is essential to your overall well-being. Learn more about how you can strengthen your oral health so that your smile stays as bright as possible. Good oral hygiene is an ongoing process, and we look forward to partnering with you and your family to help you stay on track.
Don't trust just anyone when it comes to your oral health, Turn to the experts at Absolute Dental, To learn more about our available services.

(844) 8‑SMILE‑NOW
(844) 876‑4536