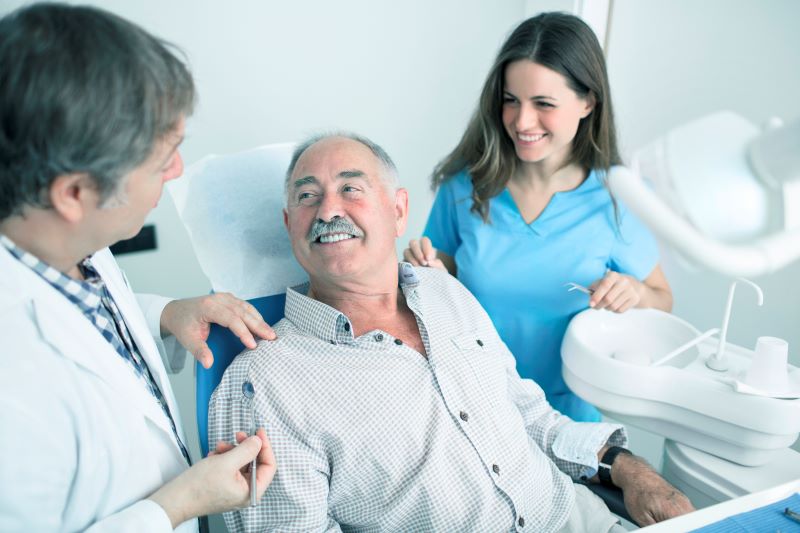 Dental Bridges in Carson City
Missing teeth can have a significant impact on a person's ability to bite, chew and, in some cases, speak clearly. It can also affect a patient's self-esteem and social life. Luckily, dental bridges provide a durable, natural-looking solution for those with missing teeth.
Get your confidence and smile back with dental bridges in Carson City! The specialists at Absolute Dental are ready to discuss any questions you might have about the process.
Call (844) 8-SMILE-NOW or fill out the form to make an appointment today!
Home » Dental Services » Nevada Dental Services » Carson City »
What Are Dental Bridges?
A dental bridge is used to restore or permanently replace one or more missing teeth. Although dental bridges are considered cosmetic, they also greatly improve dental functionality for patients and help to prevent future dental problems, including tooth decay and periodontal disease.
Dental bridges are designed to look, feel and function just like natural teeth.
How Does a Dental Bridge Work?
There are three parts to a dental bridge: a pontic (false) tooth or teeth to cover the empty space, and two abutments (support) teeth. In general, dental bridges consist of a pontic tooth or teeth adhered to two crowns. The crowns are anchored to two healthy teeth, creating a bridge of false teeth that sit above the gums. This allows a patient to replace more than one missing tooth with a single dental bridge.
I like going to this office!!
I like going to this office!! Everyone is very nice. Priscilla is very helpful and nice! She always answers every…
The best experience I've had at any dental office!
The best experience I've had at any dental office! The front desk girls were so helpful and Tonya went above…
Recently had a great experience at Absolute Dental.
Recently, had a great experience at Absolute Dental. From the front desk to the hygienist to Dental assistant to the…
Dr. Culpepper was amazing!
I haven't been to the dentist in a long long time and decided it's time to start taking care of…
Amazing staff at this practice
Amazing staff at this practice, Katrina was really helpful explaining my treatment and she also offered me a payment plan,…
Very satisfied with the treatment I received here!
Very satisfied with the treatment I received here! The doctors and techs were kind, polite and caring! Will definitely go…
We Accept Most Dental Insurance
Absolute Dental in Carson City is a preferred provider for most insurances, unions, and hotels that include: Aetna, Ameritas, Boon-Chapman, Caesars Palace, Cigna, Delta Dental, Diversified, Geha, Guardian, Harrah's, HealthSCOPE Benefits, Health Plan of Nevada (HPN), Humana, Liberty, Met-Life, MGM-MIRAGE, Premier Access, The Standard, Station Casinos, Teachers Health Trust, United Concordia, United Healthcare, Venetian, and The Zenith. We also accept Medicaid.
If you do not see your dental insurance listed here, just give us a call to confirm!
Every person's situation is different. If you don't see your health insurance here, or if you do not have dental insurance, we can help you!
Call us now to discuss your situation and discover what options are right for you.
Am I a Good Candidate For a Dental Bridge?
If you have missing teeth, you may be a perfect candidate for a dental bridge. However, the most ideal patients will have:
Teeth are in good condition
Two abutment teeth are not severely decayed or damaged
No more than three consecutive missing teeth
No gum disease
Healthy oral hygiene habits
Good jawbone density
Dental Bridge Treatment Process
A dental bridge starts with the abutment. This involves creating crowns for the anchor teeth on either side of the missing teeth. After your Carson City dentist administers local anesthesia, they will thoroughly prep these teeth to become supports for the bridge, which involves reducing the size of the abutments to fit the pontic teeth.
Your dentist will then get an impression of the adjacent teeth, which is sent to a lab to create the final dental bridge. You will be fitted with a temporary bridge while the lab completes your final bridge so your prepped teeth are protected from damage. Once the final bridge is complete, you will return to your Absolute Dental office to remove the temporary bridge and fit and cement your permanent bridge. For resin-bonded dental bridges, the abutment teeth are bonded to the pontic with metal bands.
Things to Consider With Dental Bridges
Dental bridges are permanent. If you are uncomfortable with this idea, you might want to consider removable restorative components, such as partial dentures.
If you practice good oral hygiene and visit your dentist for regular checkups, your dental bridges can last a decade or more.
It may take some time to fully adjust to your dental bridge.
Are You Considering Dental Bridges in Carson City?
Get your confidence and beautiful smile back today with a durable, long-lasting dental bridge. Schedule your consultation with our dentists at one of our Carson City locations! We can get to work on your course of treatment immediately.
Address
3405 Market Street 102
Carson City, Nevada 89706
Phone Number: (775) 461-1180
Hours
Mon: 8:00am - 5:00pm
Tue: 8:00am - 5:00pm
Wed: 8:00am - 5:00pm
Thur: 8:00am - 5:00pm
Fri: 8:00am - 5:00pm
Sat: 8:00am - 4:00pm
Sun: Closed
Address
956 Topsy Lane 103
Carson City, Nevada 89705
Phone Number: (775) 391-8797
Hours
Mon: 7:00am - 4:00pm
Tue: 7:00am - 4:00pm
Wed: 7:00am - 4:00pm
Thur: 7:00am - 4:00pm
Fri: 7:00am - 4:00pm
Sat: Call for Availability
Sun: Closed