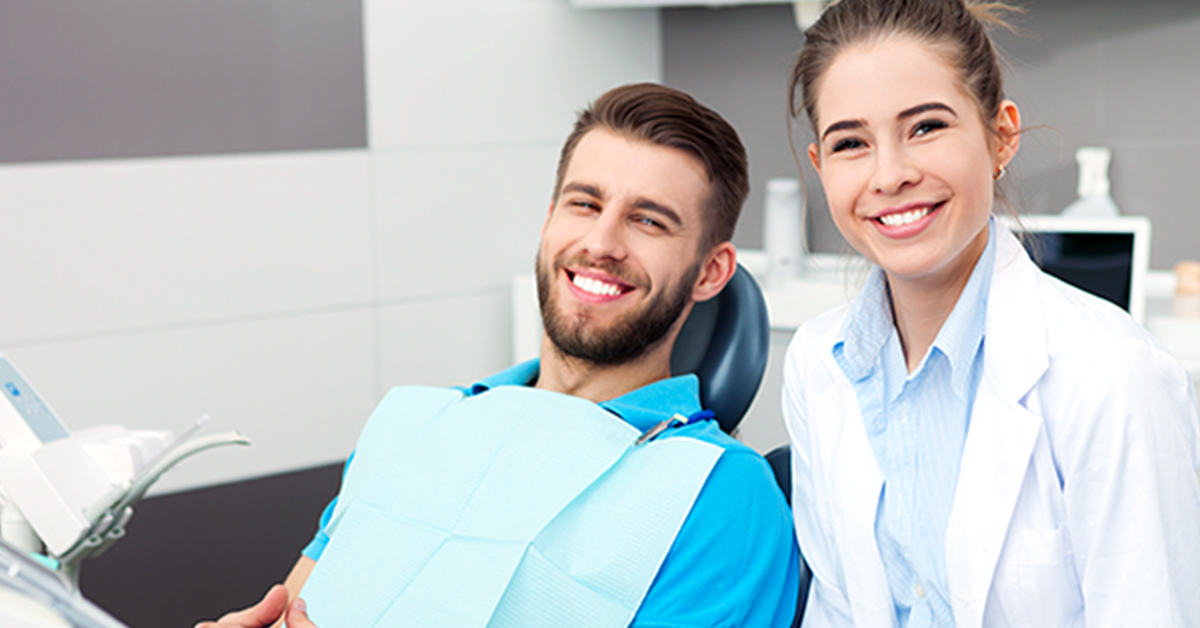 Root Canals in Las Vegas
If you have worsening tooth pain or swelling in your gums, you may need a root canal to treat an infection in your tooth. A root canal is one of the most common dental procedures that will preserve your natural tooth and prevent the need for more extensive treatments.
The experts at Absolute Dental in Las Vegas are here to help relieve your pain and restore your tooth for a strong, healthy smile.
Call (844) 8-SMILE-NOW or fill out the form to make an appointment today!
Home » Dental Services » Nevada Dental Services » Las Vegas »
What Is a Root Canal?
When patients neglect their dental hygiene, they may eventually need dental procedures to clear infections, repair damage or alleviate pain.
If a tooth's pulp (also known as the pulp chamber) is damaged or infected, you'll need endodontic therapy, which is commonly known as a root canal.
Is a Root Canal Painful?
Even though there are many benefits to a root canal, many people are afraid of the procedure and try to avoid it. These fears are usually based upon misconceptions about the treatment.
One of the most common myths about a root canal is that there is pain involved during the treatment. However, this is not the case. The dentist performing a root canal procedure will give you a local anesthetic to help minimize discomfort and to completely numb the surrounding area, making the treatment no more painful than a typical tooth filling.
If you do happen to feel discomfort during a root canal, our experienced dentists will pause and administer more anesthetic. Our goal is to ensure you're comfortable throughout the procedure.
Who Should Get a Root Canal?
The best candidates for a root canal are individuals with teeth that have damaged or infected pulp. To determine if you could benefit from a root canal, see one of our Las Vegas dentists who can inspect the tooth and gum tissue, check for signs of infection, and take x-rays of the tooth.
I like going to this office!!
I like going to this office!! Everyone is very nice. Priscilla is very helpful and nice! She always answers every…
The best experience I've had at any dental office!
The best experience I've had at any dental office! The front desk girls were so helpful and Tonya went above…
Recently had a great experience at Absolute Dental.
Recently, had a great experience at Absolute Dental. From the front desk to the hygienist to Dental assistant to the…
Dr. Culpepper was amazing!
I haven't been to the dentist in a long long time and decided it's time to start taking care of…
Amazing staff at this practice
Amazing staff at this practice, Katrina was really helpful explaining my treatment and she also offered me a payment plan,…
Very satisfied with the treatment I received here!
Very satisfied with the treatment I received here! The doctors and techs were kind, polite and caring! Will definitely go…
We Accept Most Dental Insurance
Absolute Dental is a preferred provider for most insurances, unions, and hotels that include: MGM-MIRAGE, Met-Life, Aetna, Diversified, Delta, Health Plan of Nevada (HPN), Humana, Guardian, Ameritas, United Concordia, Venetian, Caesars Palace, Harrah's, Station Casinos, and many more…
Every person's situation is different. If you don't see your health insurance here, or if you do not have dental insurance, we can help you!
Call us now to discuss your situation and discover what options are right for you.
How Is a Root Canal Done?
A root canal generally consists of the following steps:
The dentist will numb the area surrounding the tooth with a local anesthetic (typically Novocain).
The dentist will then open the tooth to expose the chamber of pulp.
If an abscess exists, the dentist may allow it to drain for a couple of days before performing the actual root canal. (The patient is prescribed antibiotics before the procedure to reduce any infection).
The dentist will examine the pulp and then remove if it is severely damaged or dead. If the pulp is simply infected, only cleaning and getting rid of the infection may be necessary.
The dentist will then clean the canals that lead to the root of the pulp in order to remove any germs and bacteria, and then possibly reshape the canals.
The dentist will then fill the crown of the tooth with a temporary material, such as gutta-percha or another filler.
At the next visit, the dentist will remove the temporary material, clean the tooth again, and fill the tooth with a permanent filling material.
A new crown is put over the tooth.
The Benefits of a Root Canal
The main benefit of a root canal is saving the infected tooth from having to be pulled. Teeth that are treated with a root canal can even last the rest of the patient's life. The benefits of a root canal are:
It prevents the loss of the tooth and makes it so the tooth does not need to be pulled.
It eliminates pain caused by the infection, tooth damage, or sensitivity.
It prevents the spread of infection to surrounding teeth or gums
Are You in Need of a Root Canal in Las Vegas?
A common reason many people do not treat potential dental problems is the cost. Even people with dental insurance can expect some out-of-pocket expenses for some procedures. If you're in need of a root canal, Absolute Dental in Las Vegas has programs in place to assist with payments. To learn more about these options, contact Absolute Dental today!
If you're ready to get back on track with your dental health, check out our Las Vegas locations to see which Absolute Dental office is most convenient for you and your family.