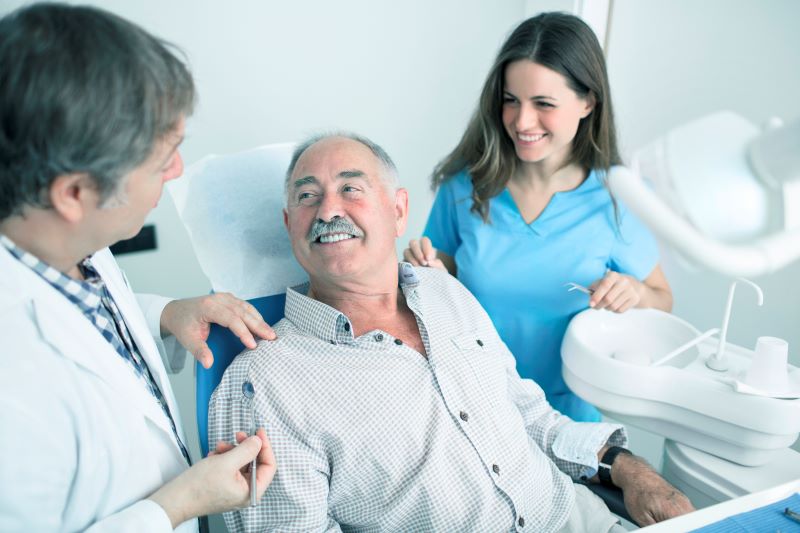 Wisdom Tooth Extraction
People begin observing dental milestones when they're babies, and most follow a similar dental timeline. The first baby teeth can arrive when a person's six months old. Toddlers continue adding teeth until they're almost three years old. People lose these baby teeth between the ages of six and 12 and can get their first permanent teeth before their seventh birthday. Most permanent teeth appear by age 13. The last adult teeth to arrive are wisdom teeth. Also called third molars, wisdom teeth don't emerge until people are between 17 and 21. 
Call (844) 8-SMILE-NOW or fill out the form to make an appointment today!
Home » Dental Services » Nevada Dental Services » Carson City »
Although people are encouraged to care for their adult teeth when they arrive to ensure they last a lifetime, wisdom teeth prompt many to get dental surgery. Every year, approximately 5 million Americans schedule wisdom tooth extractions. Our Carson City Absolute Dental team can verify if you have impacted wisdom teeth and whether investing in wisdom teeth removal is necessary. 
Schedule an appointment today to find out if it's time for your dental surgery wisdom tooth extraction.
Why do people need
wisdom tooth removal
?
Most people deal with an impacted wisdom tooth when their wisdom teeth start to erupt. For some, all wisdom teeth are impacted. When the teeth are impacted, they lack the space needed to accommodate the tooth. Issues arise when emerging adult teeth don't have enough room to grow straight. Consequently, impacted wisdom teeth may never fully emerge from the jawbone. Others may deal with wisdom teeth that grow at odd angles, pointing towards their second molar or away from the second molar, towards the back of the person's mouth. In some cases, wisdom teeth grow at a 90-degree angle.
Impacted wisdom teeth may cause multiple symptoms, including the following:
Bad breath

Bone damage

Headaches

Infections

Pain

Periodontal disease

Tender gums

Tooth decay

Tooth damage
Wisdom teeth can trap food between teeth, cause cyst growth, and impair a person's orthodontic treatments, preventing straightening appliances from working effectively.
I like going to this office!!
I like going to this office!! Everyone is very nice. Priscilla is very helpful and nice! She always answers every…
The best experience I've had at any dental office!
The best experience I've had at any dental office! The front desk girls were so helpful and Tonya went above…
Recently had a great experience at Absolute Dental.
Recently, had a great experience at Absolute Dental. From the front desk to the hygienist to Dental assistant to the…
Dr. Culpepper was amazing!
I haven't been to the dentist in a long long time and decided it's time to start taking care of…
Amazing staff at this practice
Amazing staff at this practice, Katrina was really helpful explaining my treatment and she also offered me a payment plan,…
Very satisfied with the treatment I received here!
Very satisfied with the treatment I received here! The doctors and techs were kind, polite and caring! Will definitely go…
We Accept Most Dental Insurance
Absolute Dental in Carson City is a preferred provider for most insurances, unions, and hotels that include: Aetna, Ameritas, Boon-Chapman, Caesars Palace, Cigna, Delta Dental, Diversified, Geha, Guardian, Harrah's, HealthSCOPE Benefits, Health Plan of Nevada (HPN), Humana, Liberty, Met-Life, MGM-MIRAGE, Premier Access, The Standard, Station Casinos, Teachers Health Trust, United Concordia, United Healthcare, Venetian, and The Zenith. We also accept Medicaid.
If you do not see your dental insurance listed here, just give us a call to confirm!
Every person's situation is different. If you don't see your health insurance here, or if you do not have dental insurance, we can help you!
Call us now to discuss your situation and discover what options are right for you.
How are wisdom teeth removed? 
Your dentist provides general dentistry services to help you maintain your oral health. Your dentist will monitor you for wisdom teeth eruption, determine if your wisdom teeth are impacted, and present options for removing your wisdom teeth. Options vary based on your health history.
Local Anesthesia
Some people can schedule an appointment with their family dentist, receive a local anesthetic, and have their wisdom teeth removed while awake. One of the benefits of this option is that it only takes a couple of hours for the anesthesia to wear off. 
General Anesthesia
General anesthesia is given to patients through a mask or IV. General anesthesia is the type of anesthesia associated with surgical procedures in hospitals because it causes the patient to lose consciousness. General anesthesia can impact you for up to 48 hours following surgery.
When it's time to book oral surgery near me, you may favor the idea of general anesthesia because you won't have to watch your dentist extract your teeth. However, some health conditions increase the risk of complications when using general anesthesia. Patients with health issues such as diabetes, anesthesia allergies, high blood pressure, and asthma should consult an anesthesiologist before opting for general anesthesia.
Sedation
Oral sedation dentistry is another option for patients undergoing wisdom tooth extraction. You won't be awake during the procedure. You can schedule sedation dentistry with your local sedation dentist instead of seeing an oral surgeon. Patients can expect the effects of sedation anesthesia to last up to 24 hours. 
Are there any risks if you delay
removing your wisdom
teeth?
Waiting to extract your wisdom teeth could lead to emergency dental care. Initially, you may only suffer from headaches and bad breath; however, symptoms can progress to the point where you have difficulty opening or closing your mouth. Impacted wisdom teeth can also cause nerve damage. Delaying treatment could result in multiple dental health issues, which could require long-term treatment to resolve.
In addition to the impact on your dental health, addressing the symptoms of impacted wisdom teeth can be expensive. For example, treating periodontal disease can cost thousands, and periodontal disease can lead to other health issues, such as heart or respiratory disease.
How Your Dentist Can Help
Our dental team is standing by to assess your condition and explain your treatment options. We're open six days a week for your convenience, and you can call us or schedule an appointment online. 
Your dentist will explain the health risks stemming from impacted wisdom teeth and the health benefits of extraction. You can also learn about the potential side effects of wisdom tooth extraction and ask questions about your treatment options to make an informed decision and choose a teeth treatment plan that fits your needs and budget.
Contact our Carson City Absolute Dental office today to discuss your dental health and find out if it's time to remove your wisdom teeth. 
Sources
Anesthesia. (2020)
Anesthesia Risks. (2023).
Address
3405 Market Street 102
Carson City, Nevada 89706
Phone Number: (775) 461-1180
Hours
Mon: 8:00am - 5:00pm
Tue: 8:00am - 5:00pm
Wed: 8:00am - 5:00pm
Thur: 8:00am - 5:00pm
Fri: 8:00am - 5:00pm
Sat: 8:00am - 4:00pm
Sun: Closed
Address
956 Topsy Lane 103
Carson City, Nevada 89705
Phone Number: (775) 391-8797
Hours
Mon: 7:00am - 4:00pm
Tue: 7:00am - 4:00pm
Wed: 7:00am - 4:00pm
Thur: 7:00am - 4:00pm
Fri: 7:00am - 4:00pm
Sat: Call for Availability
Sun: Closed