Careers
Level Up Your Career at Absolute Dental
At Absolute Dental, we're not just another dental office. Our goal is to create a culture of caring that our patients can see and feel when they walk through our doors. Our employees are a big part of making that happen.
Do you want a career that's more than just a "job"? Are you looking for a position that offers security and benefits for you and your family? Is it important for you to find a career path that gives back to the community and helps people live healthier lives?
We see you. We hear you. We GET you.
It's time to take your career to the next level. At Absolute Dental, find a position you love that is both EMPOWERING and REWARDING. Now is your chance to join the fastest-growing dental group in Nevada! Find career opportunities at our Las Vegas, Reno, Sparks and Carson City locations below.
Work Hard, Play Hard
We carefully choose team members who share our core values and sense of community. We support our colleagues and thrive on creating connections that go beyond the office. Together, the Absolute Dental team has volunteered for charity work, participated in fundraising events, bonded over holiday parties, and celebrated each other's milestones. Our diverse and active company culture sets the foundation for our success. In other words, we like each other, and it shows!
Absolute Dental Leadership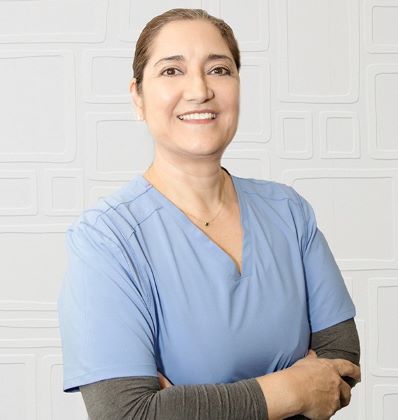 Dr. Patricia Prada, the owner of all Absolute Dental practices, is the FIRST female board-certified pediatric dentist in Nevada. Her decades of experience, values, and compassion for patients are deeply rooted in our approach to dentistry. Dr. Prada is also known for her charitable work with underprivileged children. In 2018, Dr. Prada and Absolute Dental committed to a $100,000 donation and voluntary clinical time at the UNLV School of Dental Medicine.
Growth Opportunities
You don't have to worry about becoming stagnant at Absolute Dental. Not only will we train you in your current role, but we'll also cross-train you in all areas of interest and create opportunities for promotion. Hard work and dedication do not go unnoticed! We listen to your personal and professional goals and shape a career path based on those ambitions. We encourage growth and want our team members to succeed in any role they take on within the company.
Teamwork Mentality
No matter what, the front-line team at Absolute Dental makes it work. Problem-solvers, adapters, trouble-shooters, and out-of-the-box thinkers are what we're looking for to maintain our reputation of having the best patient care in Nevada. We provide all the training and resources needed to empower you to make decisions and improve team processes. When you work with a team that has the same drive and motivation as you, it creates a positive environment where innovation takes shape.
Cutting-Edge Technology
Absolute Dental is on the cutting edge of dentistry, and you'll have the opportunity to further your education with the latest technology. We embrace next-generation software that allows us to engage with our patients, reach them online where they're most active, and enhance patient care. We use technology that makes dental care easy and accessible for our patients and are always open to new approaches.
Top Pay and Benefits
We offer a competitive base salary and multiple bonus opportunities, making our dental compensation package one of the best in the state. We also provide comprehensive benefits for you and your whole family, so you can prioritize your health and work-life balance. We believe if we're going to help our patients stay on top of their health, we should encourage our team members to do the same!
Community Involvement
Absolute Dental is a close-knit, family-oriented company, and giving back to the Nevada community is something we value. In fact, the team has donated over $150,000 in the past three years to a variety of organizations, including UNLV School of Dental Medicine, Give Kids a Smile, Habitat for Humanity, Candlelighters Childhood Cancer Foundation, and to our very own employees in need.
Guided by Compassion, Built on Ambition
At Absolute Dental, our decisions and actions are made based on our Core Values… And we're looking for people who understand those Core Values and are passionate about embracing and representing them. Take a look at our Core Values to see if you would be a good fit for a career at Absolute Dental.
Our Core Values
Integrity
Respect
Accountability
Compassion
Teamwork
Continuous Improvement
If you're ready to take the next step in your career, Absolute Dental has over 50 locations across Nevada and continues to expand. We're hoping to find new team members who can grow with us and uphold the Core Values that define us. Check out our listings, upload your resume, and get ready to become an integral part of the Absolute Dental family. We hope to speak with you soon!
What our Dental Assistants Have to Say
Filter Careers by Location