The Smile Saver Dental Plan
No Insurance? No Problem!
Start saving right away! No waiting periods. Get huge discounts on your dental work with a low yearly membership. Only $99/yr and save even more with family memberships!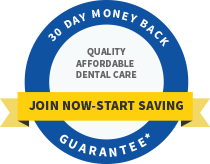 No Waiting periods
No Annual Maximums
No Claim Forms to Submit
No Pre-Existing Exclusions
Comprehensive Exam Included!
Get Discounts On The Services You Need. Check out the savings possible with the Smile Saver Program.