No Insurance? No Problem!
Start saving right away! No waiting periods. Pay cash and get huge discounts on your dental care with a low annual membership. Only $99/yr for individuals!

Pay Cash and Save!
If you need dental treatment but have no dental insurance or will be paying cash, the Smile Saver Dental Plan may be the right fit for you and your family. Your yearly membership offers: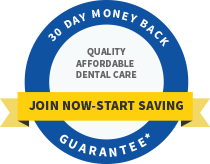 Unlimited Access
Discounted Dental Services
No Waiting Periods
No Annual Maximums
No Claim Forms to Submit
No Pre-Existing Exclusions
30-50% Off All Other Services
The Smile Saver Dental Plan at Absolute Dental offers high-quality, low-cost dental care for cash-paying patients and those without dental insurance. Everyone deserves to have accessible dental care, and our goal with the Smile Saver Program is to make dental treatment convenient and affordable for all Nevadans.
Here's an example of what our members pay vs normal retail prices:

*Member savings may vary by location. Free exams limited to 2x per member/year annual membership term.
At Absolute Dental, you can get the dental services you need at just a fraction of the cost. Don't suffer through a toothache or neglect your family's dental needs another day. Sign up for your immediate plan activation and start using your benefits right away. Your unlimited access to savings on dental care can be used at any of our Absolute Dental locations throughout Nevada.
LOW YEARLY MEMBERSHIP FEE
   $99.00/year

for Individual Plans
   +$30.00/year

for Additional Members
Are You Looking for a Cash-Pay Dentist in Las Vegas?
Absolute Dental provides the most professional dental and orthodontic services in all of Nevada.
We also have locations throughout Northern Nevada in Reno, Sparks, and Carson City!