Achieving a confident and healthy smile can involve a variety of options. One of the most common is dentures. Over the years, dentures have advanced significantly. Not only can they improve a person's physical appearance, but they can also improve their quality of life.
What Do People Look Like With Dentures On?
Modern dentures are designed to closely resemble natural teeth, so a person's transformation when wearing them can be remarkable. 
One of the things that happens when someone loses their teeth is that the jawline starts to recede, causing a sunken look around the mouth. The face also starts to look shortened since the jawbone doesn't require as much space.
Wearing dentures will fix this problem and return the face to a more symmetrical and aesthetically pleasing appearance. The difference between before and after partial dentures is equally remarkable.
Are They Worth It?
The question of whether dentures are worth it is fairly subjective. However, for people who have lost teeth due to aging, accidents, or disease, they can be life-changing. 
Dentures not only restore the aesthetics of a person's smile but also improve speech clarity, chewing ability, and overall self-esteem.
Most people find that the benefits of dentures far outweigh any initial discomfort or adjustment period. 
Will People Notice The Difference Between Dentures Or Not?
Dentures are extremely customizable these days. We can choose the shade, shape, and size of the teeth. In other words, they can be tailored to match your facial features, ensuring the most natural look.
Traditional dentures used to be associated with discomfort, slippage, and an artificial look. However, modern dentures are made with advanced materials, such as porcelain, acrylic, and flexible resins. This means today's dentures are much more comfortable, attractive, and durable.
Has There Been Advancements In Dentures?
It's unbelievable how much dental devices like braces and dentures have advanced over the years. The improvements in dentures are particularly amazing. 
In the past, dentures were made from animal teeth, ivory, or wood. Today, they're usually made of much more customizable and durable materials like acrylic resin or metal and resin compounds.
Where the advancements really shine, however, is in the fit. Nowadays, dentures are customized specifically to the patient's mouth, using advanced technology, such as 3D printing.
They're also much more natural-looking today. They're specifically designed to look and feel just like your natural teeth. We can even customize the shading to look more natural. 
In a nutshell, today's dentures are more functional, more comfortable, and more realistic than ever.
How Much Do Dentures Cost?
Understandably, most people are looking for the most affordable dentures. However, the cost of dentures can vary quite a bit based on some specific factors. These might include the materials used, the case's complexity, and the dental practice's location.
Basic complete dentures are usually more affordable than premium options like implant-supported dentures. 
On average, traditional dentures can cost between $1,000 to $3,000 per arch, while implant-supported dentures may range from $2,000 to $5,000. It's important to consult with your dentist to get an accurate estimate.
Does Medicare Cover Dentures?
Medicare does not typically cover routine dental care, including dentures. However, some Medicare Advantage plans might offer limited dental coverage. This could include partial reimbursement for dentures. 
Reviewing your specific plan or asking your provider about any dental benefits you might be eligible for is important.
How To Clean Dentures
Maintaining proper oral hygiene is crucial to extending the longevity and performance of your dentures. Here's how to do it:
Remove dentures

: Carefully remove your dentures from your mouth

Rinse

: Rinse your dentures under running water to remove any loose debris

Brush

: Brush your dentures with a soft brush and non-abrasive denture cleaner

Soak

: Place your dentures in a denture cleaning solution or warm water overnight to keep them moist and clean

Brush gums and mouth

: While your dentures are out, gently brush your gums, tongue, and the roof of your mouth with a soft toothbrush to stimulate circulation and maintain oral health

Rinse again

: Before wearing your dentures, rinse them thoroughly under running water to remove any cleaning solution residue

Store properly

: When you're not wearing your dentures, store them in a denture container with water to keep them from drying out and warping
Ask Your Dentist About Dentures
While the decision to get dentures is personal, we're confident they'll positively impact your appearance and well-being. 
Contact our experts today in Las Vegas or Reno for a full evaluation and estimate. We'll be happy to discuss your options for affordable dentures and implants.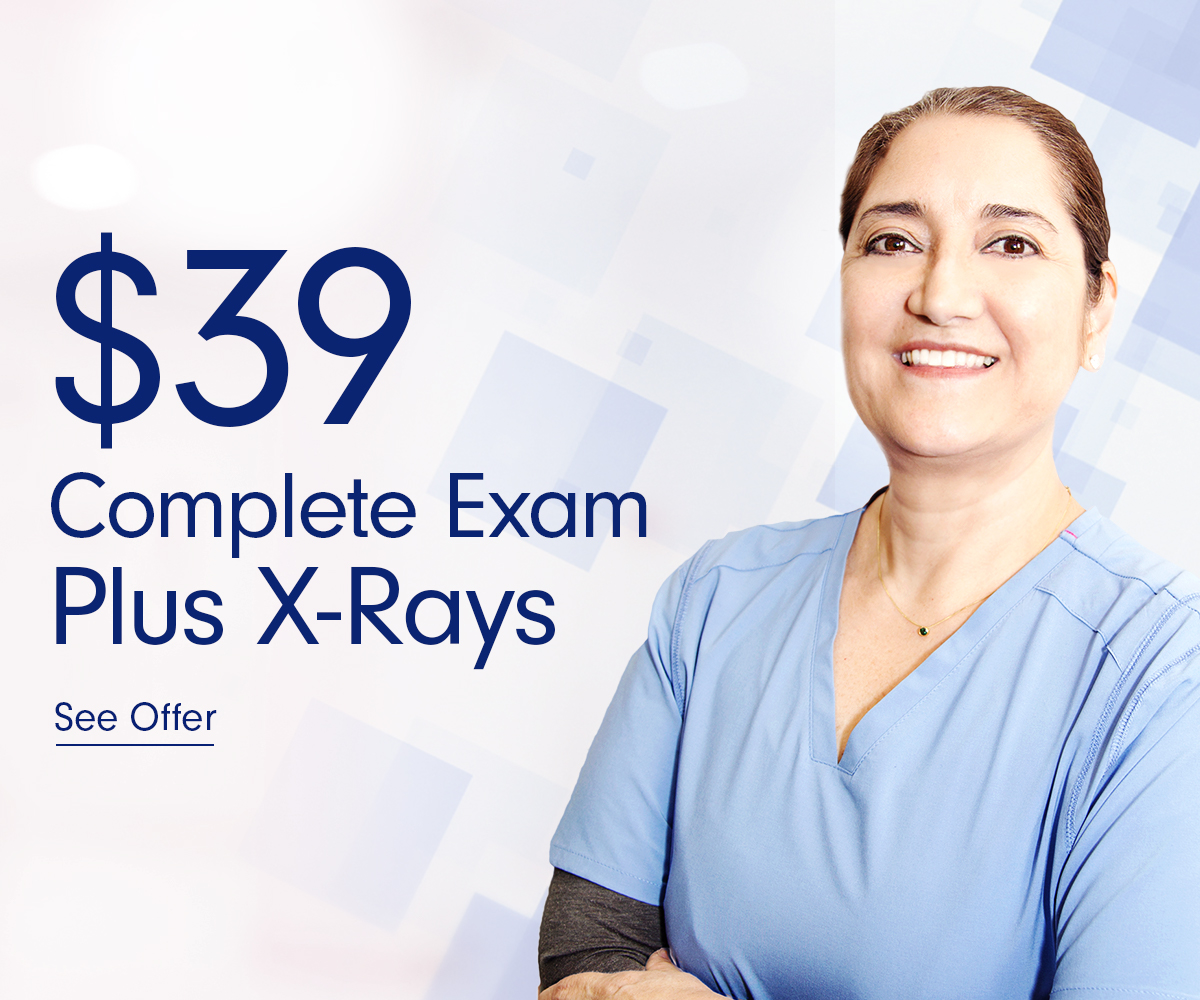 Regular Price: $179
Hurry! Offer Expires: 09/30/2023
With this offer, there's no excuse not to get back on track! Schedule a complete exam and x-rays for only $39 and ensure you have a beautiful healthy smile.
Citations:
Dental Services.
McGrath, C., et al. (2001). Can dentures improve the quality of life of those who have experienced considerable tooth loss?
What Are Implant-Supported Dentures? (2023).