A person's body goes through many changes when they're pregnant. Some of these changes, such as weight gain, are expected. However, people don't always realize it's possible to develop pregnancy-related health issues, such as gestational diabetes and dental health problems. Learning how pregnancy can affect your teeth and what you can do about these issues can help you protect your oral health when you're expecting.
Why Do Some People Have Dental Issues During Pregnancy?
Pregnancy significantly impacts the human body long before the first signs of a baby bump arrive. Changes in hormone levels are one reason for dental issues during pregnancy. The progesterone level in the body can be up to 25 nanograms (ng) per milliliter (ml). Progesterone levels can jump to 40 ng/ml in the early stages of pregnancy and rise as high as 290 ng/ml when a pregnant person is in their third trimester.
Prostaglandins are lipids that can inflame the blood tissues in your gums and cause gum disease. Since progesterone contributes to prostaglandin production, higher progesterone levels increase your risk of gum disease. 
Your estrogen levels are also higher during pregnancy. When estrogen levels increase, the amount of blood flowing to your gums also increases. This increased blood flow makes your gums more sensitive, which can trigger pregnancy gingivitis.
Hormones aren't the only reason you may have oral health problems. Pregnancy triggers food cravings, and dietary changes could affect your teeth and gums. Pregnancy also increases the risk of pica, a condition that prompts people to eat things that aren't edible. Eating non-food items or excessive amounts of some foods and beverages can affect your oral health.
What Types Of Dental Issues Could You Have During Pregnancy? 
Pregnancy increases your risk of the following dental issues:
Gingivitis:

Gingivitis is a periodontal disease. The symptoms are less severe than the symptoms of other types of periodontal disease and include dark or puffy gums, bad breath, receding gums, and bleeding gums.

Loose teeth:

Your teeth can loosen during pregnancy, which can cause them to move 

Periodontitis:

Periodontitis is severe gum disease. You may have the symptoms of gingivitis when you have periodontitis, but this condition's symptoms also include sensitive teeth, tooth pain, and pain when chewing food.

Pregnancy cavities

:

Treating cavities promptly is crucial because they're permanent. You can stop tooth decay from spreading with dental treatment. Pregnancy tooth sensitivity from cavities can cause holes, staining, and toothaches.
Can You Go To The Dentist While Pregnant?
You can schedule dental care while you're pregnant. It would be best if you planned to see your dentist early in your pregnancy and follow their recommendations for oral health treatments. Since you have a higher risk of dental health issues during pregnancy, scheduling a dental exam early in your pregnancy and talking to your dentist about your concerns is essential. Your dentist will explain how you can protect your oral health.
You may also receive progesterone tests during your pregnancy. These tests can determine your risk of miscarriage and confirm you're producing expected progesterone levels. Since high progesterone levels increase your risk of gum disease and cavities, you should book an appointment with your dentist if your progesterone levels are high. 
Absolute Dental has offices in Carson City, Henderson, Las Vegas, Minden, Reno, and Sparks, where you can get expert dental care to protect your teeth and gums during pregnancy.
Do You Need To Tell Your Dentist You're Pregnant?
You should let your dentist know you're pregnant when you schedule a dental appointment. Today, dental diagnostic tools and X-rays are safe during pregnancy, so you can have dental X-rays and receive treatments such as cleanings. The primary reason to inform your dentist is to ensure they know you're at a higher risk of developing pregnancy-related dental problems. Your dentist may recommend additional treatments during pregnancy to protect your oral health. 
How Do You Stop Your Teeth From Falling Out During Pregnancy? 
Taking these steps can help you prevent dental issues during your pregnancy:
Brush regularly:

Brush your teeth at least two times daily for two minutes each time. Make sure you brush all your teeth and brush the front, tops, and backs of your teeth. Your dental care routine should involve using fluoride toothpaste because fluoride increases the strength of tooth enamel, helping prevent cavities.

Floss daily:

Floss daily to keep the spaces between your teeth clean. Flossing removes food particles and helps prevent plaque.

See your dentist:

Schedule an exam early in your pregnancy and have your teeth cleaned to reduce your risk of developing gingivitis, periodontitis, or cavities. Teeth cleanings are common pregnancy gingivitis treatments that remove the substances triggering your gum disease and can keep gingivitis from progressing to periodontitis. 
Tell your dentist if you have loose teeth. Braces can stabilize your loose teeth. 
Will Your Teeth Go Back To Normal After Pregnancy?
Your teeth will tighten up, and any pregnancy-related issues affecting your teeth and gums will subside after your pregnancy. You shouldn't have problems post-pregnancy if you were in excellent dental health before pregnancy and received appropriate dental care while pregnant. However, if you had gum disease or cavities before your pregnancy, these health issues won't disappear after your baby's born. Treating oral health problems early in your pregnancy gives you time to restore your dental health while avoiding additional dental problems. You can also schedule an extra teeth cleaning before you give birth to keep your teeth and gums healthy.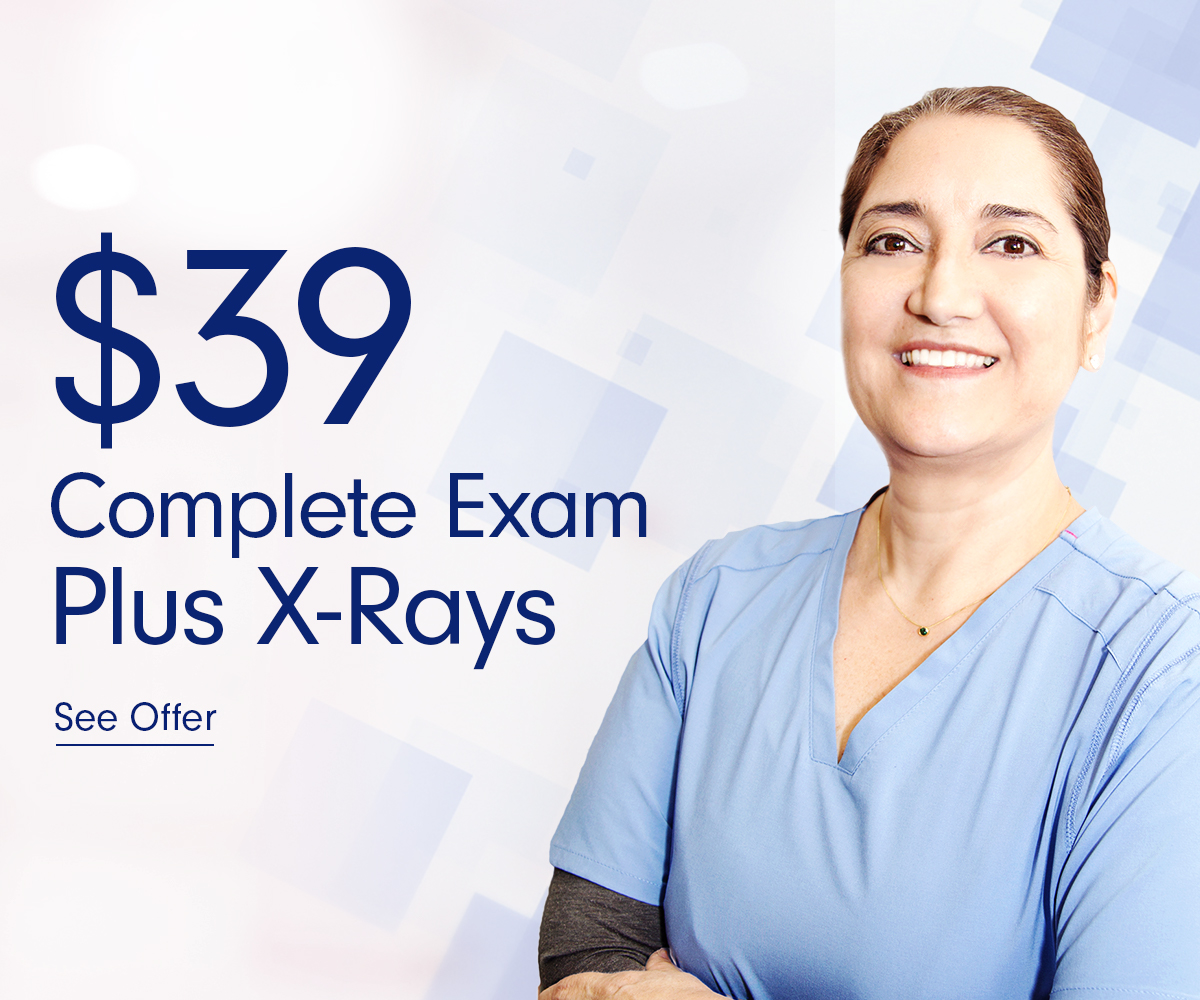 Regular Price: $179
Hurry! Offer Expires: 09/30/2023
With this offer, there's no excuse not to get back on track! Schedule a complete exam and x-rays for only $39 and ensure you have a beautiful healthy smile.
Sources: