Las Vegas Pediatric Dentist — Arroyo Kids
Absolute Dental's Arroyo dentists provide expert general and pediatric dental and orthodontic care for Las Vegas, Nevada.
About
Whether you need dental care for you or the whole family, Absolute Dental provides quality dental care in a beautiful office equipped with the latest technology to give patients the best experience possible.
Our professional Las Vegas dentists and friendly staff pride themselves on using the latest technology to provide a full spectrum of procedures. We are currently accepting new patients and look forward to serving you and your family as your dental care provider! 
Services
Absolute Dental's Arroyo location provides general, pediatric, and pediatric orthodontic services.
What General Dentistry Services Do We Offer? 
Our general dentistry team offers the following services:
Bonding:

Dentists use bonding to secure veneers on your teeth. Veneers cover damage and stains so your teeth look their best. 

Crowns:

Crowns are caps placed over damaged teeth to prevent cracks or breaks from spreading

Dental bridges:

Dentists may use a bridge to replace a missing tooth. The bridge connects to existing teeth and holds the artificial tooth in place.

Dentures:

You may opt for dentures to replace missing teeth. These artificial teeth are removable. 

Fillings:

Fillings are used to treat cavities, stopping infections from spreading to your roots and gums

Oral treatments:

Our dentists replace missing teeth with dental implants and offer treatments for TMJ and other oral health syndromes

Root canal:

Dentists remove infected tissue when cavities spread below the gumline. A root canal may save your tooth, even if the infection has reached the pulp.

Teeth cleaning:

An expert teeth cleaning at the dentist's office removes plaque and eliminates tartar buildup, which can cause tooth decay. Teeth cleanings also include fluoride treatments that strengthen your teeth.

X-rays:

Dentists use X-rays to confirm a diagnosis, check for impacted wisdom teeth, and verify the severity of issues affecting teeth and gums
What Pediatric Dentistry Services Do We Offer?
Many children associate dental visits with pain and unpleasant experiences, such as receiving injections. Some develop dental phobias that last into adulthood, interfering with their ability to receive regular dental care.
Experiencing positive pediatric dental care can reduce children's fears and prevent long-term dental phobias, ensuring your child receives the dental care they need. The best pediatric dentist in Las Vegas delivers expert dental care while striving to give children a positive dental experience. Our pediatric dentistry services include the following:
Cosmetic dentistry:

Cosmetic dentistry services for children include removing or covering stains and fixing alignment issues to straighten teeth

Dental sealants:

Dental sealants prevent cavities to keep your child's teeth healthy 

Emergency dental care:

Accidents can cause tooth fractures, loose teeth, or knock a tooth out of your child's mouth. Our pediatric dentists provide emergency services. Sometimes, we can save a tooth that's been knocked out or loosened and provide emergency treatment for broken teeth.

Fillings:

We place fillings in teeth to keep cavities from spreading to the gums

Fluoride treatments:

Fluoride treatments

maintain the mineral levels in your child's teeth, helping prevent tooth decay

Mouthguards:

Having your child wear a mouthguard while playing sports can prevent damage to their teeth, gums, and jaw

Sedation dentistry:

Sedation dentistry helps children stay calm during dental treatments and alleviates their anxiety, ensuring they receive the care they need without emotional distress

Teeth cleanings:

Professional teeth cleanings keep your child's teeth plaque and tartar free

Wisdom teeth extractions:

Although people are typically between the ages of 17 and 24 when they get their wisdom teeth, wisdom teeth can appear once your child reaches their teens. When there isn't enough space for the wisdom teeth to erupt, they can become impacted, causing infections and pain. Wisdom teeth extractions prevent these teeth from damaging neighboring teeth and causing alignment issues. 
What Pediatric Orthodontic Services Do We Offer?
Our orthodontic dental specialists use their skills to protect kids' smiles. We offer clear, invisible, and metal braces that straighten misaligned teeth and correct overbites and underbites.
We also offer Invisalign. Clear and invisible braces and Invisalign deliver the orthodontic care children need without the embarrassment of visible braces.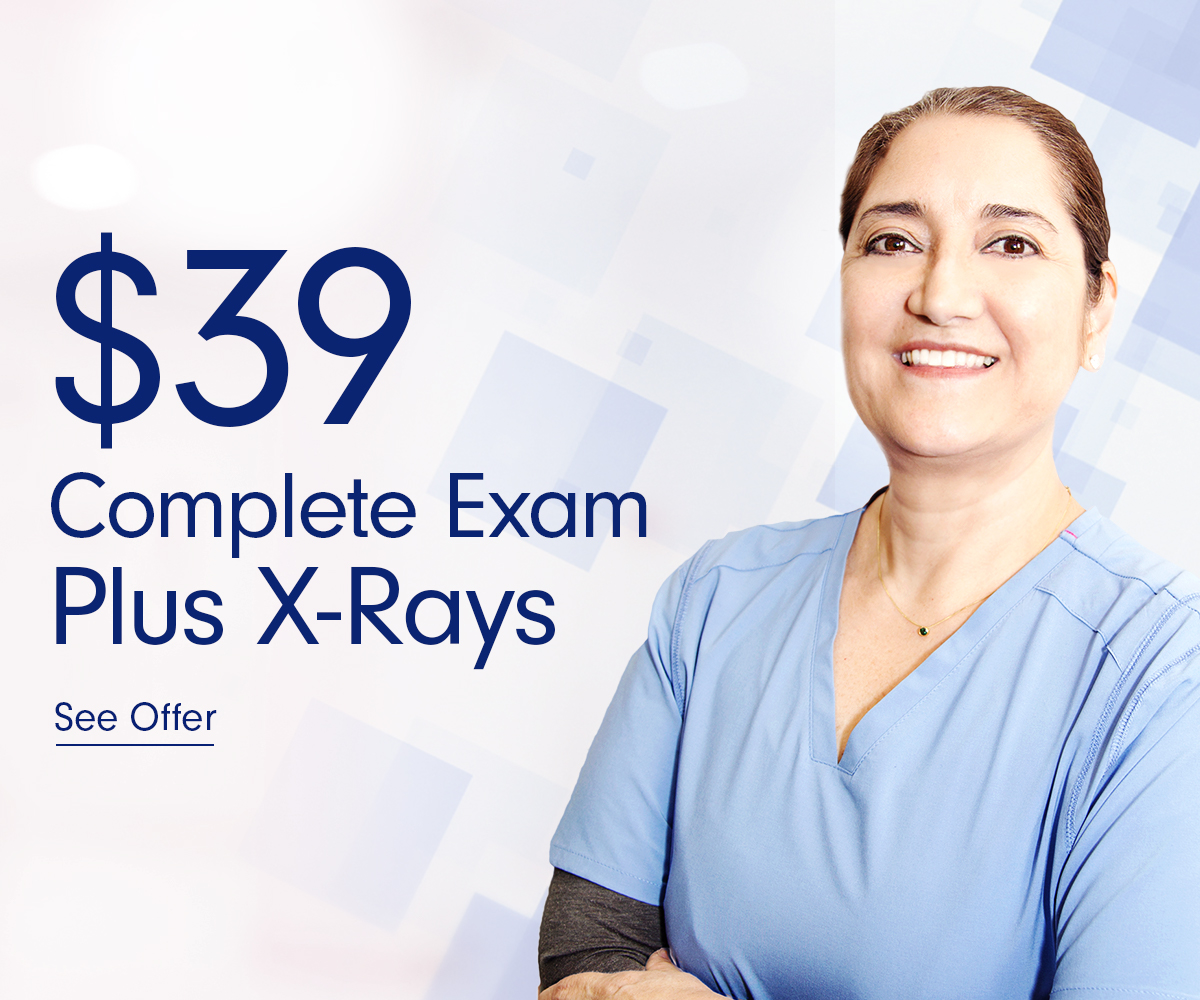 Regular Price: $179
Hurry! Offer Expires: 12/31/2023
With this offer, there's no excuse not to get back on track! Schedule a complete exam and x-rays for only $39 and ensure you have a beautiful healthy smile.
Start Smiling Now
Call us now to make an appointment at a location near you and receive a complete exam and X-ray for only $39.00.
Sources:
About Fluoride. (2023). 
Easing Dental Dear in Adults. (2021)
Kakkar, M. et al. (2016). Prevalence of dental anxiety in 10-14 years old children and its implications.
We Accept Most Dental Insurances