Your North Las Vegas Dental Office
Call (844) 8-SMILE-NOW for an appointment!
Table of Contents
About Our North Las Vegas Office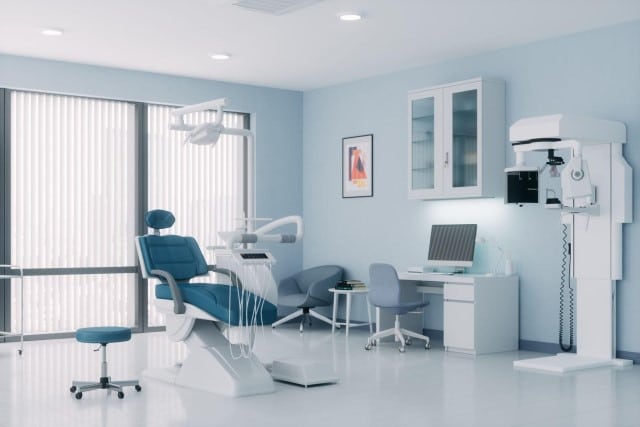 Absolute Dental in North Las Vegas provides comprehensive dental services to help you and your family stay on track with your oral health. Our modern office and compassionate team of dental professionals deliver the best care with general, pediatric, orthodontic, and cosmetic dentistry procedures all in one place.
Whether you are here for a routine cleaning, tooth filling, or oral surgery, our focus is to make every procedure as comfortable as possible. We have a knowledgeable, bilingual staff and are currently accepting new patients in the North Las Vegas area.
What general dentistry services do we offer?
The general dentist North Las Vegas team provides preventative care and treatment for dental issues that can affect your oral health. Our general dental care services include the following:
Teeth cleaning – Our gentle hygienists carefully remove plaque and bacteria from your teeth to prevent tooth decay, gum disease, and other dental problems.
Exam and x-rays – Your dentist will complete a full exam and x-rays to catch potential issues early for less invasive treatment in the future.
Tooth filling – When tooth decay happens, we can remove the damage and strengthen the tooth with durable fillings that look and feel like natural teeth.
Root canal – A root canal procedure removes infected tissue from the tooth to relieve painful toothaches and prevent the infection from spreading.
Dental crown – When a tooth becomes damaged or a procedure leaves the tooth exposed, a dental crown is placed over the tooth to protect and strengthen it.
Wisdom teeth extraction – When wisdom teeth need to come out, our skilled team of oral surgeons can perform this procedure in our office with sedation.
Sleep dentistry – We provide several sedation options to help anxious patients or those who need more extensive procedures feel comfortable and pain-free.
Oral cancer screenings – Catch potential signs of oral cancer early with our in-office screenings and thorough exams.
Emergency dental services – The Absolute Dental emergency dentists can help with chipped or broken teeth, loose or knocked out teeth, and other sudden symptoms that need immediate treatment.
What pediatric services do we offer?
It's important to get your kids off to the right start when it comes to dental care. Our children's dentist Las Vegas team works with parents to create manageable oral hygiene routines and positive associations with the dentist. Our services include:
Bi-annual cleanings – Keep your child's smile healthy and strong with teeth cleanings every six months to remove harmful bacteria and buildup.
Tooth filling – Dental fillings stop cavities from spreading by gently drilling away the decay and filling the tooth with a durable filling material.
Fluoride treatments – Our in-office treatments apply fluoride directly to your child's teeth to strengthen the enamel as they develop.
Dental sealants – Add a layer of protection to your child's molars with effective dental sealants that prevent cavities from forming.
Custom mouthguards – Consider a custom mouthguard to protect your children's teeth if they play sports or grind their teeth while sleeping.
Braces – Your kids deserve to smile with confidence. We offer several braces options to move teeth into alignment for a straight and radiant smile.
What cosmetic dentistry services do we offer?
Looking for the best cosmetic dentistry Las Vegas has to offer? Absolute Dental provides every service you need to get the smile you've always wanted, including:
Teeth whitening – Remove dental stains and brighten your smile by several shades with a professional in-house teeth whitening
Porcelain veneers – Dental veneers fit over your existing teeth to create the perfect smile without the need for lengthy treatments or extensive procedures.
Dental implants – Our team provides permanent solutions for missing teeth with natural-looking dental implants that prevent bone loss and other oral health issues.
Dental bridges – Another way to replace missing teeth involves anchoring a dental bridge to supporting teeth to create a beautifully full and functional smile.
Dentures – If you have multiple missing teeth, partial or full dentures are an excellent way to restore your smile's appearance and functionality — and your confidence!
What orthodontic services do we offer?
If you've been putting off braces due to cost or treatment duration, it's time to reconsider. Absolute Dental orthodontists provide affordable and effective orthodontic treatments that fit every lifestyle and budget. Our North Las Vegas orthodontics offer:
Metal braces – Correct any dental misalignment with durable metal braces! Straight teeth are easier to keep clean and can give your self-esteem a well-deserved boost.
Invisible braces – For an even more discreet option, invisible braces involve a series of clear, plastic aligners that fit over the teeth to gently straighten them in only a few months.
Invisalign® – Absolute Dental carries the popular Invisalign® system, a proven method for correcting dental misalignments with invisible plastic trays.
Dental Office Las Vegas Appointments
If you need quality dental care for your family in the 89081 area, Absolute Dental in North Las Vegas is currently welcoming new patients! We accept most dental insurance and offer flexible payment plans to make it easy to prioritize your dental health. Contact us or fill out our appointment form to schedule an appointment today!
Directions to Our North Las Vegas Office
Located on Losee Road just north of Ann Road, our North Las Vegas office is easily accessible from anywhere in North Las Vegas. From the 215, take the Losee Rd. exit and head south. Pass Tropical Pkwy. You'll find us on your left-hand side, next to Walmart Neighborhood Market and The UPS Store. You can also take the I-15 N to Craig Rd. Head west to Losee Rd. and make a right. We'll be on your right side.
Dentists at this Location
We Accept Most Dental Insurances
No dental insurance? No Problem!


Learn about our Smile Saver Program which offers discounts for the dental services you need at an affordable price.