Dental emergencies affect millions annually. Some of the reasons you might have a dental emergency include the following:
A blow from an object

Car accidents

Inadequate dental care

Poor dental health

Slips and falls
When you have a dental emergency, you may wonder what you should do and whether you should go to a hospital emergency room. While ERs can help manage your pain, the best thing to do is to find a dentist who provides emergency dental care.
What Is Considered A Dental Emergency? 
Common dental emergencies include the following:
A broken tooth

Abscesses

Broken crowns

Cracked teeth

Damaged enamel

Foreign objects stuck in teeth

Loose teeth

Lost fillings

Knocked-out teeth

Soft-tissue damage to your gums

Toothaches
Symptoms of dental emergencies include the following:
Bleeding gums

Breaks or cracks

Nerve exposure

Pain

Swollen gums, jaw, or mouth
Dental emergencies include damage to the surface of a tooth, chipped teeth, and injuries making it possible to touch the root of a tooth. Your teeth help maintain tooth alignment in your mouth and protect your jaw and gums from damage. When you're missing a tooth, you can develop other dental problems, such as alignment issues and periodontal disease, and increase the risk of severe health issues, such as heart disease.
Is A Broken Tooth A Dental Emergency?
A broken tooth is a dental emergency because the damage may spread without prompt treatment, resulting in tooth loss. The break makes it possible for bacteria to infect the pulp, and this infection can spread to your gums, bloodstream, and heart. 
Is A Loose Dental Implant An Emergency? 
A loose dental implant isn't always an emergency. Checking the list for common dental emergency symptoms can help you determine whether you need to seek walk-in dental care or schedule a same-day appointment with your dentist.
Even if you aren't experiencing symptoms of common dental emergencies, you should call your dentist and schedule an appointment to see them as soon as possible. Your dentist may be able to resolve your issues by tightening your implants. However, serious issues could mean your implant needs to be replaced. 
What Can An Emergency Dentist Do About A Knocked-Out Tooth?
Promptly seeing an emergency dentist can make the difference between saving a knocked-out tooth or losing the tooth permanently. Your emergency dentist may be able to reimplant the tooth. Saving the tooth prevents you from facing other dental costs, such as the costs of implants. It also protects your gums and neighboring teeth, preventing future dental pain and dental care expenses.
How Much Does Emergency Dental Care Cost?
Emergency dental care costs vary, depending on the severity of the emergency and the type of treatment required. 
Suppose you have an infected tooth, and the infection spreads to the roots. A root canal can enable you to save the tooth and keep the infection from spreading further. You can expect a root canal to cost anywhere from $500 to $1,500. 
In some cases, it isn't possible to save an infected or damaged tooth. Extracting a tooth can cost between $75 and $800, and you may have additional costs if you need a bridge or implant to fill the gap left by the missing tooth. 
Losing a filling is a dental emergency because the filling prevents infection from spreading. When you lose the filling, you have an empty cavity inside your tooth where infection can develop, and the hole allows the infection to spread to the roots and gums. Depending on the filling materials, replacing a filling can cost anywhere from $50 to $4,500. 
Absolute Dental accepts dental insurance plans from many reputed insurance companies, including the following providers:
Aetna

Ameritas

Boon-Chapman

BlueCross BlueShield

Cigna

Delta Dental

GEHA

Guardian

Health Plan of Nevada

HealthSCOPE

Humana

Liberty Dental Plan

MetLife

Premier Access

The Standard

THT Health

United Concordia Dental

United Healthcare

The Zenith
We also accept Medicaid and Care Credit.
Where To Go For A Dental Emergency Without Insurance
Absolute Dental offers multiple financing options to ensure people can afford expert dental care. We offer discounts on standard services, and we also offer our Smile Saver Program. Smile Saver includes the cost of routine dental care and some services while reducing other dental care costs. Signing up for our Smile Saver Program can put affordable medical care within reach if you don't have dental insurance coverage.
Where Can I Receive Emergency Dental Care? 
The best way to address a dental emergency is to seek care from an emergency dentist. Whether you need emergency care in Las Vegas, Reno, or Sparks, Absolute Dental provides the care you need for your dental emergencies.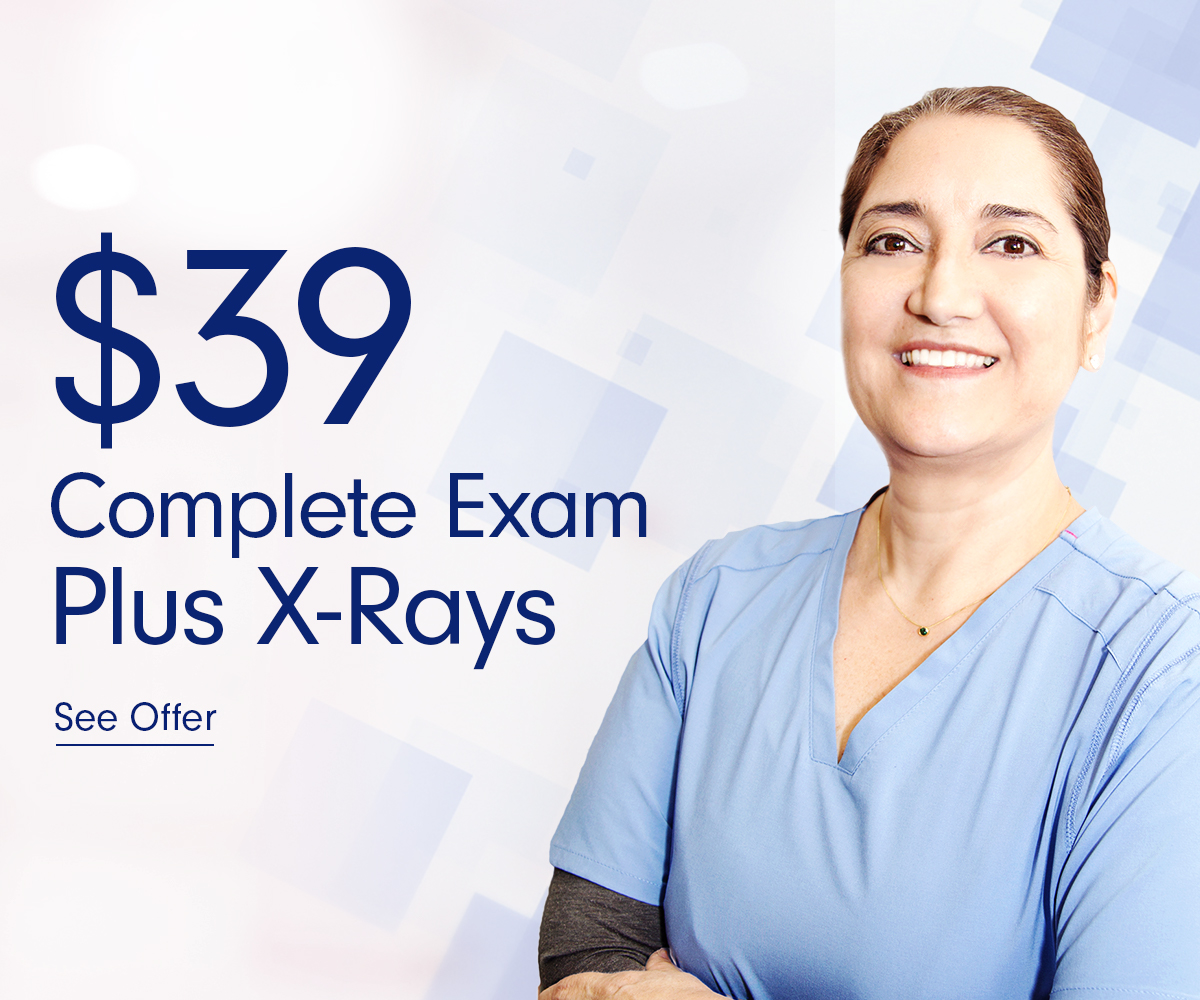 Regular Price: $179
Hurry! Offer Expires: 12/31/2023
With this offer, there's no excuse not to get back on track! Schedule a complete exam and x-rays for only $39 and ensure you have a beautiful healthy smile.
Sources: