Oral Cancer Screenings in Reno
The important thing to remember is oral cancer can happen to anyone. For this reason, everyone should practice visual inspections of their teeth, gums, and mouth during daily brushing and flossing. If you happen to notice anything unusual or experience sudden growths or discolorations, it's a good idea to schedule an oral cancer screening with your Absolute Dental office right away.
Call (844) 8-SMILE-NOW or fill out the form to make an appointment today!
Home » Dental Services » Nevada Dental Services » Reno » Oral Cancer Screenings
Early Detection of Oral Cancer with Absolute Dental
As reported by the American Dental Association, oral cancer has an exceptionally high mortality rate. Reports estimate nearly 35,000 people in the United States are diagnosed yearly with oral cancer, and about 25 percent of those diagnosed are not expected to recover. This can be attributed to lack of cancer screening and diagnosing the disease too late. If the cancer is not detected early, chances are the cancerous cells have already spread and are affecting other areas of the body. Once this occurs, the ability to fight abnormal or diseased cells is highly compromised. Because oral cancer screenings are the best way to detect malignant cells in the mouth in the early stages, our Reno dental offices offer specialized testing to help patients stay on top of their oral health.
Oral cancer is characterized by malignant cells developing in the mouth and surrounding areas. If not detected in the early stages, there is a high risk these cancerous cells will spread to other parts of the body. Oral cancer screenings can potentially detect these malignant cells earlier on, so the patient has the best chances for treatment and recovery.
Regular Price:
$69
Hurry! Offer Expires: 10/31/2022
$35 for cash-pay patients, and fully covered by insurance and our Smile Saver Plan! Get a comprehensive cancer exam during your next visit.
I like going to this office!!
I like going to this office!! Everyone is very nice. Priscilla is very helpful and nice! She always answers every…
The best experience I've had at any dental office!
The best experience I've had at any dental office! The front desk girls were so helpful and Tonya went above…
Recently had a great experience at Absolute Dental.
Recently, had a great experience at Absolute Dental. From the front desk to the hygienist to Dental assistant to the…
Dr. Culpepper was amazing!
I haven't been to the dentist in a long long time and decided it's time to start taking care of…
Amazing staff at this practice
Amazing staff at this practice, Katrina was really helpful explaining my treatment and she also offered me a payment plan,…
Very satisfied with the treatment I received here!
Very satisfied with the treatment I received here! The doctors and techs were kind, polite and caring! Will definitely go…
We Accept Most Dental Insurance
Absolute Dental is a preferred provider for most insurances, unions, and hotels that include: Aetna, Ameritas, Boon-Chapman, Caesars Palace, Cigna, Delta Dental, Diversified, Geha, Guardian, Harrah's, HealthSCOPE Benefits, Health Plan of Nevada (HPN), Humana, Liberty, Met-Life, MGM-MIRAGE, Premier Access, The Standard, Station Casinos, Teachers Health Trust, United Concordia, United Healthcare, Venetian, and The Zenith. We also accept Medicaid.
If you do not see your dental insurance listed here, just give us a call to confirm!
Every person's situation is different. If you don't see your health insurance here, or if you do not have dental insurance, we can help you!
Call us now to discuss your situation and discover what options are right for you.
What if Oral Cancer is Detected?
If your biopsy test comes back with positive results for oral cancer, a treatment strategy should be planned right away. This may include treatment of pre-existing dental issues that could potentially be affected by radiation treatments. Because the teeth and jaw bones can become dry and brittle due to damaged salivary glands, complications such as cavities or fractures can occur during oral cancer treatment. Your dentist will work with you to stabilize any oral problems prior to starting radiation treatment to prevent as much damage as possible.
Absolute Dental in Reno is dedicated to providing the best oral healthcare as possible. We work with our patients to build strong oral hygiene practices that will lead to a promising, healthy future. If your dentist recommends an oral cancer screening, it doesn't necessarily mean you have cancer or there's a reason to worry. Our dentists have the best intentions and could suggest a screening simply because you are in a high-risk category and hope to catch any symptoms as early as possible. Early detection is crucial for successful oral cancer treatment and it will only benefit you in the long run. It's always best to listen to your dentist's recommendations and follow through with all instructions given to you regarding oral cancer screenings. If you have any questions or would like to schedule an early-detection oral cancer screening, reach out to our Reno offices for an appointment.
What is Involved with an Oral Cancer Screening?
An oral cancer screening is a special examination designed to test for cancerous, or squamous, cells in the mouth and surrounding areas. This test includes a number of elements, starting with a basic dental exam to look for the following symptoms:
Leukoplakia, or white patches in the mouth, that are a pre-cancerous symptom
Chronic sores on the lips or inside the mouth
Progressive loosening of the teeth
Irritated, inflamed or bleeding gums
Blood around the tongue, teeth and other areas of the mouth
The dentist will also take x-rays of the mouth and review the patient's full medical history. If anything suspicious is found during the exam, a biopsy may be conducted to get a sample of the tissue for further evaluation. In most cases, this procedure is performed under anesthesia and the patient will not experience any discomfort. Other potential symptoms your dentist will ask about include earaches and trouble chewing or swallowing.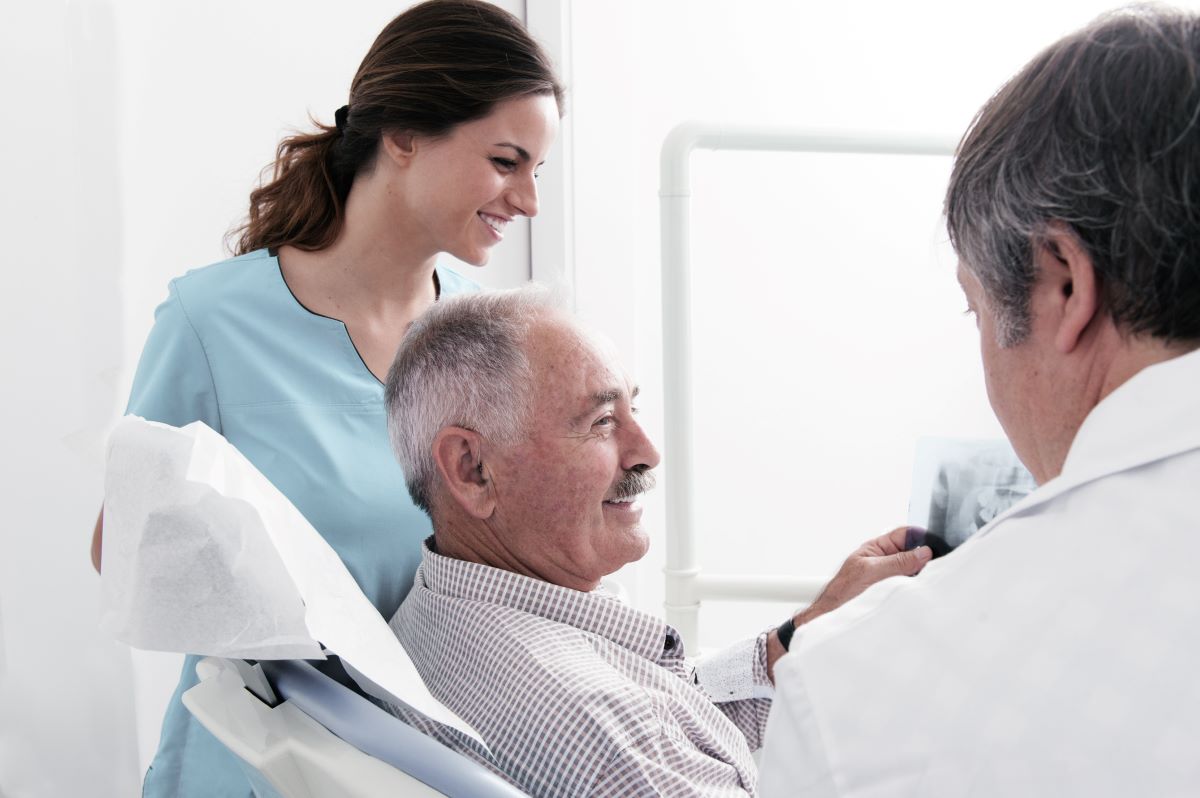 Looking For an Oral Cancer Screening in Reno?
Absolute Dental provides the most professional dental and orthodontic services in Nevada. Schedule your consultation with our dentists at any of our Northern Nevada locations in Reno, Sparks and Carson City!