Invisible Braces in Reno
Home » Dental Services » Reno »
For patients looking for a more discreet option to correct crooked teeth and dental misalignments, invisible braces are a perfect choice. With six convenient locations throughout Reno, Absolute Dental offers professional orthodontic services and affordable invisible braces for your whole family.
What Are Invisible Braces?
Invisible braces are made of clear, solid plastic and can have the same dramatic results for orthodontic patients as metal or ceramic braces. They are thin plastic trays that fit perfectly over your teeth to gradually correct the alignment of your smile. A great example of invisible braces is the increasingly popular brand, Invisalign.
Benefits of Invisible Braces
Invisible braces are the least invasive orthodontic treatment offered. If you're considering getting braces, you should speak to your Reno dentist to learn more about the benefits of invisible braces, including:
Almost completely unnoticeable
No permanent installation required
No food or drink restrictions
Easy to remove and clean
Less irritation to gums and tongue
The clear, durable plastic that makes up invisible braces does not need to be installed in the mouth the way metal braces do. This means invisible braces can be removed, cleaned easily, cause less irritation, and do not restrict a patient's diet.
How Do Invisible Braces Work?
Rather than using brackets and metal wires, invisible braces correct dental alignment issues using a series of durable plastic trays that fit over the teeth. The plastic trays are able to gently guide the teeth to shift into a more optimal position. Every 4 to 6 weeks, the trays are updated to keep the patient's progression on track until a successful result is achieved.
Because these plastic trays are not permanently installed in the mouth, they can be removed when eating or for routine dental hygiene. Also, patients are able to clean invisible braces easily by removing them and rinsing with water.
Cost Comparison of Invisible Braces
Although some limitations come with invisible braces, the benefits of this option make them an excellent choice for patients with mild alignment issues and those who are opposed to the appearance of conventional braces with wires and brackets.
However, invisible braces tend to cost a little more than other orthodontic treatments because the plastic trays need to be replaced every 4 to 6 weeks with new fittings each time. The ongoing progressive treatment method with invisible braces requires regular visits to your dentist as well. Although the cost may be slightly more, the outcome is incredible results that are achieved with an almost entirely invisible treatment.
Possible Limitations of Invisible Braces
Although invisible braces are an excellent option for many patients, they are not the best choice for everyone. Patients with more severe dental misalignments or major spacing issues may not benefit from invisible braces as much as they would from other orthodontic treatments. In this way, invisible braces are not as versatile.
Invisible braces also require a certain level of commitment from patients. Unlike traditional metal braces, invisible braces can be removed for eating and cleaning. You can remove the plastic trays for a short time, but they should not be left out for extended periods. This means you must replace the trays as soon as possible after eating or brushing your teeth and they must remain on while sleeping. If the patient fails to follow these instructions, the treatment will not be successful.
Consult with your Reno dentist to see if you are a good candidate for invisible braces. Our dental professionals will be able to evaluate your situation and see if invisible braces will be most beneficial for you.
Invisible Braces at Absolute Dental in Reno
If you're interested in getting invisible braces in Reno, call any one of the six Absolute Dental locations in the Reno area to schedule an appointment! Our dentists can evaluate if you are a good candidate for this option and plan your course of treatment immediately.
Absolute Dental provides the most professional orthodontic services and successful treatment of dental misalignment in Nevada. Contact us today to learn more about invisible braces and how they can help you and your family achieve the perfect smiles you've always wanted.
---
Popular Alternatives to Invisible Braces
Absolute Dental in Reno offers alternatives to Invisible braces to fit your lifestyle.
Our experienced orthodontists will evaluate your smile to determine which option is right for you.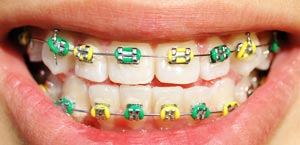 Extremely effective and durable. Uses metal brackets and wires to align the teeth.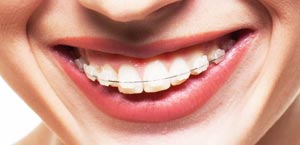 Offering a less visible choice, clear ceramic is used to bond a thin metal wire to the teeth.

Invisalign® aligners are the clear alternative to metal braces for adults and teens.
Everyone at Absolute Dental orthodontics are always friendly, helpful and attentive. They have made both my and my daughter's experience with braces easier than we thought!