Affordable Clear Braces in Reno
Clear braces, also known as ceramic braces, are a popular orthodontic option for children and adults hoping to correct dental misalignments. With six convenient locations in the Reno area, Absolute Dental offers professional orthodontic treatments and affordable clear braces for the whole family. Get the perfect smile you've always wanted with clear braces at Absolute Dental in Reno.
Call (844) 8-SMILE-NOW or fill out the form to make an appointment today!
Home » Dental Services » Nevada Dental Services » Reno »
How Do Clear Braces Work?
Clear braces use ceramic bonding to adhere a small metal wire to the front of each tooth. Strategic tension is applied to the thin wire to pull the patient's teeth into alignment. This process can take months as periodic adjustments need to be made to the braces to achieve specific results. However, this orthodontic treatment often yields results more quickly than invisible braces because more tension can be applied and each tooth can be adjusted individually.
The ceramic bonding is a transparent material that allows the teeth to be perfectly visible while the braces are installed. The durable metal wire is very thin and can only be noticed from close proximity.
Great Staff!
The staff is friendly and knowledgeable. The office is clean. I am very impressed and will definitely return and recommend…
The best experience I've had at any dental office!
The best experience I've had at any dental office! The front desk girls were so helpful and Tonya went above…
Recently had a great experience at Absolute Dental.
Recently, had a great experience at Absolute Dental. From the front desk to the hygienist to Dental assistant to the…
Dr. Culpepper was amazing!
I haven't been to the dentist in a long long time and decided it's time to start taking care of…
Amazing staff at this practice
Amazing staff at this practice, Katrina was really helpful explaining my treatment and she also offered me a payment plan,…
Very satisfied with the treatment I received here!
Very satisfied with the treatment I received here! The doctors and techs were kind, polite and caring! Will definitely go…
We Accept Most Dental Insurance
Absolute Dental is a preferred provider for most insurances, unions, and hotels that include: Aetna, Ameritas, Boon-Chapman, Caesars Palace, Cigna, Delta Dental, Diversified, Geha, Guardian, Harrah's, HealthSCOPE Benefits, Health Plan of Nevada (HPN), Humana, Liberty, Met-Life, MGM-MIRAGE, Premier Access, The Standard, Station Casinos, Teachers Health Trust, United Concordia, United Healthcare, Venetian, and The Zenith. We also accept Medicaid.
If you do not see your dental insurance listed here, just give us a call to confirm!
Every person's situation is different. If you don't see your health insurance here, or if you do not have dental insurance, we can help you!
Call us now to discuss your situation and discover what options are right for you.
The Benefits of Clear Braces
When compared to other orthodontic options, clear ceramic braces have several advantages that can help you get that perfectly straight smile without compromising your appearance. Consult with your Reno dentist to learn more about the benefits of clear braces, such as:
Clear ceramic bonding is less noticeable than metal brackets and rubber
Less expensive than invisible plastic braces
Only require one single installation
Can achieve successful results more quickly than invisible braces
Can be used to treat more severe misalignment and gaps
Clear braces are an excellent alternative option to traditional metal braces for many reasons. They are far less conspicuous and offer a way for patients to correct their teeth more discreetly. Clear braces are also less expensive than invisible braces, which utilize plastic trays to straighten teeth over time. Unlike invisible plastic braces, the durable metal wiring used with clear braces can treat more severe alignment issues.
Cost Comparison: A Middle Ground Between Metal and Plastic
Metal braces are easily the most cost-effective option on the market because they use metal and rubber, two materials that are relatively inexpensive. Ceramic is a bit more costly, and that means a somewhat higher price tag for the convenience of a mostly invisible installation. Even so, the cost of ceramic braces is still less than invisible braces like Invisalign®, plastic options on the market and offers a great way to enhance a smile for the long-term. As with any type of corrective dental work, patients should make sure to speak with their dentist when they consider the available methods of smile correction and jaw alignment available to them.
Are You Considering Clear Ceramic Braces in Reno?
If you're interested in getting ceramic braces, call any one of the Absolute Dental locations in the Reno area (including and Sparks) to schedule an appointment! Our dentists can evaluate if you are a good candidate for this option and plan your course of treatment immediately.
Absolute Dental provides the most professional orthodontic services and successful treatment of dental misalignment in Nevada.
Special Considerations for Clear Braces
For all of the benefits of a typical clear braces installation, there are certainly a few drawbacks that patients would be wise to consider before opting for this particular product. Perhaps the most notable is that patients will be subject to food restrictions for the duration of their braces' installation. These restrictions are the same as they would be with a metal braces installation and for large the same reason. Simply put: It's no fun to get food stuck in the installed metal parts, and it's certainly no fun for stuck food to produce a cavity.In addition to restrictions on certain foods, patients will notice a bit more pain resulting from the installation of clear braces than they would if they opted for plastic alternatives. That's because, like regular metal braces, the metal must be installed into the mouth semi-permanently. Of note, however, is that the long-term pain and gum irritation is less noticeable with clear braces than metal options.
Ceramic braces can be great at blending in with an existing smile, but the nature of the ceramic bonding agent can cause teeth to stain more noticeably than metal options in some cases. With healthy discussion with your dentist, it will be easy to pick the best installation for cost, results, and invisibility.
Popular Alternatives to Clear Braces
Absolute Dental in Reno offers alternatives to clear braces to fit your lifestyle.
Our experienced orthodontists will evaluate your smile to determine which option is right for you.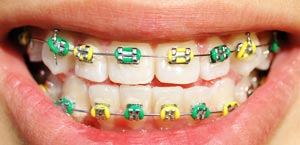 Extremely effective and durable. Uses metal brackets and wires to align the teeth.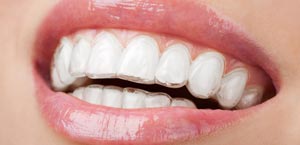 A series of clear plastic trays are used to discreetly and progressively straighten the teeth.