Affordable Clear Braces in Reno
Home » Dental Services » Reno »
Clear braces, also known as ceramic braces, are a popular orthodontic option for children and adults hoping to correct dental misalignments. With six convenient locations in the Reno area, Absolute Dental offers professional orthodontic treatments and affordable clear braces for the whole family. Get the perfect smile you've always wanted with clear braces at Absolute Dental in Reno.
What Are Clear Braces?
Rather than using rubber to adhere to the teeth, clear braces use a clear ceramic bonding that is less noticeable. A very thin metal wire is then attached to the ceramic bonding which pulls against the teeth to create a more optimal alignment to a patient's smile.
Benefits of Clear Braces
When compared to other orthodontic options, clear ceramic braces have several advantages that can help you get that perfectly straight smile without compromising your appearance. Consult with your Reno dentist to learn more about the benefits of clear braces, such as:
Clear ceramic bonding is less noticeable than metal brackets and rubber
Less expensive than invisible plastic braces
Only require one single installation
Can achieve successful results more quickly than invisible braces
Can be used to treat more severe misalignments and gaps
Clear braces are an excellent alternative option to traditional metal braces for many reasons. They are far less conspicuous and offer a way for patients to correct their teeth more discreetly. Clear braces are also less expensive than invisible braces, which utilize plastic trays to straighten teeth over time. Unlike invisible plastic braces, the durable metal wiring used with clear braces can treat more severe alignment issues.
How Do Clear Braces Work?
Clear braces use ceramic bonding to adhere a small metal wire to the front of each tooth. Strategic tension is applied to the thin wire to pull the patient's teeth into alignment. This process can take months as periodic adjustments need to be made to the braces to achieve specific results. However, this orthodontic treatment often yields results more quickly than invisible braces because more tension can be applied and each tooth can be adjusted individually.
The ceramic bonding is a transparent material that allows the teeth to be perfectly visible while the braces are installed. The durable metal wire is very thin and can only be noticed from close proximities.
Clear Braces at Absolute Dental in Reno
Our professional orthodontists in Reno can evaluate if clear braces are the best treatment option for you.
If you'd like more information about getting clear braces in the Reno, Sparks, or Carson City, call to make an appointment at one of the six dentist offices located in Reno.
Absolute Dental provides the most comprehensive orthodontic services to successfully treat dental alignment issues in Reno, including invisible, metal, and clear braces. Contact the team today to learn more about clear braces and how they can help you or your children get the perfect smile.
---
Popular Alternatives to Clear Braces
Absolute Dental in Reno offers alternatives to clear braces to fit your lifestyle.
Our experienced orthodontists will evaluate your smile to determine which option is right for you.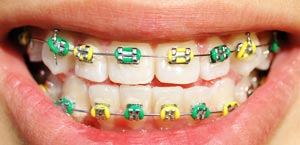 Extremely effective and durable. Uses metal brackets and wires to align the teeth.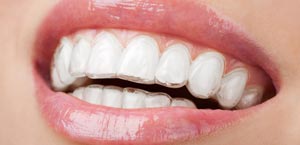 A series of clear plastic trays are used to discreetly and progressively straighten the teeth.

Invisalign® aligners are the clear alternative to metal braces for adults and teens.
Lisa W. and Dr. Askins are the best! They came in from another office late on a Friday night to help my daughter who had just got braces. They truly cared about her, and didn't want her to be in pain all weekend or more. They did not have to, but it just shows what good people they are. I am so grateful to them. The rest of the orthodontic staff are very nice also. Braces I'm sure are no fun, but my daughters like these people and they make it as easy for my kids as they can. Thumbs up!