Your Family Dentist in Carson City, Nevada
Call (844) 8-SMILE-NOW for an appointment!
Directions
Absolute Dental's Carson City office is conveniently located in Carson City, NV, near the 580 and East College Parkway. Head north from the 580 freeway and turn left onto E College Pkwy. Our office will be on the left side next to the U.S. Bank.
About This Carson City Office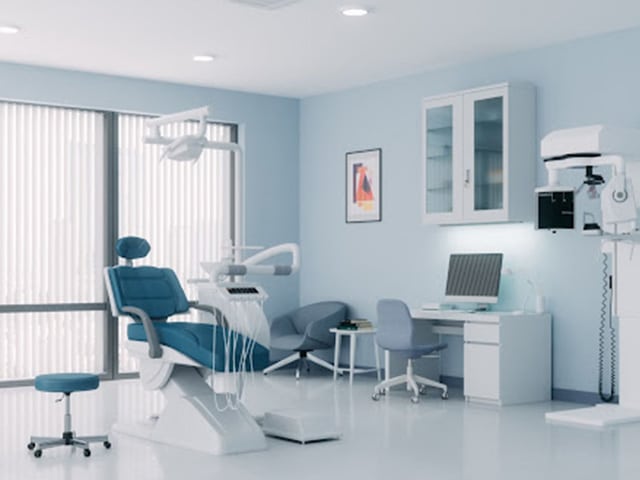 Absolute Dental in Carson City is proud to be a leading provider of dental services in the Carson City area. Our Carson office offers a wide range of dental solutions for adults and children. Our experienced dentists are friendly and compassionate/ We are here to provide the best dental care for you and your family. Our services include routine exams, fillings, root canals, extractions, and a full line of cosmetic procedures, including braces. Visit us online or give us a call to schedule your appointment today. With flexible appointment options, including same-day visits, it's never been easier to schedule your routine or emergency dental appointment. We are currently accepting new patients and are looking forward to serving you.
Table of Contents
Dental Services
Our Absolute Dental Carson City office is committed to providing the best dental care to residents through Carson City. That's why we offer a comprehensive array of dental services for you and your family.
Our Carson City dental office can handle all your general dentistry needs, including routine oral exams, teeth cleanings, fillings, and more. Here are some of the more common general dentistry services the team at Absolute Dental can provide.
Teeth Cleanings
Keep your smile looking bright with biannual teeth cleanings. Our dentists and dental hygienists will do a thorough inspection of your mouth as they remove plaque and bacteria that contribute to poor oral health.
X-rays
Our full-service facility allows you to get x-rays in-house to aid in your oral health examination.
Tooth Fillings
The buildup of bacteria can lead to unsuspected and, in the worst case situation, painful cavities. Our dental team's comprehensive oral exams will identify these cavities and can remediate them with fillings that will keep cavities from spreading.
Below you will find some of our available dental services. Our highly trained staff, dental hygienists, dentists, and specialists look forward to serving you. Contact our offices today toschedule your appointment.
Root Canals
When a tooth becomes infected, and a filling is not a viable solution, a root canal may be needed. Our experienced dentist will drill into the tooth's root canal to remove the bacteria and infected tissue.
Dental Bridges
Restore gaps in your mouth because of missing teeth by getting dental bridges. Dental bridges are held in place by crowns that are fitted over existing teeth. While most dentists can perform this procedure, specialists with an in-depth understanding of dental bridges may be needed for patients with severe gapping.
Dental Crowns
Dental crowns are used to help protect vulnerable teeth, including those that are broken or infected. It's common to receive a crown following a root canal, but this is not always the case.
Dentures
For patients wanting to restore their smile after tooth loss, dentures can be a great option. Dentures can restore the functionality of your teeth and the overall appearance of your smile.
Other Dental Services
For more comprehensive services, including dental implants, oral surgery, and orthodontics exams, our specialists are ready to deliver professional services so that you feel and look great.
The team at Absolute Dental is proud to offer comprehensive general dentistry services. Included in these services are the following:
Dental Services in Carson City, NV FAQs
Learn more about all the dental services you can expect from the Absolute Dental Carson City, NV office.
What Dental Emergency services do we offer?
When life happens, and you need emergency care, our team is ready to help. With same-day appointments for your dental emergencies, your urgent dental needs don't have to turn into a drawn-out and lengthy experience. Some of our emergency dental services include the following:
Cracked Teeth
Cracked teeth from accidents or falls should be quickly examined to prevent further damage, irritation, or infection.
If you have chipped or broken a tooth, our team can determine whether or not the tooth can still be saved. Seeking dental attention from a dentist or oral surgeon after chipping or knocking out a tooth is also important to help prevent further damage. Our team can assess same-day dental emergencies if you have experienced the following:
Cracked teeth
Partially broken or chipped teeth from biting a solid object
Knocked Out Teeth Due to a Trauma to the Mouth
Loose or Missing Dental Fillings
If you have dental fillings that have become loose, cracked, or broken, our team can help repair the damage. Replacing missing fillings is essential to keep you from experiencing further infection or pain.
Broken or Detached Dental Crown
A broken or detached crown can cause immediate or reverberating pain. Seeking dental attention sooner rather than later can help with this pain management.
Dental Emergencies Related to Braces
If your or your child's braces require attention due to broken wires or detached brackets, our team can help.
What Orthodontic Services Do We Offer?
If you need orthodontic services, turn to the best orthodontics in Carson City, NV, at Absolute Dental. Our team offers a comprehensive list of services for patients of all ages. Our Orthodontic services to help you with straight teeth include the following:
Metal Braces
These traditional metal braces with colored bands can help straighten your smile while adding a bright pop of color.
Clear braces
Tooth-colored ceramic braces take a more muted approach to colored metal braces. This is an ideal service for adolescents and younger adults who want a discreet look.
Invisible Braces
Surreptitiously straighten your smile with invisible braces. These transparent trays help straighten your smile without the need for metal bands or wiring.
Invisalign
Absolute Dental is proud to offer Invisalign services for our patients who want a discreet method to restore their smile.
Book Your Appointment With Absolute Dental Today
imageFrom our Carson dental care staff to our specialists and everyone in between, our team is ready to serve you with all your dental needs. If you are looking for a trusted dentist in Carson City, NV, turn to the team at Absolute Dental.
Visit us online or contact our Carson City, NV office today to book your next dental appointment. Whether you are in need of routine dental care, an emergency appointment, or a consultation

(844) 8‑SMILE‑NOW
(844) 876‑4536
Dentists at this Location
Featured Reviews
No guessing or waiting for a second appointment to fix the cavity
I took my three kids into the office today. The staff is super efficient, I was able to get the…
My nerves were calmed by everyone's warmth and I would definitely recommend them to anyone!
I came to Absolute Dental after 6 years of not seeing a dentist. Every single person I came into contact…
We Accept Most Dental Insurances
No dental insurance? No Problem!


Learn about our Smile Saver Program which offers discounts for the dental services you need at an affordable price.