Dental Care Services at North Las Vegas Dentist Office - 2217 E Lake Mead Blvd
Call (844) 8-SMILE-NOW for an appointment!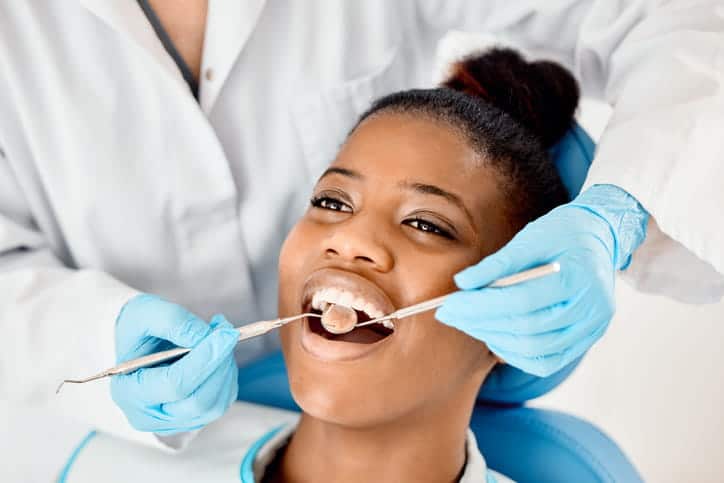 Directions
Our dentist in Lake Mead, North Las Vegas, is conveniently located in the northeast part of the city. Using the I-15 N, take the E Lake Mead Blvd exit and head east for about one mile. Go past N Bruce St and North Vista Hospital Emergency Department to find us on the right side across from Wells Fargo Bank and GameStop.
About this North Las Vegas dentist office
At Absolute Dental, we know that life gets hectic, and busy schedules can get in the way of your family's oral health. That's why our North Las Vegas dentists make it easy and affordable to prioritize dental care with services that keep your teeth strong and vibrant. We treat patients of all ages and accept most dental insurance plans!
If it's time to get your smile back on track, contact our team to learn more about our dental services or to schedule an appointment at our North Las Vegas location on E Lake Mead.
What general dentistry services do we offer?
Services offered by our general dentist, North Las Vegas team, will keep your teeth healthy with preventative care and routine treatments. We offer:
Tooth cleaning

– Remove unsightly plaque buildup and harmful bacteria that can cause tooth decay, gum disease, and discoloration.
Tooth filling

– Treat cavities and prevent more extensive decay to your tooth with a durable composite filling that matches the look of your natural teeth.
Root canal

– Our team can help with infected teeth by removing the damaged tissue and nerves that are causing pain and inflammation.
Dental crown

– A crown is used to cap vulnerable teeth after some procedures or a dental emergency.
Wisdom teeth extraction

– When wisdom teeth start causing issues, we'll gently remove these extra molars to prevent further damage.
Sleep dentistry

– With several

sedation options

available for extensive procedures or anxious patients, you'll always be comfortable and stress-free during treatment.
What cosmetic dentistry services do we offer?
Our cosmetic dentistry Las Vegas team can help you get the smile you've always wanted with effective treatments that improve the appearance of your teeth. We offer the following:
Teeth whitening

– Our professional

teeth whitening treatments

target stubborn dental stains and can brighten your smile by several shades.
Porcelain veneers

– A thin layer of porcelain placed over your teeth can instantly correct imperfections and give you a more balanced and radiant smile.
Dental implants

– A titanium dental implant is a permanent solution for a missing tooth that looks and functions just like a natural tooth.
Dental bridge

– A dental bridge can also replace a missing tooth if the gap is between two healthy teeth. The bridge consists of a false tooth anchored to your natural teeth.
Dentures

– With the latest dental technology and techniques, dentures have never looked better! Get your smile back with durable and functional dentures.
What orthodontic services do we offer?
The perfect smile is within reach with our orthodontic treatment, North Las Vegas team! We can help correct minor imperfections to severe misalignments with these orthodontic services:
Metal braces

– Metal braces are an incredibly effective way to straighten teeth and treat bite issues with durable brackets, wires, and colorful bands you can personalize.
Clear braces

– Clear or ceramic braces use tooth-colored brackets that are more discreet than metal braces but deliver comparable results.
Invisible braces

– Correct dental misalignment in just a few short months with a series of clear plastic trays that are virtually invisible.
Invisalign®

– Invisalign delivers stunning results using an approach that's perfect for patients who don't want others to notice their orthodontic treatment.
Your trusted North Las Vegas dentist
Is there an experienced family dentist near me I can trust? Yes! Absolute Dental offers all the services your family needs to keep your teeth looking and feeling their best. With decades of experience and service in the Southern Nevada community, Absolute Dental is committed to accessible dental healthcare with flexible payment plans and discounts on essential services. Contact us to make an appointment today.
Sources:
Sealants. (2023).
Sedation Dentistry. (2022).
We Accept Most Dental Insurances
No dental insurance? No Problem!


Learn about our Smile Saver Program which offers discounts for the dental services you need at an affordable price.