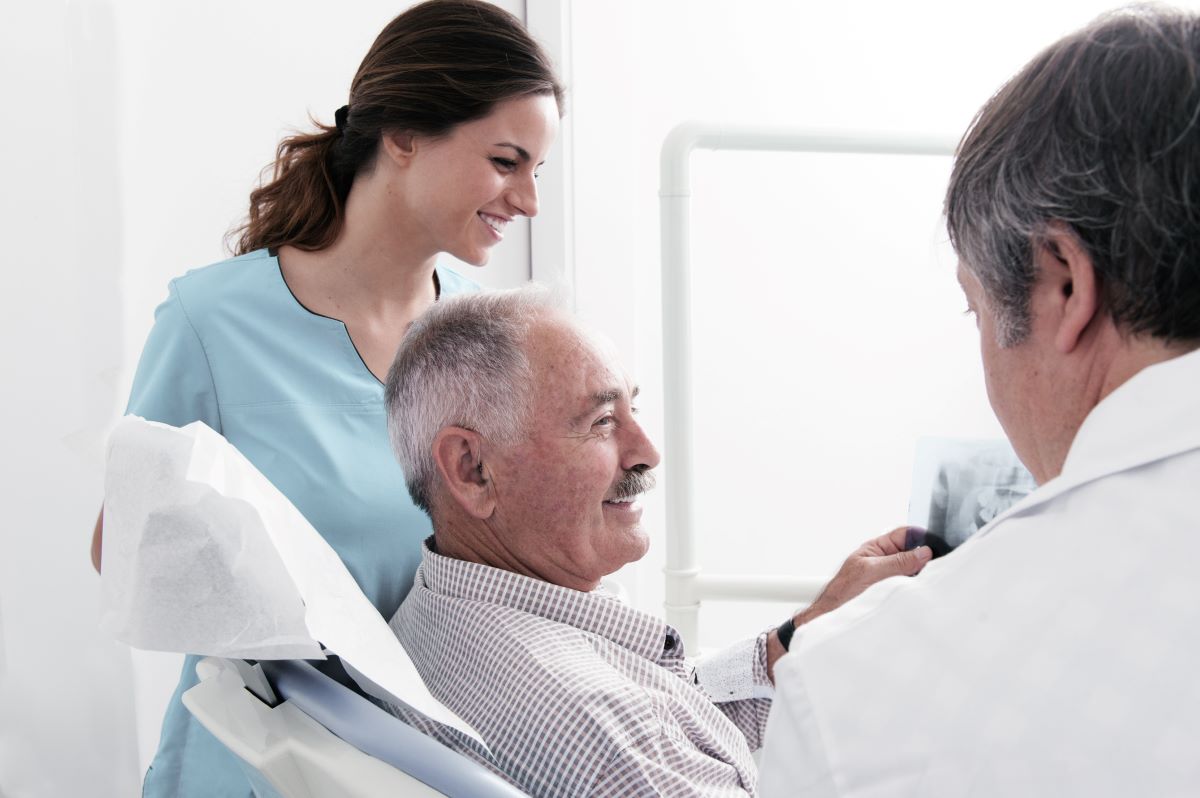 Oral Cancer Screenings in Las Vegas
Why Screen for Oral Cancer? The American Dental Association estimates that as many as 35,000 people are diagnosed with oral cancer every year, and it is estimated that upwards of 25% die. The exceptionally high mortality rate is due to the fact that detection typically occurs too late after the cancer has started to spread and the body's defense system is compromised. The chances of surviving oral cancer are greatest when it is discovered in the early stages, and the best way to detect oral cancer in the early stages is through a specialized oral cancer screening.
Call (844) 8-SMILE-NOW or fill out the form to make an appointment today!
Home » Dental Services » Nevada Dental Services » Las Vegas » Oral Cancer Screening
Oral Cancer Screening Defined
Oral cancer screening is the early examination and testing that is performed in order to attempt to make a determination if a patient has oral cancer. This early-detection screening may include a number of elements including examination of the gums and teeth, x-rays, a review of the patient's medical history, and possibly a biopsy. Oral cancer screening can potentially detect oral cancer in stages early enough to give a patient the best opportunity to obtain treatment before the cancer spreads, lessening the potential for successful treatment. Absolute Dental utilizes several methods of screening for oral cancer including ViziLite Lumenoscopy, which is a patented and highly specialized detection technique utilizing a light tool that can detect even lesions that have not yet become visible to the naked eye. This system also uses a patented oral dye called TBlue which assists the dentist in marking and closely monitoring potentially affected areas. Absolute Dental prides itself in offering the most cutting-edge early detection techniques available and believes that playing our part in this early detection helps save lives.
Regular Price:
$69
Hurry! Offer Expires: 01/31/2023
$35 for cash-pay patients, and fully covered by insurance and our Smile Saver Plan! Get a comprehensive cancer exam during your next visit.
I like going to this office!!
I like going to this office!! Everyone is very nice. Priscilla is very helpful and nice! She always answers every…
The best experience I've had at any dental office!
The best experience I've had at any dental office! The front desk girls were so helpful and Tonya went above…
Recently had a great experience at Absolute Dental.
Recently, had a great experience at Absolute Dental. From the front desk to the hygienist to Dental assistant to the…
Dr. Culpepper was amazing!
I haven't been to the dentist in a long long time and decided it's time to start taking care of…
Amazing staff at this practice
Amazing staff at this practice, Katrina was really helpful explaining my treatment and she also offered me a payment plan,…
Very satisfied with the treatment I received here!
Very satisfied with the treatment I received here! The doctors and techs were kind, polite and caring! Will definitely go…
We Accept Most Dental Insurance
Absolute Dental is a preferred provider for most insurances, unions, and hotels that include: Aetna, Ameritas, Boon-Chapman, Caesars Palace, Cigna, Delta Dental, Diversified, Geha, Guardian, Harrah's, HealthSCOPE Benefits, Health Plan of Nevada (HPN), Humana, Liberty, Met-Life, MGM-MIRAGE, Premier Access, The Standard, Station Casinos, Teachers Health Trust, United Concordia, United Healthcare, Venetian, and The Zenith. We also accept Medicaid.
If you do not see your dental insurance listed here, just give us a call to confirm!
Every person's situation is different. If you don't see your health insurance here, or if you do not have dental insurance, we can help you!
Call us now to discuss your situation and discover what options are right for you.
What Are the Treatment Methods for Oral Cancer?
The first stage of an oral cancer screening is a basic dental exam. The dentist will check your entire mouth for white patches, a pre-cancerous symptom called Leukoplakia that is the most common visual clue of potential oral cancer. Other symptoms include the following:
Sores on the lips or other areas of the mouth that will not heal
Teeth growing progressively looser
Gums that are inflamed or irritated
Bleeding gums or blood around your teeth
The dentist will request your medical history for review and will be specifically interested in finding out if you have had symptoms or treatment for cancer of your head or neck. Additionally, they will be looking for potential symptomatic clues like earaches or if you have trouble swallowing. If it is found that the initial exam and testing reveals potential problems, the dentist will usually perform a biopsy and the tissue sample will be sent to a lab for testing. Don't worry because this procedure is performed in most cases in the office under anesthesia, and is pain-free.
Why Get An Oral Cancer Screening?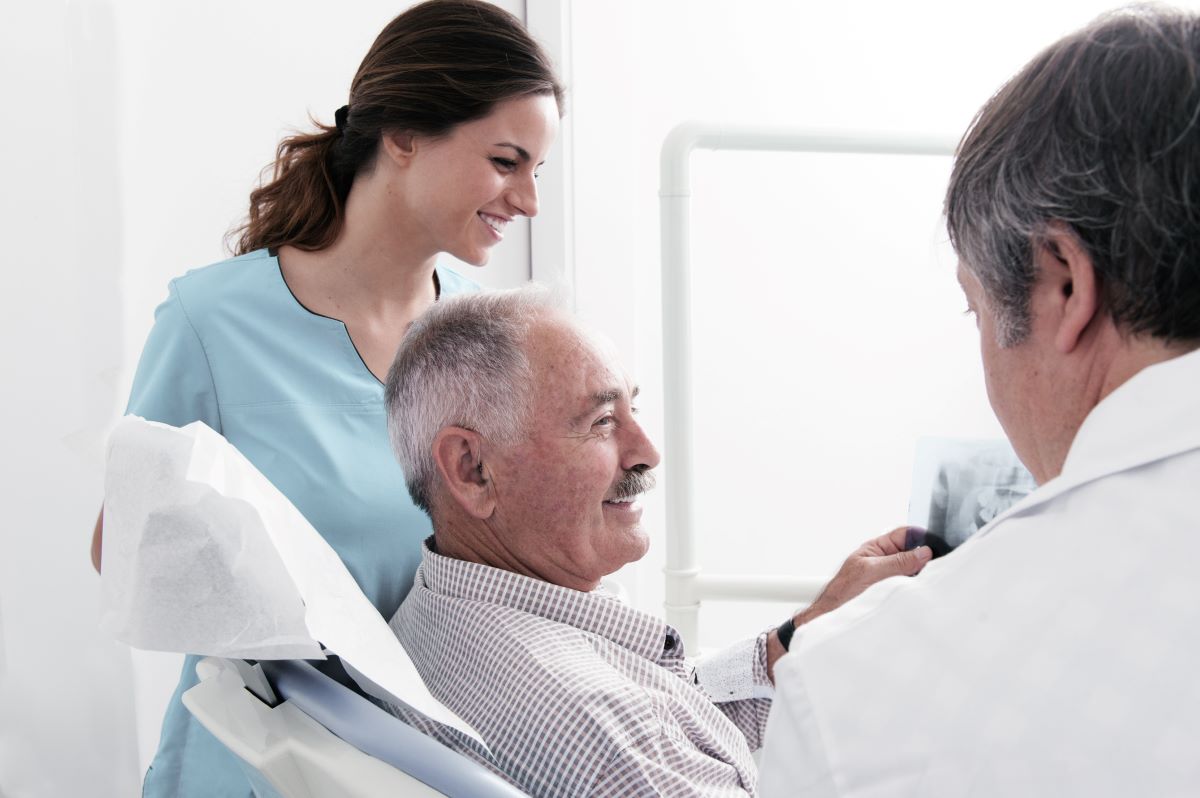 During your daily routine of brushing and flossing your teeth, everyone should also visually inspect their teeth, gums, and tongue. While oral cancer can happen to anyone, there are risk factors that you should know to help you understand if an oral cancer screening is in your best interest. Oral cancer typically begins on the tongue or lower part of the mouth, and high-risk groups include tobacco smokers and chewers, beyond moderate alcohol drinkers, and people who have a history of cancer in their head or neck. Additionally, people with a diet that does not include enough fruits or vegetables may be at risk. If you believe you fit into any of these risk groups, Make A Dentist Appointment to discuss an oral cancer screening with your dentist as soon as possible.
What Happens If Oral Cancer Is Detected?
If it turns out that you test positive for oral cancer, or are beginning treatment for cancer anywhere around your head or neck, it is crucial that you see your dentist before beginning treatment as the treatment itself can be compromised by oral health complications if they are not taken care of in advance. Additionally, the teeth and jawbones can become brittle due to the degeneration of the salivary glands (reduced amounts of saliva being produced) which can result in complications later like cavities or even a jaw bone that cannot sustain oral treatment due to its brittle nature. It is best if you enter into your treatments with your oral health problems stabilized, potentially avoiding unnecessary complications in the future as well as making your treatments go more smoothly.
Is There Anything Else I Should Know?
If the dentist informs you that you should probably get an oral cancer screening, it does not necessarily mean you have cancer and should become afraid. Oral cancer screenings are done as a preventative measure, simply to detect cancer early enough to make the prognosis more positive if it is discovered. You should ask to be screened even if you are not in a high-risk group, as the procedure can only benefit you in potentially catching it early if oral cancer is discovered, and remember that catching it before the symptoms manifest themselves is the goal.
Ask your dentist if you are unsure of why he or she is recommending that you undergo oral cancer screening, and understand that he or she is looking out for your best interest.
Looking For A Family Dentist in Las Vegas?
Absolute Dental provides the most professional dental and orthodontic services in Nevada. Schedule your consultation with our dentists at any of our Las Vegas locations!