Home » Blog »
In today's world, dental care expenses can be overwhelming. Many struggle to afford regular dental visits, preventative treatments, or necessary procedures. Dental insurance may come to mind, but it often entails high premiums, deductibles, and limited coverage, leaving individuals in search of an alternative solution. Luckily, dental discount plans have emerged as a viable option for those seeking affordable dental care. 
What is a dental discount plan? 
Paying for dental care usually occurs in one of three ways, dental insurance, paying cash, or using a dental discount plan — also referred to as a dental savings plan. If you find yourself in the position where your health insurance doesn't include dental care or you are uninsured, a discount plan may be the best option for you. 
A dental discount plan is a benefit program that allows you to take advantage of savings and discounts when paying for dental services. To opt into a dental savings plan, you pay an annual membership fee. When you visit the dentist you show them your savings card and you receive a discount on eligible dental care services. The terms of your discount plan can vary greatly so asking questions and making sure you understand the terms and conditions is vital to ensuring you get what you are looking for. 
Discount dental plans
Discount dental plans are generally grouped into three categories:
Preventative treatments

: This usually refers to cleanings and exams

Basic treatments

: This covers work such as fillings, extractions, and X-rays

Major treatments

: This generally refers to implants, orthodontia, and other cosmetic procedures
Pros and cons of a dental discount plan
Like with everything, dental discount plans have their pros and cons. For those in search of an alternative to dental insurance, weighing the pros and cons is key to securing the coverage you want and need.
 Pros
Makes dental treatments more affordable

If you do not have dental insurance, it can fill in the gaps

There is no waiting period before you can use your discount plan for treatment

No deductibles or copays

No limit to the number of dental visits per year
Cons
Doesn't cover the entirety of the cost of any service

Limits your options on providers you can receive care from
Dental discount plans vs. standard dental insurance
Choosing between a dental discount plan and standard dental insurance should be based on your individual dental care needs, budget, and preferences. In order to make the right decision for you, comparing these two options may shed some light on which would best suit your needs. 
Preventative care
When it comes to preventative care, dental insurance may have an advantage over dental discount plans. It is standard for dental insurance to cover 100% of the cost of two preventative care visits per year. This can include routine cleanings, exams, X-rays, topical fluoride, and sealants. Dental discount plans usually cover about 10% of the cost of preventative dental care. 
Dental procedures
Dental insurance and dental discount plans alike can lower the cost of dental procedures such as fillings, extractions, crowns, and root canals. The amount of which dental procedures are reduced is dependent on the insurance or discount plan you purchased and can vary from policy to policy and company to company. 
Access to dentists
Dental insurance allows you to choose from a network of providers while discount dental plans provide you access to one single dental provider. This is another area where insurance may be a better option if you are in the market for coverage without being limited to one dentist. 
Cost for coverage
Here's one area where discount dental plans rise above dental insurance. The average cost of an individual dental insurance policy is approximately $350 per year. For a family, the cost of dental insurance can be as much as $550 annually. A dental savings plan typically costs about half that. 
Waiting period
Dental savings plans typically come out on top when it comes to a waiting period before benefits can be utilized. Most dental insurance plans have some form of waiting period before you can implement coverage. The length of time depends on the insurance provider. Dental savings plans typically have no waiting period before you can access their benefits. 
Annual maximums
It is standard for dental insurance plans to have a maximum amount they will pay for dental treatment annually. Because dental discount plans do not pay for coverage there is no annual maximum you can utilize for dental services. 
Is a dental discount plan right for you? 
You are the only person that can determine if a dental discount plan is right for you. However, depending on your individual needs and preferences, it may be advantageous to opt for a dental discount plan as opposed to dental insurance. For individuals who do not want to pay the high cost of dental insurance, premiums, and deductibles, don't want to wait for benefits to begin, or do not want an annual maximum, a dental discount plan might be the better option for you. 
Deciding between dental insurance and a dental discount plan should be thought about critically. You should evaluate your needs, the pros and cons, and any other factors that may contribute to ensuring you make the best possible choice to suit your needs. 
Absolute Dental's Smile Saver Plan 
Absolute Dental is staffed with some of the most knowledgeable dentists Las Vegas has to offer. Not only do we provide excellent care and service, but our discount dental plan is second to none. With Absolute Dental's Smile Saver Plan you get instant unlimited access to top-notch benefits you won't find anywhere else. 
Our Smile Saver Plan gives you access to discounted dental services, no waiting periods, no annual maximums, no claim forms to submit, no pre-existing exclusions, and 30-50% off all other services. Enjoy the benefits of high-quality, low-cost dental care with our Smile Saver Plan. We make getting the dental treatment you need convenient and affordable.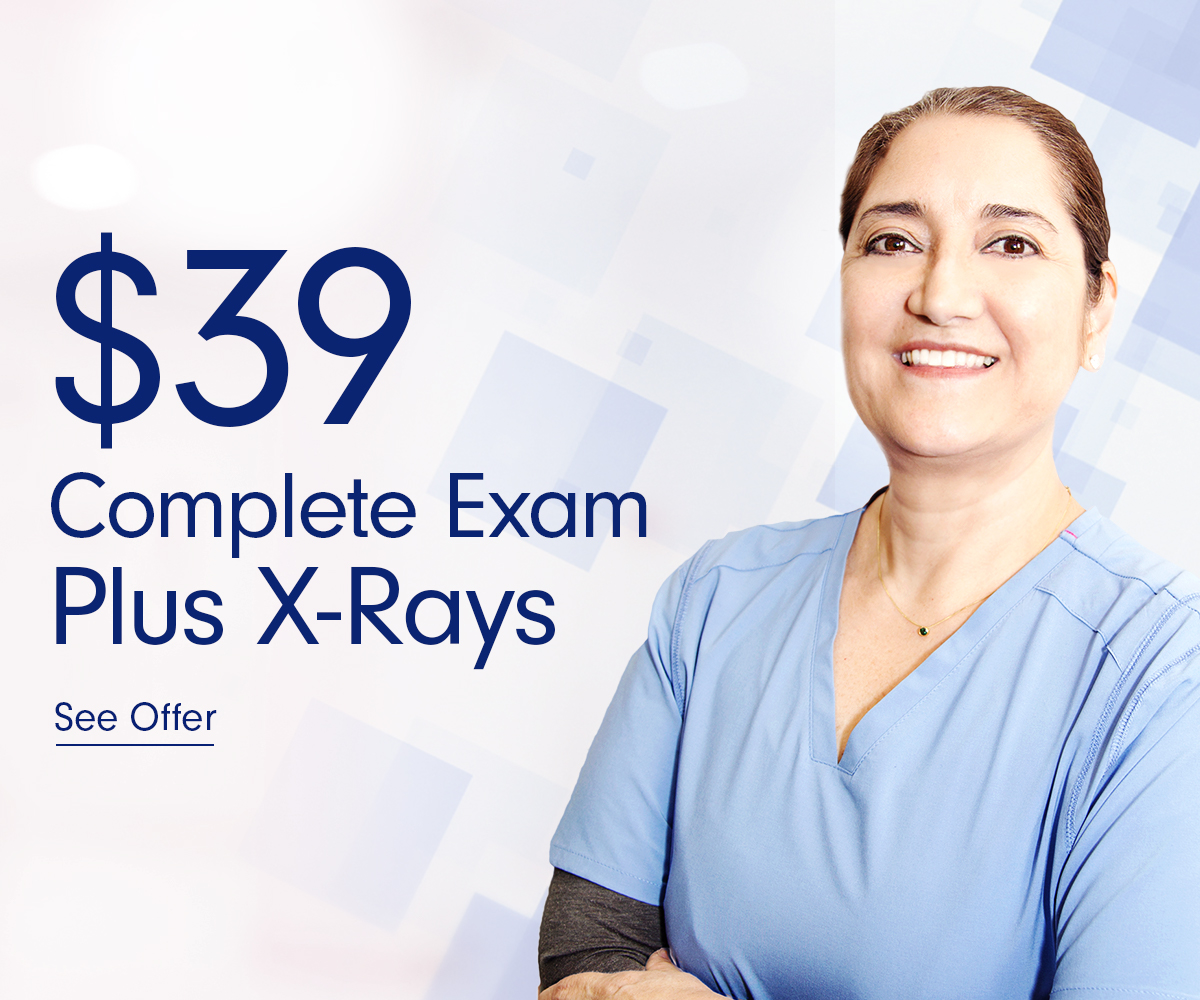 Regular Price: $179
Hurry! Offer Expires: 09/30/2023
With this offer, there's no excuse not to get back on track! Schedule a complete exam and x-rays for only $39 and ensure you have a beautiful healthy smile.
FAQs about dental discount plans
Is a dental discount plan or dental insurance better?
It is not a question of which is better but which is the most appropriate choice for your dental needs. Your needs and preferences are the determining factors for which option is better for you. To choose the best option for your dental needs, determine what those needs are and weigh the pros and cons to decide on the choice that best suits your situation. 
Can I use the Smile Saver Plan along with dental insurance? 
The Smile Saver Plan does not coordinate benefits with any dental insurance you may already have. The Smile Saver program provides individuals and families with discounts for services and treatment that may not be covered under their insurance policy. If you have dental insurance, you are encouraged to contact your provider to see what benefits are covered under your policy. 
Is there a waiting period to use a dental discount plan? 
It is uncommon for there to be a waiting period before gaining the ability to use a dental discount plan. The Smile Saver Program has no waiting period. Once your payment is successfully processed and you receive your cards, enjoy your new benefits and schedule an appointment with Absolute Dental! 
Which plan is cheaper? 
The average individual pays $350 annually for dental insurance and $550 annually for family dental coverage. The Smile Saver Plan is just $99.00 per year for an individual and just $30.00 annually for any additional members.
Dental services made easy with Absolute Dental
Getting the coverage you need for dental services is not as hard as you'd think. You don't have to have traditional dental insurance coverage to keep your teeth and mouth happy and healthy. At Absolute Dental, we are proud to offer affordable options to our community to ensure everyone has the opportunity to receive the dental care they need and deserve. 
Sources: 
Caldwell, M. (2022). Is a Dental Discount Card or Dental Insurance Better To Save?
Lake, R. (2022). How do dental savings plans work? 
Reed, E. (2023). Dental Savings Plan vs. Insurance.