The first 24-months of your child's life is a rapidly changing one for their mouths. Inside, tiny little teeth are bursting through their gums preparing them for the world of solid food. The American Academy of Pediatric Dentistry recommends children visit the dentist once every 6-months to prevent cavities. It's imperative that their dental health progress properly and according to schedule.
Parents and guardians are responsible for ensuring this progress. Knowing the benchmarks of your child's teeth development can help problems that may arise as they grow. Here is A Timeline of Your Child's Dental Health that will leave you feeling more confident in your child's future.
When You Are Expecting
Healthy oral hygiene begins before the baby is even born. Expecting mothers should seek a dental examination during and after pregnancy. If you are considering getting pregnant, it is wise to seek a dentist before conception. Oral hygiene can easily be overlooked, but oral hygiene issues can be dangerous to both mother and baby. Learn more about going to the dentist when you're pregnant to make sure you're doing everything you can to keep up with your oral hygiene while expecting.
0-4 Months Old
A baby's mouth is beginning to prepare for incoming teeth. Though it may seem like there's not much maintenance needed as of yet, it is a good idea to begin using a damp cloth to wipe your baby's gums. Soft rubber finger toothbrushes can also be helpful in getting the job done. This is a great time to start establishing an oral hygiene routine with your child.
Begin by wiping gums at least twice a day for two to three-second intervals. This will not only get your child in the habit of regular mouth care, but it will also help to ensure that your baby's mouth is clean and ready for incoming teeth. Avoid exposing the new teeth to unnecessary sugar.
4-6 Months Old
Teething is beginning to occur at this time in the child's growth. Continue with the process of wiping your child's gums. The incoming teeth and mouth may be sensitive, but sticking to the oral hygiene routine will prove beneficial as plaque can begin forming even on the youngest of teeth.
Now is a good time to begin seeking your child's first dentist appointment. Depending on your dentist and family oral history, a routine check-up may be asked every six months to a year from here on out. Avoid unnecessary sugar and foods with high amounts of citric acid which can lead to early enamel loss and plaque development.
1 Years Old
By the time your child hits 1 years old, they should have already had their first dentist visit. Your child's dentist should be advising for bi-annual dental visits. These are routine checkups to make sure growth and development are occurring as they should. This enables the dentist to catch any issues that may arise as teeth arrive.
Now is a good time to introduce your child's mouth to a soft bristle toothbrush. Small children will begin learning how to brush properly and spit out toothpaste. Until this skill is acquired, begin using fluoride-free toothpaste–it would also be fine to omit using toothpaste completely and only use water.
Once you begin to see teeth touching sides, flossing regularly should begin to occur–this is best done after each meal. Establishing healthy oral hygiene routines like regular flossing can prevent dental problems in the future.
2-3 Years Old
At this time, many parents will begin to work on breaking pacifier habits. Pacifiers can cause oral health problems. The overuse of a pacifier can lead to misshaping of the mouth and how teeth come in. Sucking the thumb can also result in the same.
Parents should now have a routine in assisting their child with brushing their teeth at least two times a day, though after each meal is even better, introducing fluoride toothpaste can begin now–once spitting is possible. Flossing should now regularly occur as nearly all 20 baby teeth should arrive by age 3. It is recommended that dentist visits occur twice per year.
3-6 Years Old
When children enter this age period more independence in oral hygiene may be permitted but use your best judgment and assist and supervise as needed. For many children, areas of the mouth can be missed or hard to reach so be sure that their teeth are properly cleaned.
Flossing assistance will most likely be necessary. By now your dentist should have examined your child's teeth via x-ray to determine the overall look and health. You can also begin discussing dental sealers for even greater assurance.
6-10 Years Old
Your child should be more independent with their dental hygiene practice at this age. An established routine–whether in the morning, at night, or both–should be followed. Brushing with your children daily and encouraging them at the same time is ideal. This gives you the opportunity to supervise their habits and helping them learn the importance of oral hygiene.
Around the age of 7, your child's dentist may recommend a visit to an orthodontist if issues with development arise. Continued, bi-annual dentist visits will catch any structural damage as the teeth transition from baby teeth to permanent, adult teeth.
10+ Years Old
By this age, your child should be fully independent without the need for supervision. Proper dental hygiene habits and routines will have been installed, and your child will take pride in their teeth. In an ideal world, this will all be true. The reality is that it's important that it is a habit and it should be routine. Checking in with your child occasionally will demonstrate that oral health is important.
Your child's adult teeth should fully be in place within their mouths by the age of 13–aside from their wisdom teeth. They should still be attending bi-annual visits to their dentist to ensure proper growth and development of their teeth. Major problems will be identified, if applicable, and procedures to correct will be offered. If they haven't been screened for orthodontic work, this is the time. To help, here are some tips to make the dentist less scary for your kids.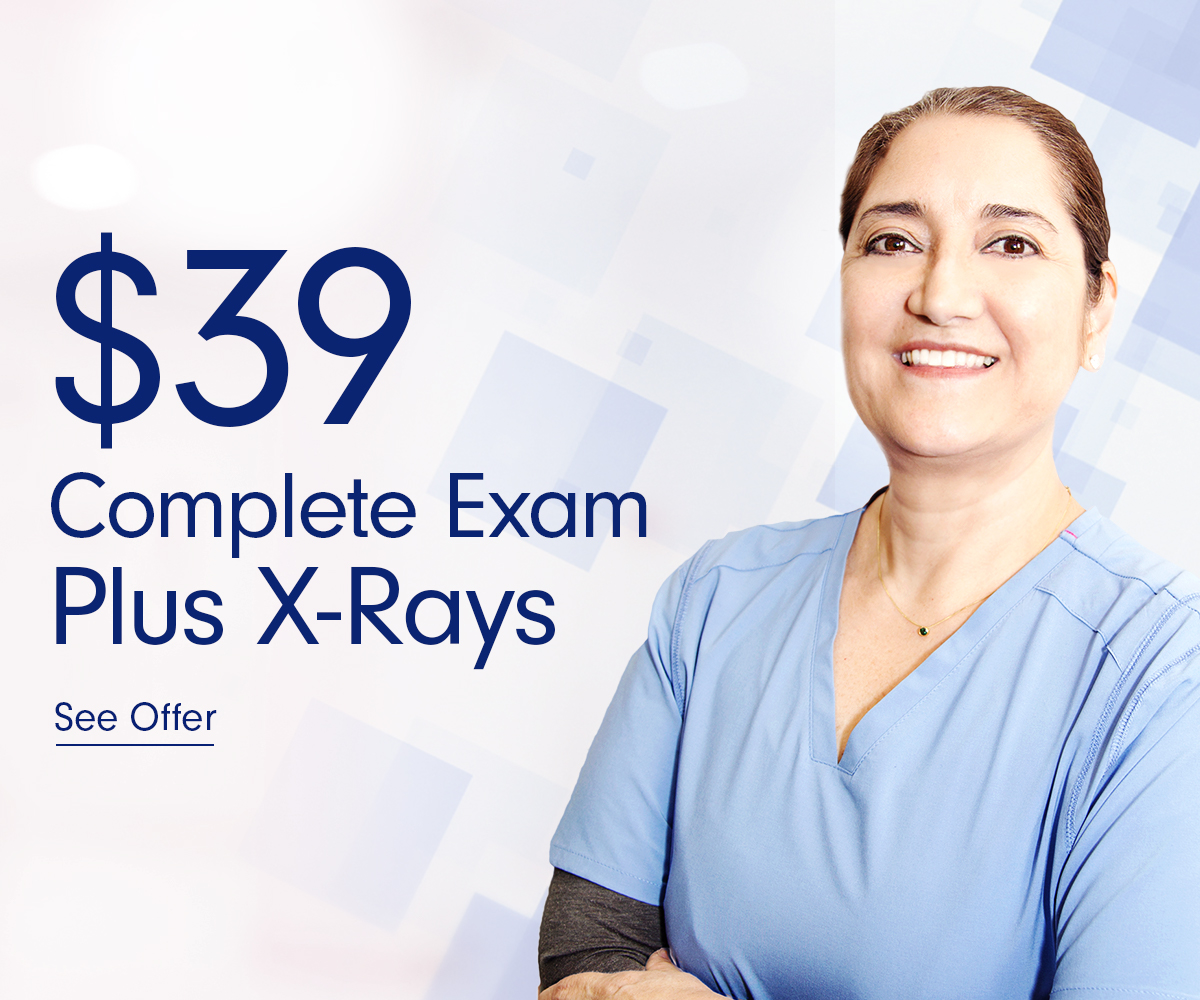 Regular Price: $179
Hurry! Offer Expires: 12/31/2023
With this offer, there's no excuse not to get back on track! Schedule a complete exam and x-rays for only $39 and ensure you have a beautiful healthy smile.
Specialized Pediatric Dentists for Your Child
Pediatric dentists are highly specialized–requiring an additional two to three years of training to enter this segment of the profession. They are experts at treating all childhood dental issues, including mesiodens, or performing pediatric treatments, such as a pulpectomy. They recommend that your child visits every six months to ensure proper dental health. Following the below Timeline of Your Child's Dental Health will give you the knowledge to proceed with confidence as your child develops.
Be sure to keep your child on a consistent oral care routine with regular visits to your Las Vegas or Reno dental offices to keep their mouth healthy. If you find that your child may be off on their timeline, talk to your child's dentist to plan the best plan of action. Proper dental hygiene is important to a healthy body, so starting early with your assistance is essential.
Share this Image On Your Site