The Reno Braces Experts
Braces can be one of the keys to obtaining a healthy, beautiful smile. And the experienced orthodontists at Absolute Dental can help you achieve that beautiful smile with affordable braces!
If you're interested in getting braces, Absolute Dental can help. We accept most dental insurances and have flexible payment options for patients with no insurance coverage.
Call (844) 8-SMILE-NOW or fill out the form to make an appointment today!
Home » Dental Services » Nevada Dental Services » Reno » All Braces
What are braces?
Dental braces are appliances used to correct misaligned teeth. Orthodontists use braces to achieve the following treatment goals:
Adjust twisted teeth

Close gaps between teeth

Correct malocclusions 

Straighten crooked teeth
Metal, ceramic, plastic, and polyurethane resin are used to make braces.
What are the different types of braces?
You can select from several types of braces when pursuing adult orthodontic care in Reno. 
Traditional braces 
Traditional braces are metal braces. Metal brackets are bonded to your teeth with an adhesive. Elastics prevent the brackets from shifting and connect the brackets and metal wires. The wires are tightened periodically, ensuring the braces move the wearer's teeth to the correct location.
Clear braces
The critical difference between traditional and clear braces is the material used to make the brackets. Clear braces are made from ceramics; they're either tooth-colored or clear, making them harder to see. 
Invisible braces
Invisible braces are available in Reno. These braces aren't bonded to your teeth. They're plastic, removable braces you can take out when you're eating. Removing them lets you brush your teeth and braces separately.
How do braces work?
Braces apply steady pressure to move the wearer's teeth to the desired placement. They don't apply much pressure, so they don't dislodge teeth from your gums.
Types Of Braces We Offer
There are several different types of braces for you to consider, and our experienced orthodontists can help you determine which system is right for you. For more information regarding each type of braces, click the respective pictures below.
BRACES STARTING FROM $89/MO
Regular Price: $6750
Hurry! Offer Expires Soon!
A beautiful smile and the confidence that comes with it is priceless.
Love the Absolute Dental team!
They took care of my kids. I was able to get braces the same day for my daughter I got…
Love my results!
Just got my braces off today!! So happy with my beautiful teeth and my results!!!! HUGE s/o to Madonna for…
The staff was amazing!
The staff was amazing! They were very kind, helpful, and patient. I would highly recommend coming here.
Awesome Experience
The experience that I had at Absolute Dental was awesome. I hate going to the dentist but it's comfortable here…
Everyone was so friendly and welcoming
Brought my 2 year old son to see Dr. Shaw for an exam and he absolutely loved the staff. Everyone…
Give great direction on handling charges and insurance!
I love this place because they are really down to earth. Not stuffy like most medical offices. The staff will…
We Accept Most Dental Insurance
Absolute Dental is a preferred provider for most insurances, unions, and hotels that include: Aetna, Ameritas, Boon-Chapman, Caesars Palace, Cigna, Delta Dental, Diversified, Geha, Guardian, Harrah's, HealthSCOPE Benefits, Health Plan of Nevada (HPN), Humana, Liberty, Met-Life, MGM-MIRAGE, Premier Access, The Standard, Station Casinos, Teachers Health Trust, United Concordia, United Healthcare, Venetian, and The Zenith. We also accept Medicaid.
If you do not see your dental insurance listed here, just give us a call to confirm!
Every person's situation is different. If you don't see your health insurance here, or if you do not have dental insurance, we can help you!
Call us now to discuss your situation and discover what options are right for you.
What They Do: A Look at the Best Uses for Braces
Simply put, braces are handles that are placed on the permanent teeth in a specific order. These handles are then used to move the teeth into ideal positions in relation to each other, your face and jaws. Braces can be used as early as 4-5 years of age – depending on the type and severity of the problem – but are more commonly seen in teenagers and adults.
Crooked or Misaligned Teeth
Teeth can become crooked or misaligned for any number of reasons, including the growth of wisdom teeth or simple genetic factors that cause teeth to grow in at non-uniform positions. Braces work to reform this misalignment through years of retraining teeth, pulling or pushing them in a given direction to create a more uniform, more comfortable smile.
Overbites and Under-bites
Overbites and underbites occur when the top and bottom rows of teeth are not properly aligned, causing one to slip under the other. This is a problem that can cause patients to suffer from long-term discomfort and awkward resting positions of the mouth. Braces use the same reformative techniques mentioned earlier to effectively align the teeth with each other, eliminating this problem.
Read More: 8 Most Common Problems Braces Can Fix
How to know if you need braces? 
Some common signs can indicate you may need to seek orthodontic treatment in Reno. Check for the following symptoms to determine if you need to consult an orthodontist to determine if you need braces:
Crooked teeth

Crowded teeth

Extra teeth

Gaps between teeth

Late arrival of adult teeth

Missing teeth

Overbite

Twisted teeth

Underbite
Visit Reno dental care to discuss your oral health concerns. A Reno orthodontist can determine whether you need braces and explain how your dental health will benefit from getting braces in Reno.
How long do braces take to work?
Straight teeth ensure that you have enough space for all of your teeth, make it easier to chew food, and prevent speech impediments. Straight teeth also look great, so getting braces is crucial if you want to maintain your dental health, communicate effectively, and look your best.
Depending on your teeth, age, and the type of braces selected, you may need to wear braces for 12 months. However, in some cases, wearers need up to 36 months to fix their teeth.
The Results: Before and After
No matter which type of braces you choose, you'll find that our affordable options can help you achieve the healthy, straight, beautiful smile you're looking for. Our orthodontists are experts at doing just that and can help you regardless of age our what type of situation you're facing. Take a look at some of the results you might expect from braces: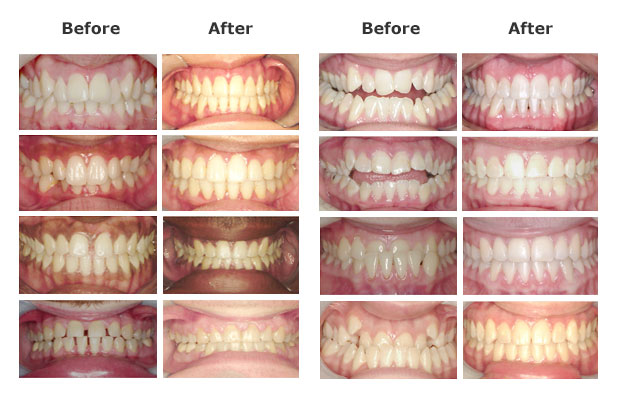 How Braces Can Improve Oral Health
When teeth are not properly aligned, other health issues can be the result. By applying braces to correct dental misalignments, many of the following issues can be avoided by simply improving the position of your teeth. Without braces, patients with misaligned teeth may experience:
Increased risk of cavities or infection
Chronic headaches
Impediments to speech or ability to chew
Once teeth are aligned, there are less hidden or hard-to-reach places for plaque and tartar to build up, which decreases the risk of cavities. With a more comfortable bite, patients also experience fewer headaches and tension due to teeth grinding. A healthy, perfectly straight smile can help make teeth stronger and boost a patient's confidence overall.
Are You Considering Getting Braces in Reno?
When it comes to getting braces, your confidence in your smile will be restored in no time at all. Schedule your consultation with our dentists at any of our Reno locations! Our dentists can evaluate which types of braces are right for you and plan your course of treatment immediately.
Absolute Dental provides the most professional orthodontic services and successful treatment of dental misalignment in Nevada.
Get ready to smile: your guide to braces in Reno
Consulting one of our orthodontic specialists is a great way to begin your dental health journey. We'll explain your options, what you can expect while receiving orthodontic treatment, and how you'll benefit from our services.
How much do adult braces cost?
The cost of braces varies based on age and the type of braces. Adults can usually expect to spend $5,000 or more.
Contact us for high-quality adult orthodontics in Reno, Nevada
Contact Absolute Dental to discuss your dental health care needs. Whether you need traditional, invisible, or clear braces in Reno, our dental experts can provide the appliances and treatments you need for optimal dental health.
Book your dental appointment at Absolute Dental! We have payment plans to ensure you can afford the dental care you need. We accept over a dozen dental insurance plans. 
Frequently asked questions