Teeth Cleanings in Las Vegas
Home » Dental Services » Las Vegas »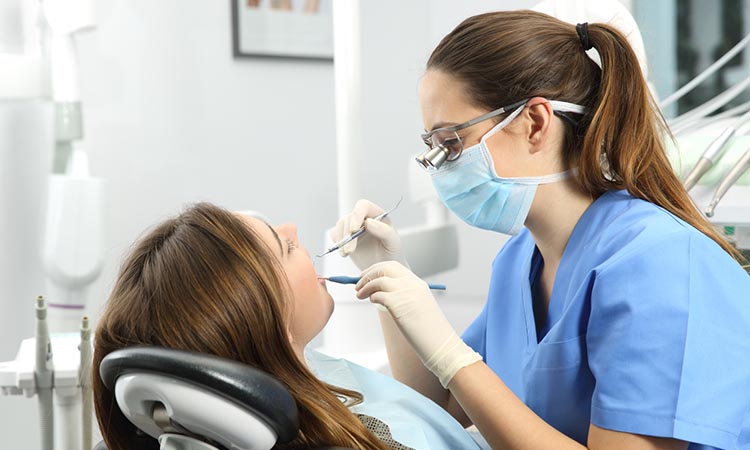 Having regular teeth cleanings is so essential for healthy teeth and gums. Simply practicing oral hygiene at home is not enough when it comes to removing hard-to-reach plaque and bacteria that hides between your teeth and under the gumline. A professional dental cleaning session ensures your teeth are thoroughly examined, all plaque and tartar is removed, and your teeth are polished to prevent cavities, bad breath, and gum disease.
What to Expect During a Teeth Cleaning
The purpose of professional teeth cleaning is to remove harmful buildup from the enamel of the teeth, as well as above and below the gumline, to prevent future dental problems. Highly skilled dental hygienists are trained to use special instruments to aid in the removal of tartar buildup, plaque, and bacteria that can lead to tooth decay, cavities, gingivitis, infections, oral nerve sensitivity, and receding gums. This process includes the following steps:
Initial examination of teeth – The first thing our hygienist will do is inspect your mouth and teeth for any potential problems before starting. You will also be asked about pain or sensitivity in the mouth so our team can proceed with care in those areas.
Removal of plaque and tartar – Next, the hygienist will use special dental instruments, called scalers, to chip and scrape the harmful buildup from the teeth. You may experience pressure on your teeth and gums, but there should be little pain. Our dental experts have a careful and sensitive approach to prevent discomfort during this step.
Teeth polishing – Making sure your teeth have a smooth texture not only improves your smile aesthetically but also makes it more difficult for plaque to accumulate. This step involves the use of a high-powered electronic brush and a gritty toothpaste to polish the teeth. Some patients can be intimidated by the sound of the electronic brush, but it only touches the exterior of the teeth and does not cause pain.
Thorough flossing – After the hygienist polishes the teeth, dental floss is used to carefully clean between the teeth where the toothbrush could not reach. This also helps to clean up any gritty toothpaste that was left behind from the previous step.
Fluoride treatment (in some cases) – For some, particularly our younger patients, a fluoride treatment is recommended. This mineral is particularly helpful with strengthening the enamel of the teeth, helping to resist erosion due to acidity or bacteria. The fluoride solution is typically in the form of a gel or foam applied using a tray, then rinsed away after a set period of time.
Oral hygiene recommendations – Our dental hygienists may have some suggestions for you to improve your personal oral hygiene routine at home. This also gives you a chance to ask questions or voice any concerns if you have them.
Our Approach to Teeth Cleaning Services
Our professionals at Absolute Dental are not only technically skilled but make sure our patients feel comfortable and relaxed with whatever dental procedure they may need. When it comes to teeth cleaning, we do our best to make the session quick and painless while also paying close attention to detail and each individual's needs. Our patients can feel confident that they're getting the best service with the personal touch that Absolute Dental strives to provide.
Haven't Had a Teeth Cleaning in a While?
At Absolute Dental, we understand that visiting the dentist for routine cleanings can be intimidating for some individuals. Also, patients may incorrectly assume that dental cleanings are not necessary because they brush and floss every day, and sometimes go for years without having their teeth cleaned. No matter the reasons or the circumstance, our professional dental hygienists are specialists in these situations.
We will walk you through the cleaning procedure, from start to finish, while always being sensitive to patients who may feel anxious or exposed. We are committed to providing exceptional dental cleaning services to improve your oral health, and having compassion for our patients is a big part of that.
Oral Hygiene Between Teeth Cleanings
Between professional teeth cleanings, here are some tips on how to keep your teeth healthy and strong:
Use mouthwash before brushing your teeth.
Brush teeth, gums, and tongue with a recommended fluoride toothpaste at least twice daily.
Floss every time you brush your teeth.
Avoid acidic food and drinks that could promote bacterial growth in the mouth.
Contact your dentist if you are experiencing pain or anything unusual.
Schedule a Teeth Cleaning
To schedule teeth cleanings at one of our several Las Vegas locations, just call our office to make an appointment. We're here to answer all your questions and to get you in as soon as possible. We also have evening and weekend hours to make it easy and convenient for you to get your routine teeth cleaning without having to disrupt your schedule. Contact us today!
Wonderful customer service. I am very pleased with my doctor. He answered all of my questions and addressed my concerns. The time spent here was as expected to get a thorough exam. It was not a ten-minute exam like other places. I will recommend this office to my friends.