Braces & Orthodontics in Reno
Home » Dental Services » Reno »
Braces are the perfect way to obtain that beautifully straight smile you've always wanted. Absolute Dental in Reno has six convenient locations that offer affordable braces with proven results. We treat patients of all ages and specialize in providing exceptional orthodontic care for the whole family!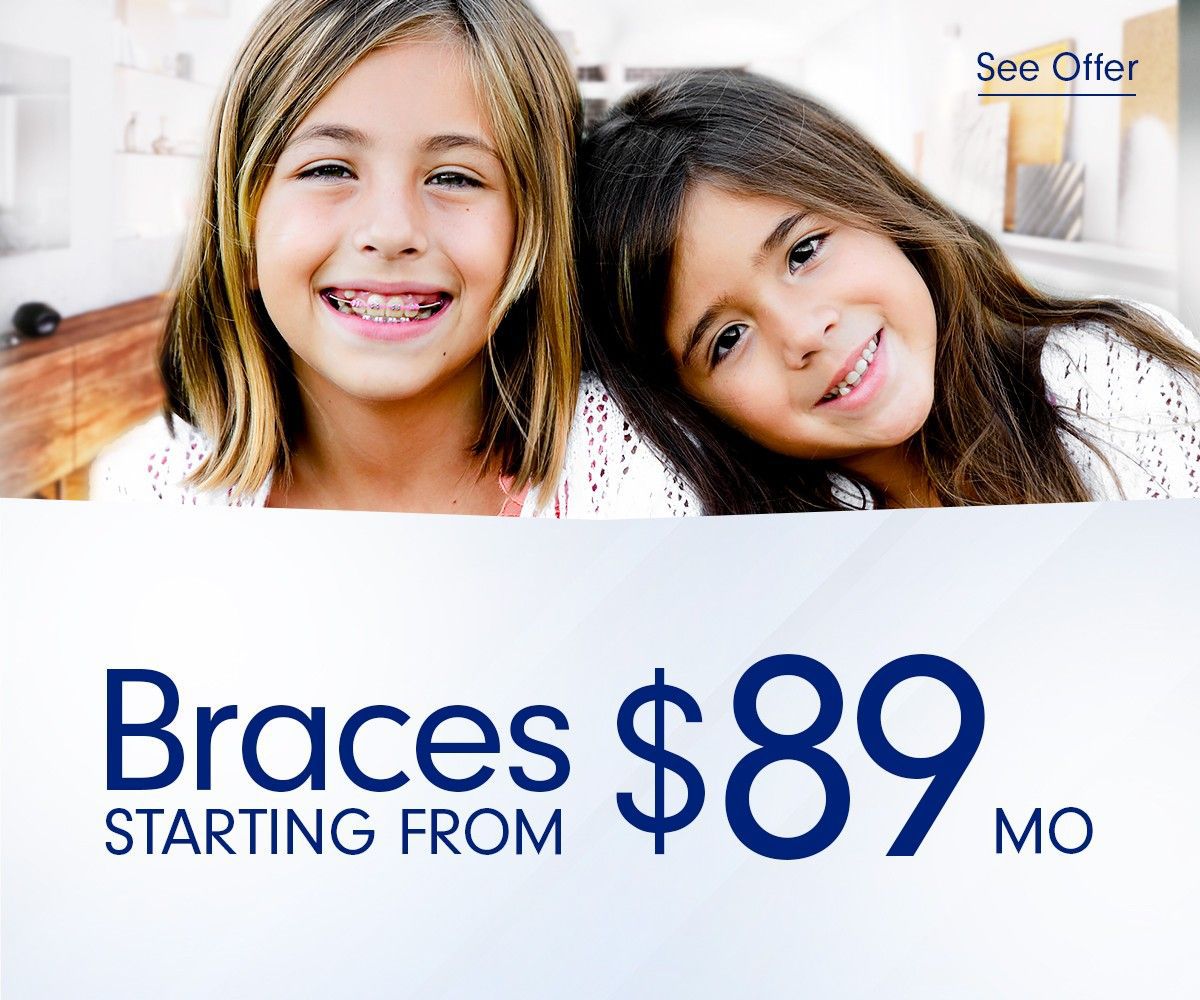 Regular Price: $6750
Hurry! Offer Expires: 04/30/2020
A beautiful smile and the confidence that comes with it is priceless. It's also very affordable with our limited time promo, braces as low as $89/mo!
If you're considering braces, you've probably got several main questions:
If you have any additional questions, contact our Absolute Dental Orthodontic team so we can help you choose the best orthodontic option for you.
Types of Braces
Absolute Dental in Reno offers different types of braces to fit your lifestyle and to best treat your unique dental needs. Our experienced orthodontists will evaluate your smile to determine which option is right for you. Click on the choices below for more information on each type.
---
Results (Before & After Orthodontic Treatments)
Regardless of your age or the severity of your alignment issues, our expert orthodontists will work with you to choose the best option that will lead to the most successful results for you. Absolute Dental in Reno offers affordable braces that will work with your budget, lifestyle, and timeframe.
Here's a look at typical results you can expect from braces:
Reasons You May Need Braces
Braces have been developed to correct different types of dental misalignments and spacing issues that patients may have. All braces have a general function: they work as handles that are placed on or over the teeth to help move them into a more optimal position. Overall, braces help improve the functionality and appearance of your smile.
The most common reasons a patient may need braces include the following:
1. Misaligned (Crooked) Teeth
There are many reasons why teeth may become crooked. Some people are genetically inclined to have misalignments, ranging from mild to severe. Others may experience alignment issues as their wisdom teeth grow in and cause overcrowding. In any case, braces are designed to correct these misalignments by pulling or pushing the teeth into a more ideal position, creating a more uniform smile.
2. Bite Issues (Overbites & Underbites)
When the top or bottom rows of teeth do not align with one another, it creates either an overbite or an underbite. Not only do patients with overbites or underbites suffer from confidence issues due to misaligned smiles, but they also face long-term discomfort, problems with chewing, and even speech impediments. Braces are used to correct bite issues by bringing the teeth, face, and jaw into alignment.
How Braces Can Improve Oral Health
When teeth are not properly aligned, other health issues can be the result. By applying braces to correct dental misalignments, many of the following issues can be avoided by simply improving the position of your teeth. Without braces, patients with misaligned teeth may experience:
Increased risk of cavities or infection
Chronic headaches
Teeth grinding
Impediments to speech or ability to chew
Decreased self-confidence
Once teeth are aligned, there are less hidden or hard-to-reach places for plaque and tartar to build up, which decreases the risk of cavities. With a more comfortable bite, patients also experience fewer headaches and tension due to teeth grinding. A healthy, perfectly straight smile can help make teeth stronger and boost a patient's confidence overall.
Cost of Braces
There are several factors to consider when estimating the cost of braces. Depending on which option you choose (metal braces, clear braces, or invisible braces), the severity of your misalignment, and how long the braces must be worn to achieve a successful result, the pricing can differ from patient to patient.
With that being said, braces often cost much less than you might think. Absolute Dental in Reno offers affordable braces with professional orthodontic services in a price range that works for you. Take advantage of our special pricing and limited-time offers by contacting our Reno offices today to make an appointment.
Start Smiling Now With Braces in Reno
Consult with your Reno orthodontist to see which corrective option will work best for you. Using braces to realign your teeth will also lead to a number of long-term health benefits that will last the rest of your life. Make your appointment with our Reno team and start smiling now!
Take advantage of special pricing from Absolute Dental, including $1,500 off our standard cost on braces.
Just got my braces off today!! So happy with my beautiful teeth and my results!!!! HUGE s/o to Madonna for always taking care of me when I come in and being on top of everything!!! Thank you again to everyone there!