Invisible Braces in Las Vegas
Home » Braces »
Though braces provide an undeniable series of benefits to those who have crooked or gapped teeth, as well as those who need help realigning their jaw for better comfort, the presence of metal in the mouth has long been stigmatized.
Invisible Braces: An Answer to the Social Stigma of Metal
Because they essentially block off an individual's smile for years at a time, many people view metal braces as their last resort and an option that they'd rather not have to select on their own. That's why invisible braces represent such a fast-growing industry for patients and dentists around the world.
With invisible braces, invasive metal braces are replaced with thin, corrective plastic that allows the confidence of an unobstructed smile even while the jaw and teeth are corrected and realigned for a better overall appearance in the long-term. Selecting these braces has real benefits for many people, though some drawbacks do present themselves. Understanding the pros and cons of invisible options will help patients make a great, beneficial decision about treatment.
Benefits of Invisible Braces
For those patients who don't want to give up a series of enjoyable foods, clear braces might just be the answer. Thanks to their solid plastic construction, it's impossible for food to get stuck in the metal or cause cavities. Furthermore, while it's rather difficult to clean metal braces of food particles, the plastic nature of invisible braces allows them to be effortlessly removed, quickly cleaned, and placed back in the mouth without the danger of cavities or other problems.
In addition to an unrestricted number of foods that are "compatible" with these braces, invisible options are typically quite a bit less painful than their metal competition. There is no physical installation of the product performed in the mouth. Instead, braces are slipped over the teeth after they've been created. They can be removed at any time, but their effects start right away.
Because invisible braces are made of a smooth, clear plastic (similar to Invisalign,) they're less likely to irritate the gums or cause canker sores during the course of treatment. That's especially great news for patients with a naturally sensitive mouth that might be quite sore with a metal installation.
Possible Drawbacks
Of course, no product is perfect and invisible braces do suffer from a few drawbacks. Because they use a smooth plastic surface, they can generally only be worn by those patients without major tooth spacing problems. Severe issues, like tipped or rotated teeth, or dramatic spacing between teeth, simply won't benefit from clear braces. They'll need to be treated with a product that can adjust each tooth individually, in more versatile ways than plastic can handle.
As an alternative, wearers of clear braces can be asked to wear things called "buttons," which are used to treat severe tooth problems otherwise out of reach of invisible braces products. While these do make the product more versatile, they're generally not "invisible." This can lead to an uneven appearance when smiling that some patients simply do not find attractive.
A Look at the Cost of Invisible Options vs. Traditional Metal Braces
Despite a few drawbacks, the clear nature of plastic braces makes them a great option for those with mild alignment problems that don't require enhanced treatments. For this reason, invisible braces are almost always a patient's first choice when treating crooked teeth or similar issues. One thing that should be noted, of course, is that invisible braces do tend to be at least a little more costly than metal options. That's because patients must visit their doctor once every 4-6 weeks and many visits will require fitting a new plastic shell onto the teeth.
Each new plastic shell takes into account shifts and adjustments that have happened since the earlier one was given to the patient. It's a progressive method of treatment unique to invisible braces, but it does make the process a bit more expensive. Overall, however, the confidence and that comes almost instantly from a clear product is often deemed worth the added expense.
---
Popular Alternatives to Invisible Braces
Absolute Dental in Las Vegas offers different types of braces to fit your lifestyle and to best treat your unique dental needs.
Our experienced orthodontists will evaluate your smile to determine which option is right for you.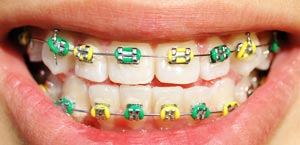 Extremely effective and durable. Uses metal brackets and wires to align the teeth.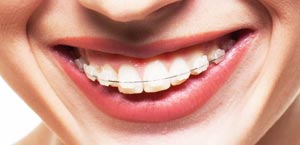 Offering a less visible choice, clear ceramic is used to bond a thin metal wire to the teeth.

Invisalign® aligners are the clear alternative to metal braces for adults and teens.
This place is absolutely amazing! The service here is wonderful. I will not send my kids anywhere else! I absolutely love this place and recommend this to everyone. They are so friendly here and they make a trip to the dentist fun! Come here!