Metal Braces in Las Vegas
They're permanently attached and often in place for years at a time, their results are impressive and most people experience a major boost in self-confidence after their removal. These and other benefits make metal braces a smart choice for people of all ages.
If you're interested in getting braces, Absolute Dental can help. We accept most dental insurances and have flexible payment options for patients with no insurance coverage.
Call (844) 8-SMILE-NOW or make an appointment today!
Home » All Braces »
Why Metal Braces is a Smart Choice?
Metal braces have stood the test of time, even amid competition from clear alternative braces, because they're simply more versatile than plastic options. Metal braces are installed just once, with the opportunity for adjustment as time goes on. And, because the metal is a stronger and more durable material, the braces can be positioned and adjusted in a way that makes them work more quickly than competing corrective options.
Rubber-free options currently on the market eliminate the concerns that many patients have about temporary or permanent staining, and specialized ligatures are available to work with the unique staining concerns of smokers, coffee drinkers, and those who can't unwind without a glass of wine. No matter the unique method of installation and maintenance, metal braces are far more durable than plastic options and less likely to break or require costly replacement.
Very professional and caring staff!
Hands down one of the best dental offices I have ever been too. Very professional and diligent with there work.…
Great atmosphere and customer service!
One of the best experience I've have with Absolute Dental. I love the customer service that is given to all…
Everyone was so friendly and welcoming
Brought my 2 year old son to see Dr. Shaw for an exam and he absolutely loved the staff. Everyone…
Give great direction on handling charges and insurance!
I love this place because they are really down to earth. Not stuffy like most medical offices. The staff will…
Awesome Experience
The experience that I had at Absolute Dental was awesome. I hate going to the dentist but it's comfortable here…
Great customer service at South Rancho location
I love the customer service at this location, the staff in front are so nice and very helpful. I will…
Special Considerations for Metal Braces
It's probably no secret among those considering braces that there will be at least a little bit of pain after their installation. The pain associated with metal braces is probably a bit stronger than the pain that results from clear ceramic braces, but that's due to how the product is installed and adjusted. Because metal must actually be installed into the mouth, a bit of swelling typically results and most patients notice it right away. Over time, though, they become a pain-free way to beautify a smile or correct jaw problems.
Metal braces do add uneven "bulk" to the mouth, which can result in more frequent canker sores among those who are more likely to suffer from them in the first place. This, too, usually declines over time as the mouth adjusts to the presence of the braces.
Finally, those who are self-conscious about their smile will have to make amends with the fact that metal braces are more noticeable than their clear competition. Even so, this is a small price to pay for a lifetime of better comfort and healthier smiles.
We Accept Most Dental Insurance
Absolute Dental is a preferred provider for most insurances, unions, and hotels that include: Aetna, Ameritas, Boon-Chapman, Caesars Palace, Cigna, Delta Dental, Diversified, Geha, Guardian, Harrah's, HealthSCOPE Benefits, Health Plan of Nevada (HPN), Humana, Liberty, Met-Life, MGM-MIRAGE, Premier Access, The Standard, Station Casinos, Teachers Health Trust, United Concordia, United Healthcare, Venetian, and The Zenith. We also accept Medicaid.
If you do not see your dental insurance listed here, just give us a call to confirm!
Every person's situation is different. If you don't see your health insurance here, or if you do not have dental insurance, we can help you!
Call us now to discuss your situation and discover what options are right for you.
Cost Advantage: Metal Braces are Exceedingly Affordable
One of the things that really sell many patients on metal braces is that they're simply the most affordable option currently on the market. That's largely due to their unique characteristics, including their more permanent nature in the mouth. Clear plastic options, which are the chief competition considered by most consumers, must be replaced several times to accommodate for natural shifts in tooth alignment and jaw placement.
Each new version of clear braces costs extra money. Conversely, metal braces can be adjusted without replacement, reducing overall costs and making them a far more affordable way to fix problems like teeth spacing and jaw alignment.
Be Sure to Talk About Each Option with a Qualified Professional
There are compelling reasons to choose metal braces, but just as many reasons to pursue a competing option when it comes time to correct a smile or ease the strain on the jaw by re-positioning it over time. Metal braces offer key benefits, including fewer costs over time and unique ways to prevent significant staining of the teeth. With a professional installation and careful checkups over time, these braces provide a really great way to boost long-term confidence and impress crowds with a perfect smile every time.
When the word "braces" is said virtually anywhere in public, most people instantly think of metal braces that are attached permanently to the teeth. Phrases like "metal mouth" might come to mind and, while not flattering, they certainly describe how these braces work while producing results for both children and adults. Metal braces are easily the oldest and most effective method to correct a wide variety of problems that can affect jaw alignment, teeth crowding, and several other conditions.
Popular Alternatives to Traditional Metal Braces
Absolute Dental in Las Vegas offers different types of braces to fit your lifestyle and to best treat your unique dental needs.
Our experienced orthodontists will evaluate your smile to determine which option is right for you.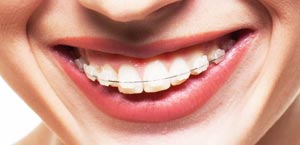 Offering a less visible choice, clear ceramic is used to bond a thin metal wire to the teeth.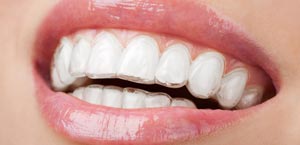 A series of clear plastic trays are used to discreetly and progressively straighten the teeth.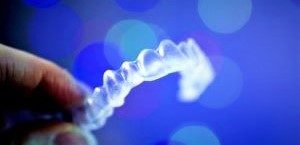 Invisalign® aligners are the clear alternative to metal braces for adults and teens.
Are You Considering Getting Metal Braces in Las Vegas?
When it comes to getting braces, your confidence in your smile will be restored in no time at all. Schedule your consultation with our dentists at any of our Las Vegas locations! Our dentists can evaluate which types of braces are right for you and plan your course of treatment immediately.
Absolute Dental provides the most professional orthodontic services and successful treatment of dental misalignment in Nevada.