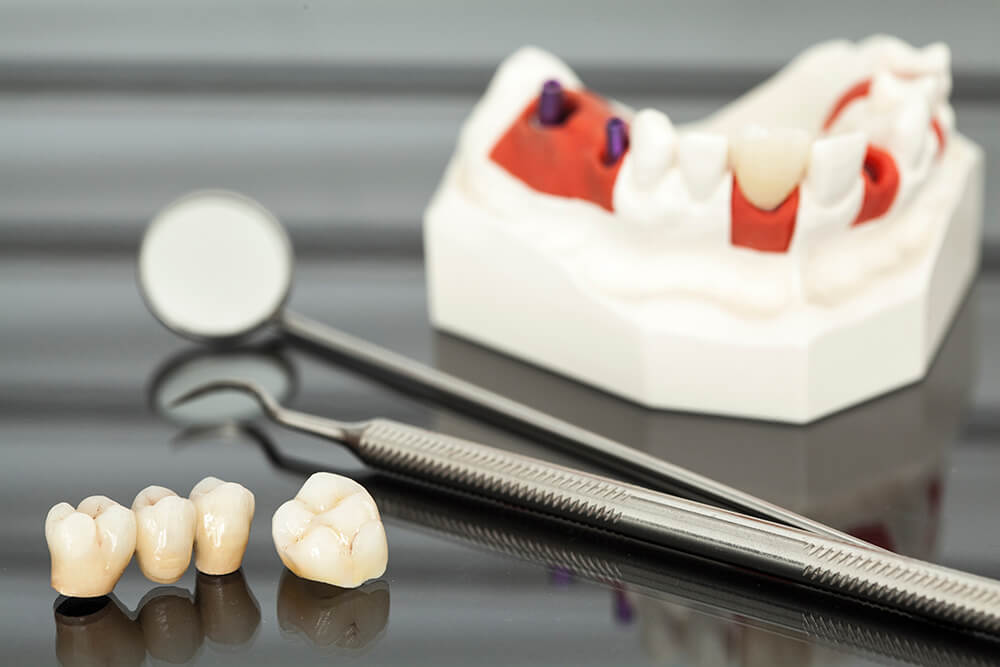 A crown may last a lifetime, but sometimes it can become broken or chipped. If you find yourself in this situation, whether it can be repaired will depend on the amount of damage and the type of crown you have.
What is a Dental Crown?
A dental crown is a restoration that surrounds a tooth and covers or forms a "cap" above the gum line, so the tooth is restored to a normal appearance. Crowns are used when a tooth is broken or damaged to the extent that a filling won't restore its natural function.
If a tooth is cracked from a blow to the face, for example, a crown can hold the tooth together and keep it from further damage. Crowns are also used to cover a discolored tooth, attach a bridge or prevent a fracture in a weak tooth.
To make a crown, the dentist first reduces the size of the tooth so that the crown can fit over it. An impression is made of your teeth so that a lab can make a custom crown. While you wait for the new crown, a temporary crown is placed on the tooth. At your second visit, your permanent crown is cemented in place, replacing the temporary one.

Different Types of Crowns
There are four types of dental crowns, each made a different way.
Metal crowns are made from an alloy such as gold, palladium, nickel or chromium. They are strong enough to hold up to teeth grinding and biting and last the longest. Metal crowns cannot be color-matched to teeth and are usually used on molars.
Resin dental crowns are less expensive, but not as durable. They wear down faster and may not have a long life-span due to a tendency to fracture. Resin is the material most often used for a temporary crown.
Porcelain-fused-to-metal crowns are stronger because of the metal base, but the porcelain can still chip. These crowns are natural-looking and are often used on front teeth and bridges.
All-porcelain or all-ceramic dental crowns can be color-matched to the rest of your teeth, but they tend to wear down the opposing teeth faster than metal crowns. Your dentist may recommend them if you have a metal allergy.
Dental Crowns should last from five to fifteen years, or more. Porcelain crowns are more fragile than metal crowns and may need to be replaced.
How a Tooth or Crown Cracks
Teeth are strong, and crowns, depending on their composition, can be strong as well, but accidents happen and some personal habits may not always be good for teeth. A crown or tooth can break from:
A blow to the face
A fall
Biting down on something hard
Getting hit in the face or falling isn't always avoidable, but to prevent a cracked crown or tooth, you can be careful not to open snack bags or bottle tops with your teeth. For people who clench their jaws or grind their teeth, your dentist may recommend wearing a mouth guard at night to protect your crown.
Caring For a Broken or Chipped Crown
If a dental crown is damaged or cracked, call your dentist for advice on how soon you need to be seen. You may need to see an emergency dentist. Unless the damaged portion is jagged and causing soreness in your mouth, you may need to wait a day or two for the repair. In the meantime, you may experience some sensitivity to hot or cold foods or liquids, depending on whether the underlying tooth pulp is affected. You should examine the affected area. Look at the crown and check to see if pieces appear to be missing or dislodged. You can pull the crown off if it is loose enough to prevent swallowing it. Rinse your mouth with warm water. If you are bleeding from a chipped tooth, you can use a piece of gauze to apply pressure to the damaged tooth. If you can't see a dentist the same day, you can use dental cement that is available at most drugstores to protect the remaining tooth until you go see your dentist.
RELATED: What Is Considered A Dental Emergency?
It may be possible to repair a chipped dental crown, depending on how much of it is damaged, and how severe it is. If the chip isn't large, your dentist may repair it with resin, a composite material the same color as the tooth. In some cases, the crown just needs to be reshaped and smoothed. If the chip or crack is severe enough, you may need a new crown.
Do I Need a Dental Crown?
In certain situations, your dentist will recommend a crown; here are the most common reasons:
A broken or chipped tooth – For a cracked molar without root damage to the tooth, a crown can protect the nerves and restore normal chewing. A crown may also be used to repair a front tooth. This is done primarily for restorative reasons rather than for a cosmetic reason.
Large cavity – Sometimes the dentist can't repair a tooth with a filling because the cavity is too large. There must be enough tooth structure to support a filling. If there is extensive decay, the tooth may need the support of a crown, which acts as a splint for the tooth.
Stained tooth – In the case of a tooth that's very discolored, your dentist may recommend bonding, veneers or a porcelain crown. Severe stains can develop after root canal treatment, with certain medications or with excessive use of fluoride.
Worn tooth – Teeth grinding or bruxism is a condition that occurs while a person sleeps. Over time it can severely damage teeth by wearing away the enamel. Studies have suggested teeth grinding is related to sleep disorders, and stress and anxiety.

What Are the Consequences For Not Getting a Crown?
There can be unwanted consequences for not following your dentist's recommendation for a dental crown. Primarily, it depends on why the dentist is recommending it. In the case of extensive tooth decay, without a crown, the tooth will continue to decay, cause pain and create a larger cavity. Without treatment, an abscess or infection can occur, and eventually the tooth will need to be extracted.
A cracked tooth can also worsen without a crown to hold it together. Fractures should not be ignored as they are likely to allow bacteria to enter the cracks and produce an infection. If you are considering a crown for cosmetic reasons and decide not to get one, you may opt for an alternative treatment to treat discoloration, such as veneers or bonding. If you opt to do nothing, the tooth will remain the same.
The best way to avoid a chipped crown is to use common sense when going about daily activities. With regular dental visits and good dental hygiene, chances are good your dental crown will last a long time. Absolute Dental also offers other cosmetic dentistry options, including dental implants and dental bridges. Contact us today to learn more about these services.